Pioneering Pictures: Films with nonlinear plotlines can be difficult but rewarding to navigate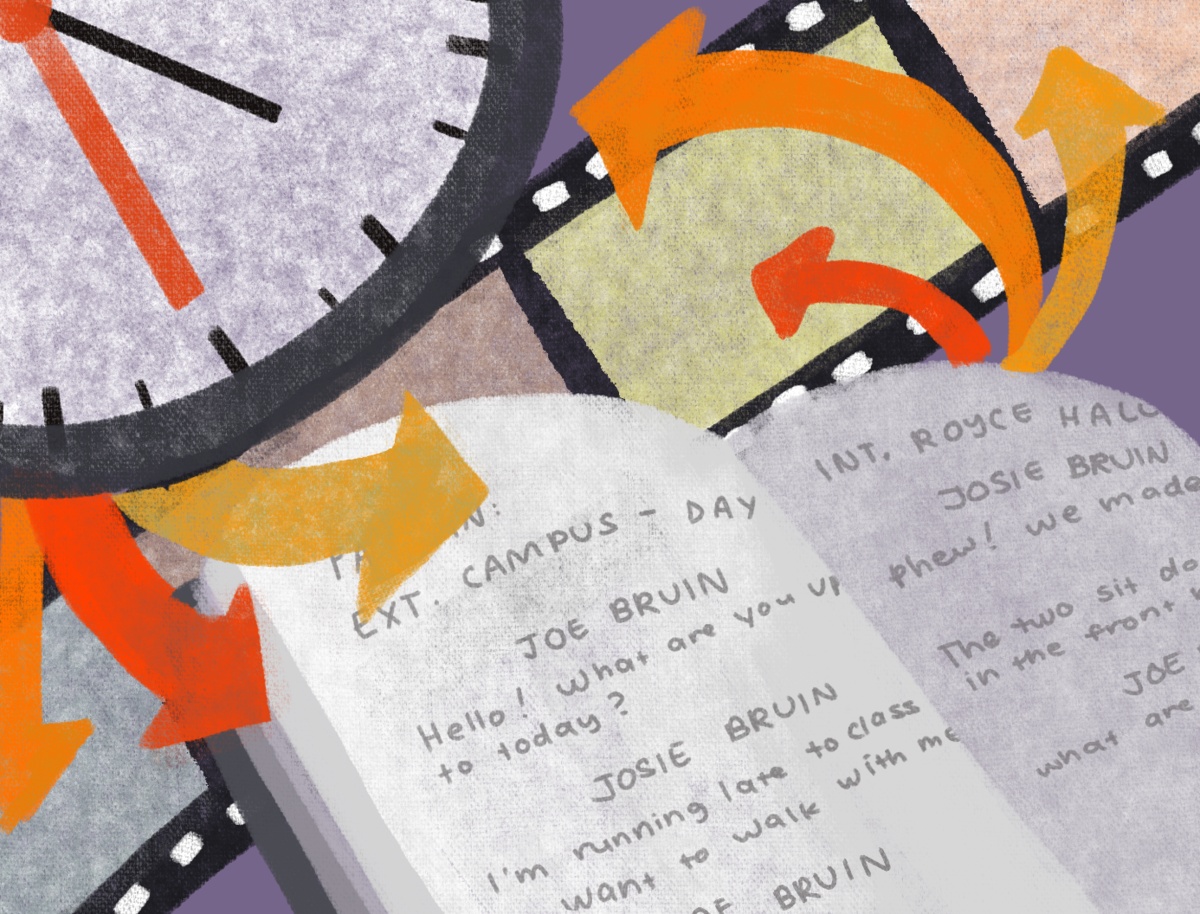 (Katelyn Dang/Illustrations Director)
Hollywood has often relied on convention, with an emphasis on the three-act structure, which is a model often used to break up a narrative into three parts: setup, confrontation and resolution. As such, blockbuster films and television shows have achieved popularity with traditional narratives. However, there are exceptions. Certain filmmakers have attempted to create content that goes against the grain, including everything from editing to dialogue. In "Pioneering Pictures," columnist Billie Chang investigates the unconventional, with media that strays from structure to find success.

Time jumps when you're having fun.
Nonlinear narratives present a complicated chronology, weaving intricate storylines that – though confusing at times – prove to benefit a film's overall plot. Initially manifested by screenwriters, these unconventional films ultimately come to life in the editing room, where a lack of chronological clarity proves successful in reinforcing characterizations and world building within a narrative. In particular, Christopher Nolan's "Memento" follows Leonard (Guy Pearce), an amnesic widower lacking a functional short-term memory, as he hunts for his wife's killer. Dody Dorn, film editor for "Memento," said the nonlinear narrative is essential for the story, as it humanizes Leonard's rough and sometimes violent actions, allowing the audience to understand the extent of his condition.
"There's a certain amount of willful confusion that is part of the narrative," Dorn said. "We have a central character who has short-term memory loss (and) in order for us to put the audience in that person's shoes, we give them no short-term memory at all (when watching the film) because they have no knowledge of what came before."
Dorn said "Memento" intentionally utilizes a visual cinematic language that strays from convention to play with time. For instance, she said images and photographs – rather than written titles – were used to demonstrate the passage of time or the shift from one location to the next. This specific editing decision considers audience perception, she said, so that one can decipher key information at the same time Leonard does.
To further explain the structure of "Memento," Dorn said she imagines a piece of ribbon, with the first half in black and white and the second half in color. After folding the ribbon in half and twisting it, one would end up with a timeline alternating from black and white to color, she said. Though this lack of linearity proves confusing at times, she said there's a certain satisfaction the structure elicits when it comes to the ending.
"There's this constant interaction like interplay," Dorn said. "It's (a) very playful back and forth between the filmmaker and the audience to withhold and then deliver (information)."
[Related: Pioneering Pictures: Films driven by dialogue break tradition, prove to resonate with audiences]
"Memento" also relies on its nonlinearity to reinforce Leonard's characterization, as the reverse chronology the timeline follows portrays him as a sensitive character within a very emotional story, Dorn said. Though Leonard is a killer, this structure provides an elegant way to flip audience interpretations of him and his actions, Dorn said.
With a similar emphasis on memory, Michel Gondry's "Eternal Sunshine of the Spotless Mind" follows a genuine relationship between Joel (Jim Carrey) and Clementine (Kate Winslet) after the two partake in a medical procedure that erases their memories of each other. As the story progresses, Joel grapples with the gravity of his decision, and intercut with various subplots and side characters, the film documents the complicated process of memories – including the lengths one would go to keep them.
Lecturer, co-head of the UCLA Producers Program and executive producer of "Eternal Sunshine of the Spotless Mind" Glenn Williamson said the editing for the film was important in reinforcing the unconventional storytelling and ensuring the audience wouldn't be given too much or too little information.
From an audience perspective, first-year political science student Elvira Aceves said that the film's disorientation in relation to its editing allows for the audience to intimately relate to Joel's character portrayal. Through editing, the regret and unsettled feelings Joel experiences when undergoing the procedure foster sympathy from the audience. Like a paddle ball bouncing back and forth, she said the narrative lacks the conventional concept of time and instead jumps from past to present. In order to make sense of this when watching, Aceves said the film employs a number of symbolic techniques to cue audiences to a scene's specific place in the overall timeline.
"(One) thing that is constant throughout the film that helps us figure out the timeline is Clementine's hair color," Aceves said. "(For) each time period, her hair defines what is going on between her and (Joel). (For example), from the beginning of the film when we meet her in the train station, she has blue hair which is symbolic of her lacking feelings and her negative (outlook)."
[Related: Holiday pays homage to silent films, sheds light on impact of genre]
With symbolic anchors such as Clementine's hair color, specific time periods are subtly defined to give audience members a hint of understanding surrounding the narrative timeline, Aceves said. Certain editing techniques also reflect the intensity of memory erasure, she said, as the director leans into the fuzziness and unclarity Joel experiences through distorted imagery.
While editing scenes such as these, film editor for "Eternal Sunshine of the Spotless Mind" Valdís Óskarsdóttir said it's important to have a self-aware team that can collaboratively pinpoint moments of confusion when cutting together a nonlinear film. In particular, Joel's journey within his own mind confused test audiences, who didn't realize that such sequences were occurring inside Joel's head, he said. After noticing this, film editors Óskarsdóttir and Paul Zucker took it upon themselves to reflect and reconcile such scenes by discussing methods to make it clearer for future audiences.
"You have to make the story understandable for people, but (you can't) feed them," Óskarsdóttir said. "Audiences are more clever than people think they are."
While editing is extremely important to both films' final cuts, the structures of "Eternal Sunshine of the Spotless Mind" and "Memento" were decided on before production. Though often characterized as confusing, these unconventional timelines prove the intentional, deliberate ways in which both of these films were created. For "Eternal Sunshine of the Spotless Mind" in particular, Williamson said Charlie Kaufman's original and imaginative script helped reinforce the film's central themes of relationships and memory without focusing solely on the sentimentality of romantic love.
"The screenwriter, director and everyone involved with the making of the film … purposely make you sit down," Aceves said. "And once you start watching, you're forced to finish because you won't understand (the film) until … the end. (A nonlinear film) is a rewarding film to watch. (Like) an Easter egg, you get to … find different things every time you watch it."