UCLA lecturers rally for new workload standards, improved salaries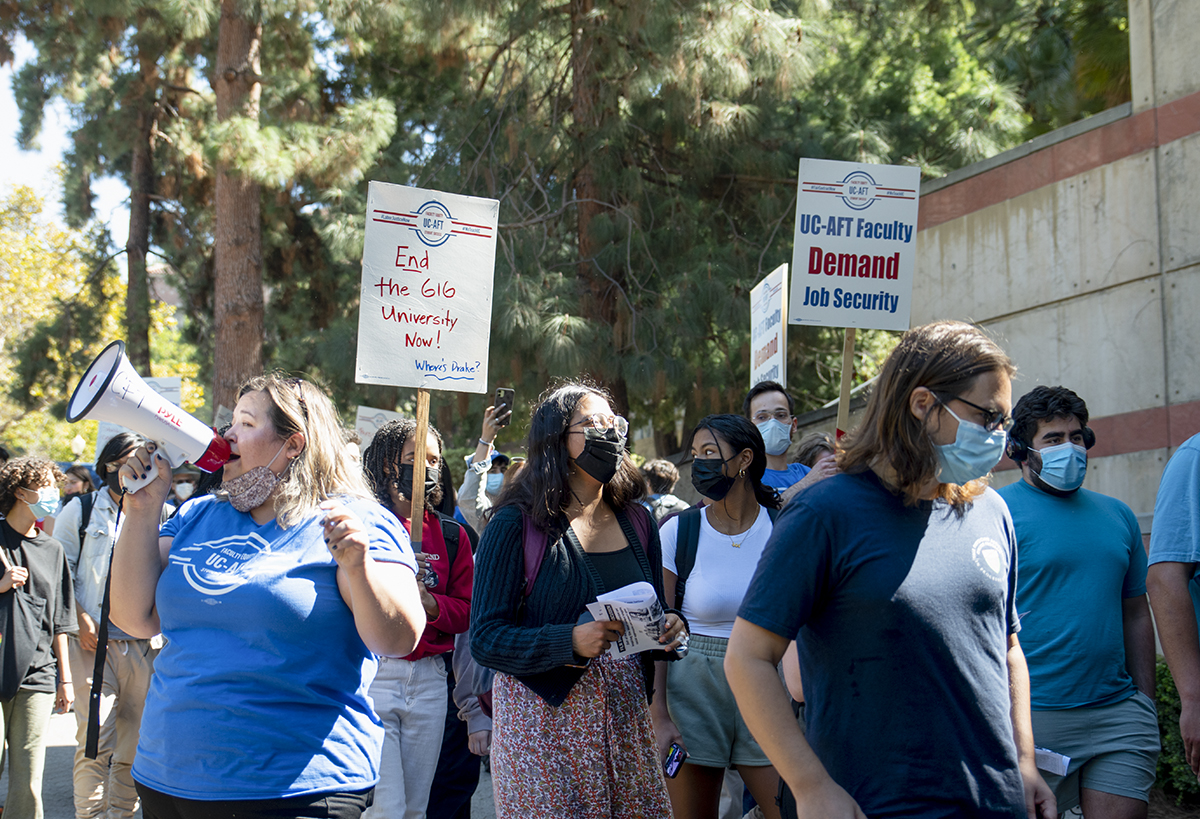 The University Council-American Federation of Teachers raised signs at its Wednesday and Thursday demonstration on campus. The group sought to bring awareness to its ongoing labor negotiations with the University of California. (Jeremy Chen/Daily Bruin)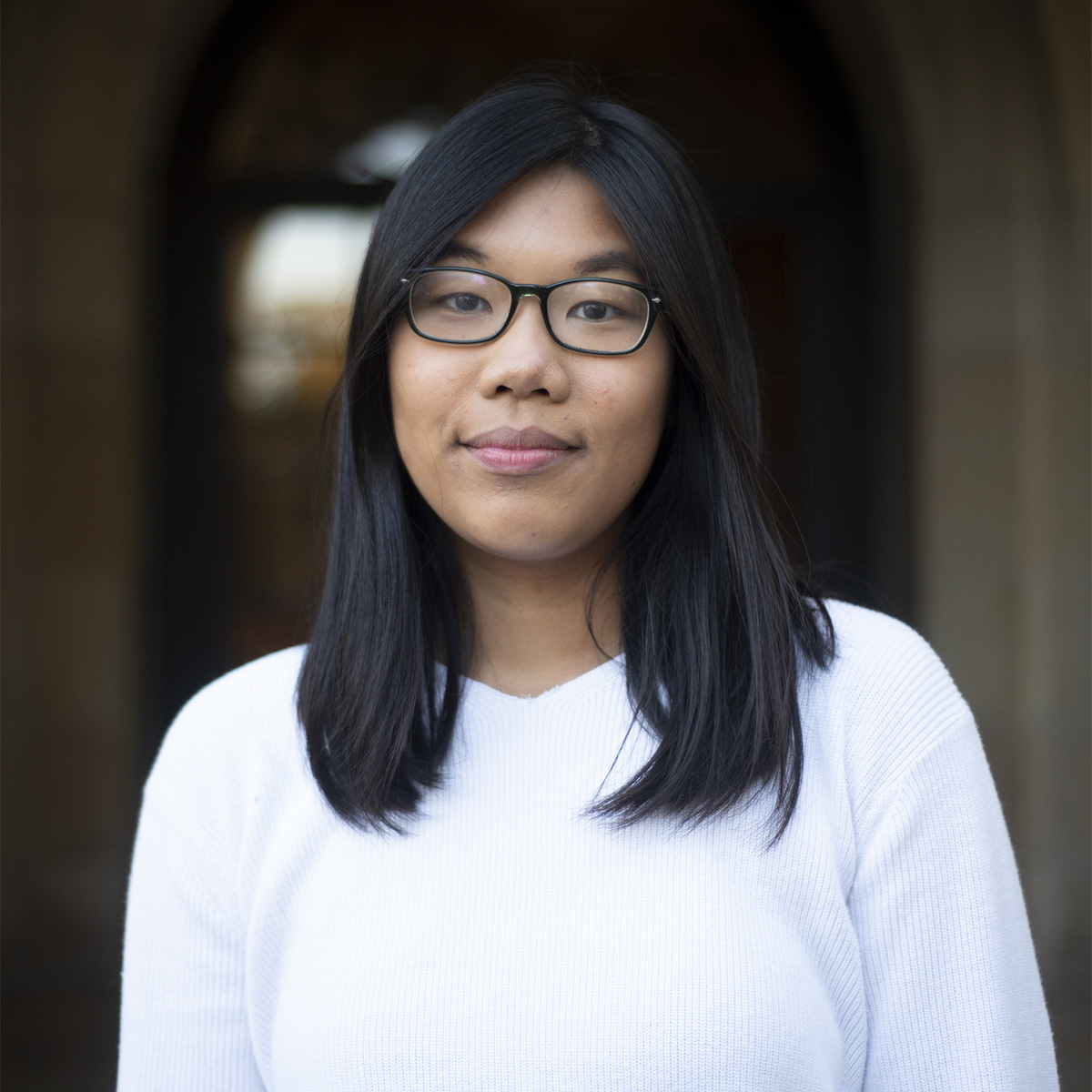 The University Council-American Federation of Teachers hosted informational pickets on campus about its ongoing bargaining with the University of California on Wednesday and Thursday.
The UC-AFT is a labor union that encompasses lecturers and other part-time faculty across all UC campuses, representing more than 6,800 lecturers. UC-AFT has been bargaining with the UC for more than two years to advocate for improved salaries and fairer workload standards for lecturers.
On June 25, the California Public Employment Relations Board declared an impasse between UC-AFT and the UC, and the two parties entered state-sponsored mediation.
Starting at 10 a.m., UC-AFT members gathered in Meyerhoff Park to pass out pamphlets and speak to students about its ongoing negotiations with the UC. On both days, lecturers spoke about the struggles they face because of low wages and lack of job security. They also criticized UC President Michael Drake's unresponsiveness to UC-AFT throughout contract negotiations.
Victor Narro, the project director for the UCLA Downtown Labor Center and a lecturer at the UCLA School of Law, said in his speech Wednesday that he knows many lecturers who do not have stable access to health care and have to take on multiple jobs to afford the cost of living.
"I just think it's about our humanity," Narro said in his speech. "It's about dignity, respect, and all we want is for President Drake to do the right thing and to really give the lecturers what they deserve."
On Wednesday at noon, lecturers and students held up signs calling for fairer contracts and marched through the Court of Sciences to Murphy Hall before returning to Meyerhoff Park. Throughout the march, rally members chanted phrases including, "When the people are united, we can't be divided" and "Hey, hey, President Drake, ignoring us is a big mistake."
Drake has not spoken with UC-AFT since entering office, said Alison Lipman, a lecturer in the department of ecology and evolutionary biology. She added that they hope to put pressure on Drake to listen to lecturers' concerns with the informational picket and rally.
A second march from Meyerhoff Park to Bruin Plaza occurred shortly after the end of speeches. Mia McIver, the UC-AFT president, delivered the final speech Thursday at noon.
McIver said in her speech that the union is prepared to go on strike if it does not get a fair deal.
In June, 96% of UC-AFT members voted to authorize a strike, allowing the UC-AFT negotiating team to call a legal strike if it does not reach an agreement with the UC.
Recent tuition increases should be directed toward increased income and stability for lecturers, McIver said.
"If those tuition hikes are going to go into supporting diversity and equity, that means good, stable jobs for women faculty and nonwhite faculty that disproportionately make up the lecturer workforce," she added.
On Monday, the UC presented union leaders with a formal proposal for new, multiyear contracts. However, some lecturers expressed mixed feelings about the recent offer.
Ryan King, a UC Office of the President spokesperson, said under the latest offer, the majority of UC-AFT lecturers would receive 4% to 5% pay increases, while the lowest paid lecturers would receive at least an 8% increase in pay.
The UC said it would update its appointment proposal to increase transparency and provide fairer assessments for workload standards, in addition to more specific performance review criteria and expanded eligibility for paid medical leave.
King added that the University has worked to meet UC-AFT's concerns on issues such as compensation and believes it has offered a fair and equitable proposal.
"The University of California highly values our lecturers' hard work and dedication to the University and its students," King said. "We recognize their many contributions and the critical role they play in teaching our students and advancing UC's education mission and share their desire to reach an agreement that allows for their continued positive impact on our campuses."
The UC has offered one- to three-year contracts like UC-AFT requested, Lipman said.
According to UC-AFT, multiyear contracts for starting lecturers will help establish career pathways at the UC. However, Lipman added, UC-AFT remains concerned because there is no clear guidance on how lecturers can transition to longer contracts once hired.
UC-AFT proposed performance reviews for lecturers at the end of each contract period that would allow lecturers to continue their employment if passed, Lipman said. However, she added that the UC's proposal only allows for reviews starting at the end of lecturers' second year, leaving lecturers vulnerable to be pushed out during their first year.
Cody Trojan, a lecturer in the political science department, said he is in his third year of teaching at UCLA and has yet to be evaluated. If lecturers prove they teach well, Trojan said, the UC should have no reason to search for replacements.
He added that he saw the UC's most recent offer as a step in the right direction and is optimistic for future negotiations.
In addition, while UC-AFT wants the UC to standardize workload assessment across the system, the University asserts that those discussions should be left to each campus, Lipman said.
"I think (the UC) just (has) very little understanding of … what it takes to teach," Lipman said. "They've actually said to us at the table, like, 'Your job is not to mentor students,' you know, 'You shouldn't be meeting the students,' and so, … what we're trying to say is we have all this work that we're doing that is not recognized by the UC."
Kevin Coffey, a lecturer in the department of earth, planetary, and space sciences, said lecturers are not compensated for all their time mentoring students or developing new courses because the University brings them in to teach specific classes.
"I care very much about student success, and that's very much the case for the vast majority of lecturers, and so we do all those things, but we don't have pay for it, and that means sometimes we don't really have time to do it effectively too," Coffey said.
Robin Ayala-Barrios, a second-year political science student, said he supports UC-AFT because Karl Lisovsky, a lecturer in the UCLA Writing Programs, had become a mentor for him. Ayala-Barrios said Lisovsky helped him understand the importance of speaking up in order to support his community.
He added that more evaluations for lecturers will give them concrete reasons as to why they are let go instead of having no reason for why they were not rehired.
Lipman said currently, the UC and UC-AFT remain in mediation and if the two move on from mediation to fact-finding, a state-appointed fact-finder will issue what they think is a fair contract but neither side is obligated to accept it.
If no agreement is reached, then UC-AFT is legally allowed to call a strike, she added.
"We're going to make sure that the UC – our university – is the leading university in this country for contingent faculty working conditions, which are student learning conditions," McIver said at the rally. "So we're fighting for the heart of our university. We're fighting for the soul of our university. We're fighting for the future of our university."
Contributing reports by Megan Tagami, Daily Bruin reporter.
Tran was the 2021-2022 national news and higher education editor in addition to being a contributor for Enterprise. She was also a fourth-year political science student at UCLA.
Tran was the 2021-2022 national news and higher education editor in addition to being a contributor for Enterprise. She was also a fourth-year political science student at UCLA.