Students express concern over unclear COVID-19 symptom monitoring requirements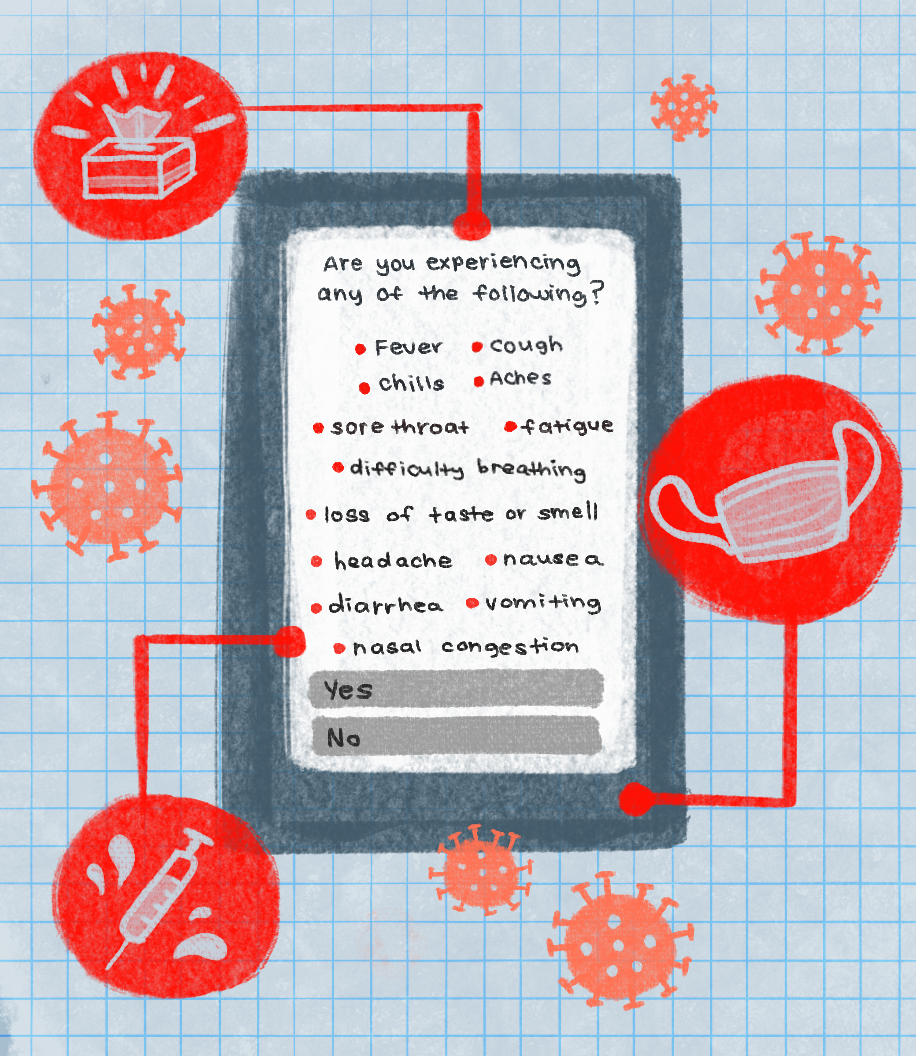 (Katelyn Dang/Illustrations Director)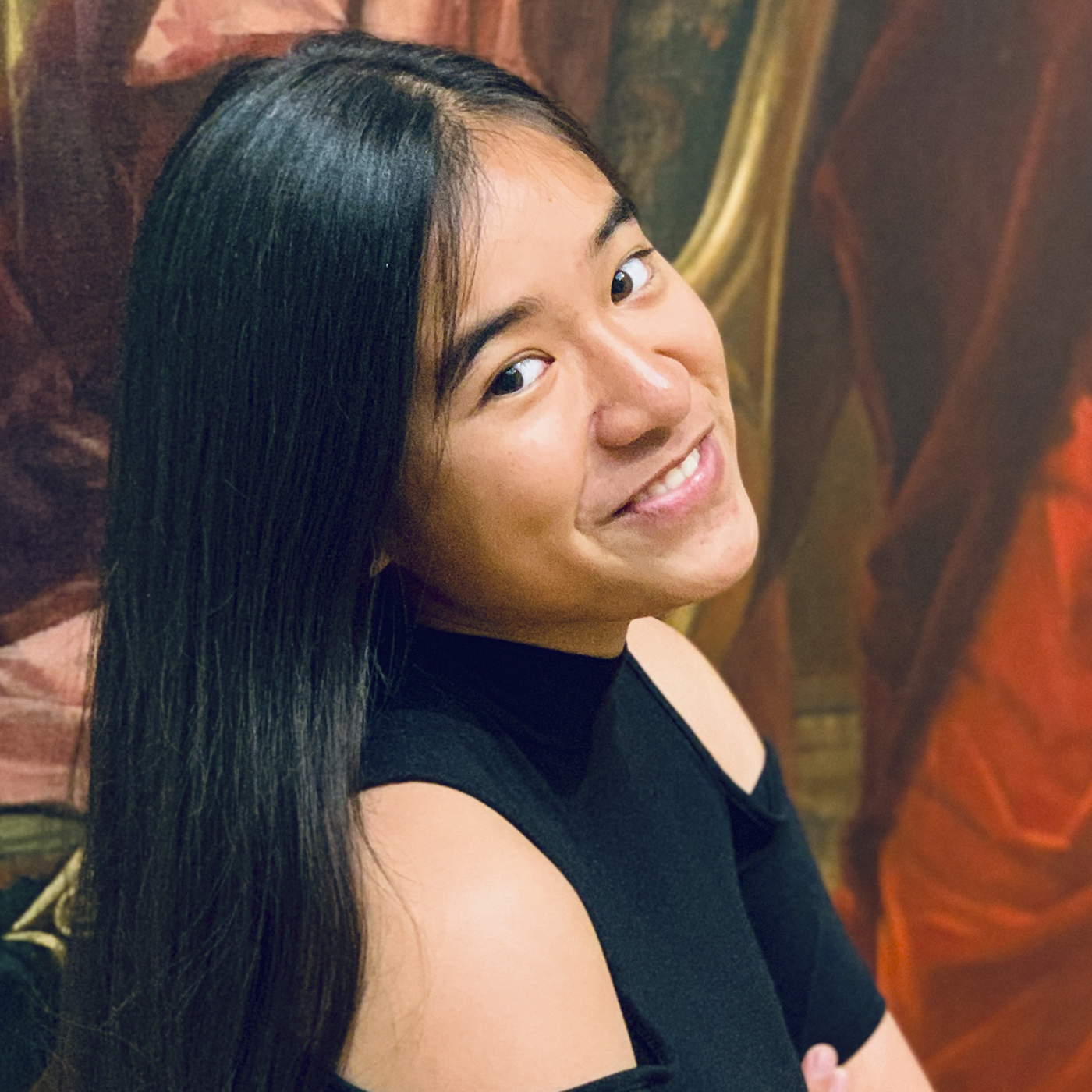 As in-person activities continue to ramp up, students voiced concerns about the effectiveness of the daily symptom monitoring requirement as a part of UCLA's COVID-19 management.
The university introduced the mandatory daily survey in April 2020. The survey asks respondents to self-evaluate if they have COVID-19-related symptoms, such as fever and shortness of breath. The UCLA community receives limited reminders to complete the daily requirement and enforcement regarding the policy is unclear, students said.
Once completed, the survey grants faculty, staff, students and visitors access to all UCLA on-site facilities, UCLA spokesperson Bill Kisliuk said in an emailed statement. He added that facilities such as gyms and organized in-person events check to confirm survey completion.
Many students forget to take the survey entirely as symptom monitoring clearance is generally not checked prior to entering a classroom, said Ashley Fumar, a second-year undeclared student.
"I do it when someone reminds me," Fumar said. "I've never had a professor where they have someone at the door. … You just go in."
Fumar added her professors discussed the daily survey on the first day of class but haven't done so since.
While UCLA sent daily email reminders at the start of the pandemic when the requirement was first implemented, those reminders have tapered off, said Aaron Ahdoot, a fourth-year biochemistry student and chair of the Student Health Advisory Committee.
"When it was first implemented, they would send you an email at about 4 a.m.," Ahdoot said. "It was every single day."
The survey examines more than a dozen different symptoms, whereas other COVID-19 monitoring protocols, such as temperature checks, only examine one, said Dr. Peter Katona, an epidemiology professor and member of the COVID-19 Response and Recovery Task Force.
"Eighty plus percent of students who test positive are symptomatic," Katona said. "If somebody fills out the survey, and they have (symptoms). … They'll get tested more quickly than they would have without the symptom survey."
The COVID-19 Response and Recovery Task Force's most recent email reminder to take the survey was sent Sept. 30. The UCLA mobile app sent a similar reminder on Oct. 1. According to Kisliuk, other communication methods have included signage on residence halls, reminders on the MyUCLA portal and posts from official UCLA social media accounts.
Enforcement of the requirement is unclear, said Katherine Ponce, a third-year psychology and education student. While her professor actively reminds classes to take the survey, some students still do not abide by other COVID-19 safety protocols, she added.
"I've had a couple friends who go to class, and people will just be coughing and not wearing their masks," Ponce said. "I don't really see how helpful the survey is or what its actual purpose is if it's still not keeping sick students out of campus."
Both instructors and the Arthur Ashe Student Health and Wellness Center have access to a dashboard that provides information on whether or not students have taken the daily survey, Kisliuk said.
"If instructors determine that a student's conduct is not in compliance with UCLA health and safety protocols, they may consider ending a class or shifting it to remote instruction for the day," Kisliuk said. "(Instructors) are cautioned to carefully consider whether the risk posed by a non-compliant student justifies the learning disruption for others."
[Related: Students raise concerns regarding adherence to in-person instruction guidelines]
The survey's laxity and reliance on an honor system also leave high-risk and immunocompromised students concerned, said Ariel Adelman, a fourth-year musicology student and member of the Disabled Student Union.
"As someone who is very high risk, … it makes me feel incredibly unsafe," Adelman said. "People can just lie. … I think the past year has shown that relying on an honor system is not appropriate for a public health crisis."
[Related: Disabled Student Union hosts hybrid protest for COVID-19 accommodations]
UCLA's response to the COVID-19 crisis needs to involve listening to student voices, Ahdoot said.
"People want to learn and interact with others in a safe environment," Ahdoot said. "It's important that UCLA is ensuring that we're enforcing … the symptom monitoring checks (and) enforcing the mask mandate indoors."