Pioneering Pictures: Films driven by dialogue break tradition, prove to resonate with audiences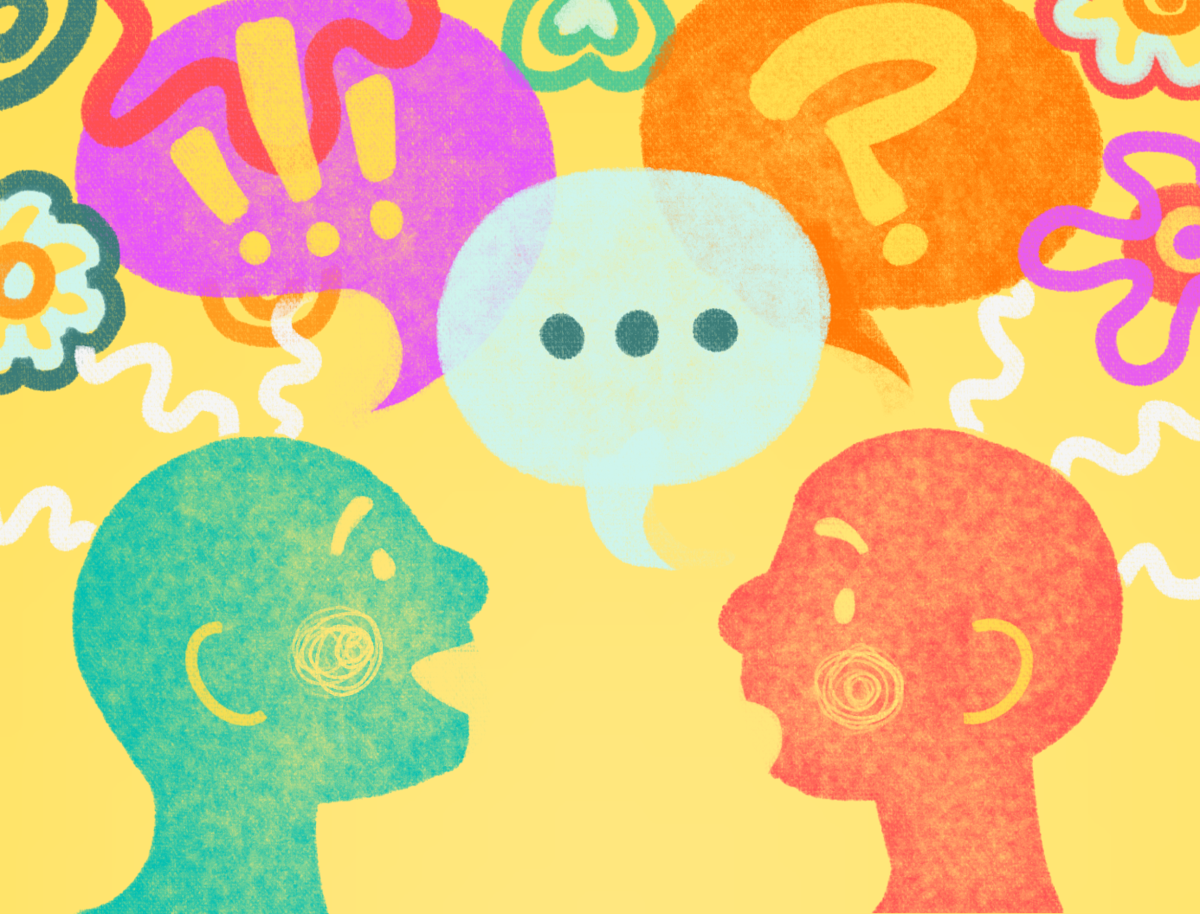 (Katelyn Dang/Illustrations director)
Hollywood has often relied on convention, with an emphasis on the three-act structure, which is a model often used to break up a narrative into three parts: setup, confrontation and resolution. As such, blockbuster films and television shows have achieved popularity with traditional narratives. However, there are exceptions. Certain filmmakers have attempted to create content that goes against the grain, including everything from editing to dialogue. In "Pioneering Pictures," columnist Billie Chang investigates the unconventional, with media that strays from structure to find success.

Sometimes, words speak louder than actions.
Dialogue-driven movies stray from the norm with their intentional, nuanced conversation and defiance of the traditional three-act structure. This choice manifests itself in films based in conversation, with many having been released to critical acclaim despite their unconventional framework. Weiko Lin, lecturer and faculty member for the Professional Program in Screenwriting, said these unorthodox films successfully entice audiences by crafting lines that are based in truth and tap into the vulnerabilities of each individual character.
"(Dialogue) can be very impactful if there's subtext behind it," Lin said. "I think as long as (dialogue) comes from an authentic place that's relevant to the characters, then it can be powerful."
In particular, Richard Linklater's "Before Sunrise" follows a pair of confident young adults, Jesse (Ethan Hawke) and Céline (Julie Delpy), after they meet on a train in Europe before stopping in Vienna. From their engaging first meeting to their emotional farewell, Jesse and Céline forgo action-packed sequences to instead participate in intense, thought-provoking conversations as they intimately exchange opinions on introspective topics ranging from death to spirituality.
From the beginning, Jesse describes himself to Céline as a vulgar, uncultured American – a sentiment that embodies the straightforward cynicism that affects the majority of his beliefs. Andrewtrung Le, a second-year psychobiology student and member of UCLA's Film & Photography Society, said though Jesse's lack of sentimentality within his dialogue makes him irritable at times, it ultimately makes him human.
"You can have a genius, Oscar-worthy delivery of a line," Lin said. "But if it's not organic from the character then it's a discord."
[Related: Student-made short film addresses Asian American mental health, family dynamics]
When writing, Lin said scripts should prioritize genuineness, as powerful dialogue reveals truths about films' characters. In comparison, superfluous or repetitive conversation establishes the same dynamic throughout, creating a narrative that fails to propel itself forward, he said. The multidimensional nature of "Before Sunrise" avoids repetition by not dwelling on a single issue, Le said, as the characters focus instead on discussing varying themes throughout.
"In 'Before Sunrise,' the dialogue drives the plot in that these characters (have) conversations (that) feel genuinely spontaneous," Le said. "They're interrupting each other, they have awkward silences, they talk about their genuine, relatable flaws and their past relationships. We see that these characters are not perfect, and that makes them relatable and multidimensional."
Additionally, Le said the film employs subtext to incorporate the concept of "show, don't tell" into the storyline. On a basic level, human emotions and relationships are universally understood, Lin said, but it's how a screenwriter uses intention and subtext to execute a line of dialogue that will provide authentic storytelling.
Throughout "Before Sunrise," Jesse and Céline rhythmically engage in a back-and-forth banter that creates an established pace within the script. Similarly, Kogonada's "Columbus" relies heavily on its slow pacing to push conversation forward between the two main characters, Jin (John Cho), the son of a respected architect, and Casey (Haley Lu Richardson), a young architecture fanatic. Set in Columbus, Indiana, the film follows Jin and Casey's friendship as they contemplate the trajectory of their futures.
"Kogonada (encourages viewers) to focus on not just the dynamic between the two characters, but the context of these characters within this fascinating city of architecture," Le said. "So (the pacing) has to be slow … for us to ponder and bathe in the emotions (of the film)."
The central conflict of "Columbus" lies within each character's familial obligations and conflicting ideals of duty, which reveal themselves in Jin and Casey's conversations. Great dialogue organically infuses exposition to move a story forward and unveils layered dynamics between a film's characters, Lin said. With scenes that incorporate the atmosphere and scenery, conflict is naturally revealed, spurned by Jin and Casey's relationships with the architectural backdrop. The script's nuanced conversations and distinct characterization work within a clear thematic framework in that there's an explicit take-home message the film centers its storyline around. This characteristic, Lin said, is essential to dialogue-driven films, Lin said.
"Dialogue and character interaction is all centered around a thematic framework," Lin said. "The key is to (create) a contextual narrative framework (that) can be dialogue-driven."
[Related: School of Theater, Film and Television professors prepare for in-person courses]
As the plot continues, both characters become vulnerable with each other. Casey, despite having dreams of studying architecture, believes she must stay in Columbus to care for her struggling mother, while Jin travels to the city to visit his ill father in the hospital, even though he'd rather be back at home. Le said the dialogue in "Columbus" was ultimately effective in allowing him to sympathize with both Casey and Jin.
Despite prioritizing dialogue over action, both films have become well-known, with "Before Sunrise" hailed as an indie classic and "Columbus" having been recognized by a number of film festivals, including the Film Independent Spirit Awards. Though untraditional, such dialogue-driven films succeed in resonating with audiences because of their vulnerable and distinct approaches to characterization.
"Story is dialogue used organically," Lin said. "It's the back and forth, connecting established relationships, dynamics and emotions. (Dialogue) serves multiple purposes. … Not only are you developing and furthering the dynamics between the characters … (but) you're also moving the story forward."