Melanin & Medicine creates supportive, safe space for Black STEM students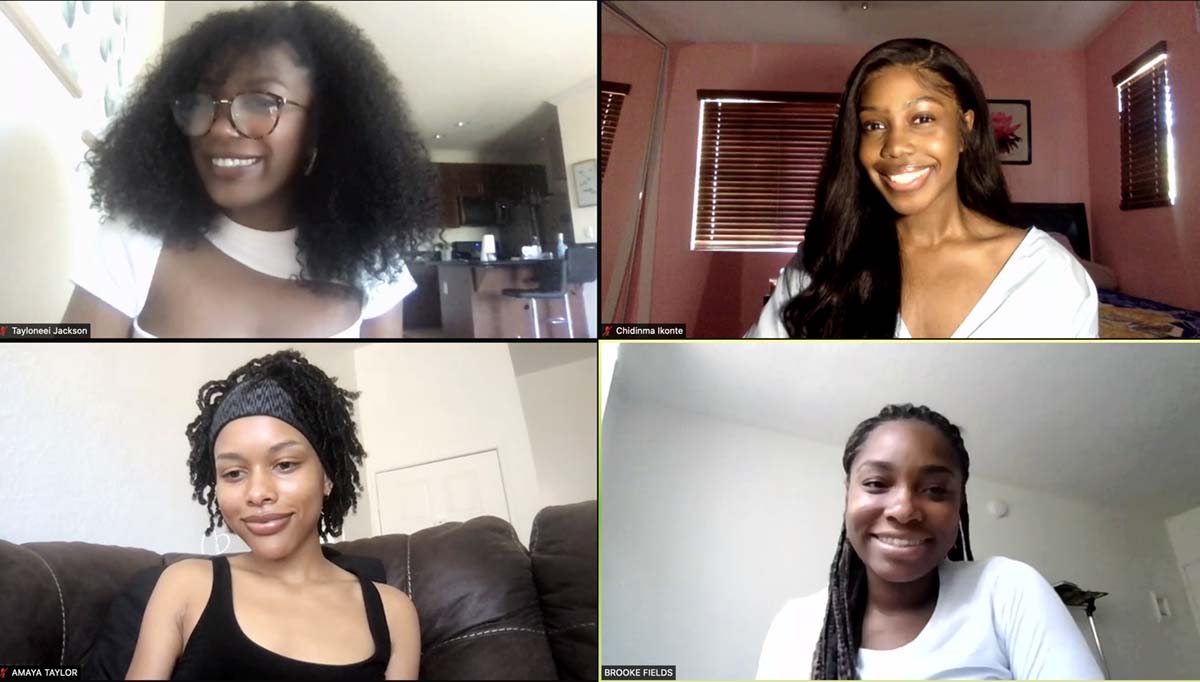 Aiming to alter South Campus culture at UCLA, Melanin & Medicine provides support for Black STEM students. Whether through an inclusive community or reduced test costs, co-founder Amaya Taylor said the club hopes to break down institutional barriers for Black Bruins in the health care community. (Esther Li/Daily Bruin staff)
On South Campus, Melanin & Medicine is cultivating a sense of community for Black Bruins.
When fourth-year microbiology, immunology and molecular genetics student and co-founder of Melanin & Medicine Amaya Taylor first arrived in Westwood, she said she was eager to connect with students on the south side of campus. However, she soon realized there were barriers inside the STEM community at UCLA that pushed Black students to question their worth and right to study in Westwood.
"I'm not sure if (UCLA administration) don't know or they don't care," Taylor said. "Maybe a little bit of both."
The lack of support for Black students on South Campus drove
Taylor to organize with her classmates and create a supportive community for Black STEM students. The product of their collaboration was the organization Melanin & Medicine, whose mission is to revolutionize the future of medicine by dismantling the institutional barriers posed against Black students, while connecting them to various fields of medicine, Taylor said.
[Related: Alumni-run podcast 'Foot On Yo' Neck' aims to support, make space for Black women]
Through Instagram, GroupMe, Slack and Zoom, Taylor said the co-founders of Melanin & Medicine created a community of Black students interested in medicine and have provided internships, research opportunities and a space for Bruins to converse freely. There is no application for entry or academic requirements to stay in the club, as the goal is to provide a safe space for Black students to connect without barriers, Taylor said. Second-year human biology and society student and Melanin & Medicine fellow Jazmine Chism said this community helped her feel less isolated on campus.
"To put it simply, there's a whole bunch of imposter syndrome once you get in (to UCLA) because you're in a community of people who don't look like you, don't know where you're coming from, and you're the only one in the space to make change for people that look like you," Chism said.
Furthermore, because of UCLA's rigorous curriculum and North-South Campus design, Taylor said she and other Black STEM students – though confident in their academic abilities – feel isolated from their counterparts on the north side of campus where the African American Studies classes are. To mitigate these issues in the Black STEM community, Taylor said the co-founders created the club to provide support for students without barriers to entry.
Taylor said her experience with an organization based out of UC Berkeley, White Coats For Black Lives, demonstrated the importance of scholarly communities in higher education and helped her build Melanin & Medicine. For her, this community was virtually nonexistent, and Chism said she was discontent with the bait and switch pulled on her by admission representatives who suggested there would be infrastructure and a community for Black students.
"UCLA is kind of like Disneyland," Chism said. "They're presenting you with all the good stuff, … but under the smoke and mirrors, you really have to fight for yourself if you want to succeed in this space, especially if you don't come from a place of privilege."
Additionally, Taylor said the lack of STEM understanding among Academic Advancement Program counselors as well as the limited number of Black professors in STEM led her to believe there needed to be more support for Black students in STEM. Melanin & Medicine's complaints about the lack of infrastructure for Black students have been voiced by Black Bruins in years past.
In 2017, requests for a Black Resource Center were left largely unfulfilled, and in the spring 2020 Undergraduate Students Association Council elections, the student body failed to pass the Cultivating Unity for Bruins referendum that would have funded the resource center. Only in the wake of George Floyd's murder and consequent protests on campus did UCLA announce they would be opening a Black Resource Center in 2020.
[Related: Demia aspires to create community online, consolidate resources]
Despite the slow progress of change on campus, Taylor said Melanin & Medicine founders fulfill the needs of Black STEM students by creating specific pathways that cater toward Black students interested in cardiology, women and community empowerment, neurology and infectious diseases. These groups have helped students such as second-year human biology and society student Chidera Anthony-Wise develop her passion for international policy and medicine by offering opportunities to present individual research projects for critique.
"Having a Black community driven to improve medicine is so important, especially because of the injustices, the disproportional treatment, (the lack of) access that is plaguing the Black community in regards to medicine," Anthony-Wise said. "It's important that we as a new generation of doctors, health care workers can improve them – for our own people."
Although the club is relatively new, they have reached an agreement with Princeton Review to offer members of Melanin & Medicine medical college admissions test-prep courses at a reduced cost. Alongside this support for upperclassmen applying to medical school, Taylor said Melanin & Medicine also plans to approach the upcoming quarter more holistically by continuing to host research symposiums and adding academic workshops that inform students of their options for post-graduation education and careers.
"I remember going, 'I'm going to create an org. I don't know what that entails, but I want to do it,'" Taylor said. "I'm just extremely grateful for my co-founders and our members for sticking with us because especially through COVID, I know that it was hard."
Chesney is currently a Sports contributor on the men's tennis beat.
Chesney is currently a Sports contributor on the men's tennis beat.