Demia aspires to create community online, consolidate resources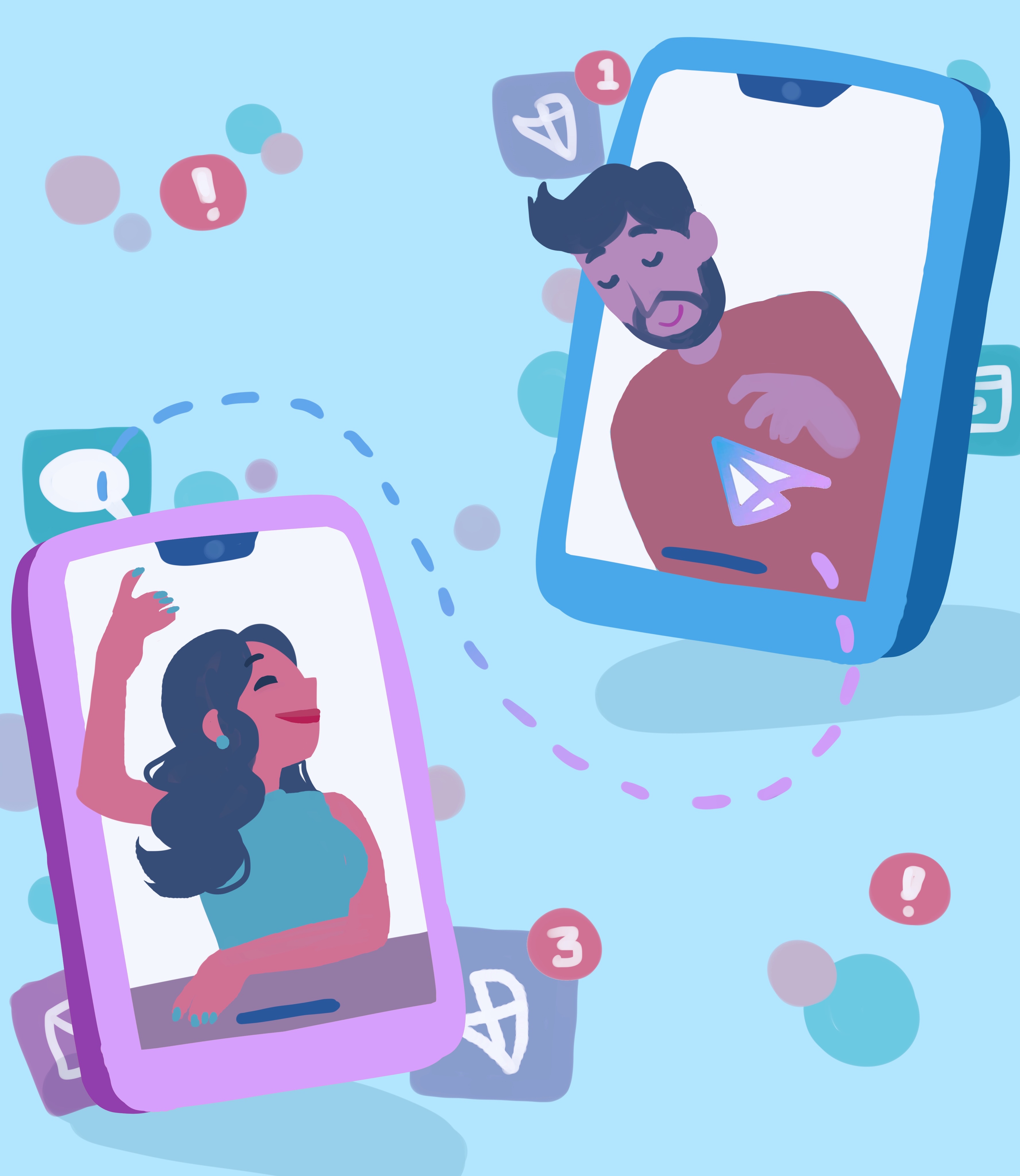 (Katelyn Dang/Illustrations director)
This post was updated July 25 at 3:57 p.m.
In an era of social distance, Demia connects students through their smartphone screens.
When the COVID-19 pandemic forced colleges across the country to shut down, UCLA alumnus Sanjay Malhotra sought to alleviate the sudden dissipation of campus life. With students siloed at home and the world seemingly put on pause, Malhotra said he realized how difficult it became to find opportunities and events on campus, particularly when it wasn't an option to walk up Bruin Walk and take flyers.
"Not being able to walk through campus … really made it difficult for me to find out about everything that was happening," Malhotra said. "I realized that as college students, we don't really have an efficient way to find out about everything that's happening on campus in an online format."
Inspired by this issue, the then-fourth-year student said he devised an idea for an app that would enhance the college experience for students, particularly in an online school setting. In April 2020, he teamed up with Adam Chaarawi and Josh Tulanda – who have since graduated from UC Berkeley and the University of Pennsylvania, respectively – after connecting with them on LinkedIn to create an app that helps students find a place in their college community.
[Related: BruinShack aims to make Westwood apartment hunting easier through online platform]
After several months of preparation, Demia officially launched at UCLA and UC Berkeley in February. With features such as an events page, a marketplace and a space to find communities of like-minded peers, Malhotra said the app aims to be a multifunctional platform for college students by meeting academic and social needs alike. Users also have the option to add their classes, clubs and public chat channels to their profile, as well as to connect with other students on shared interests, Malhotra said.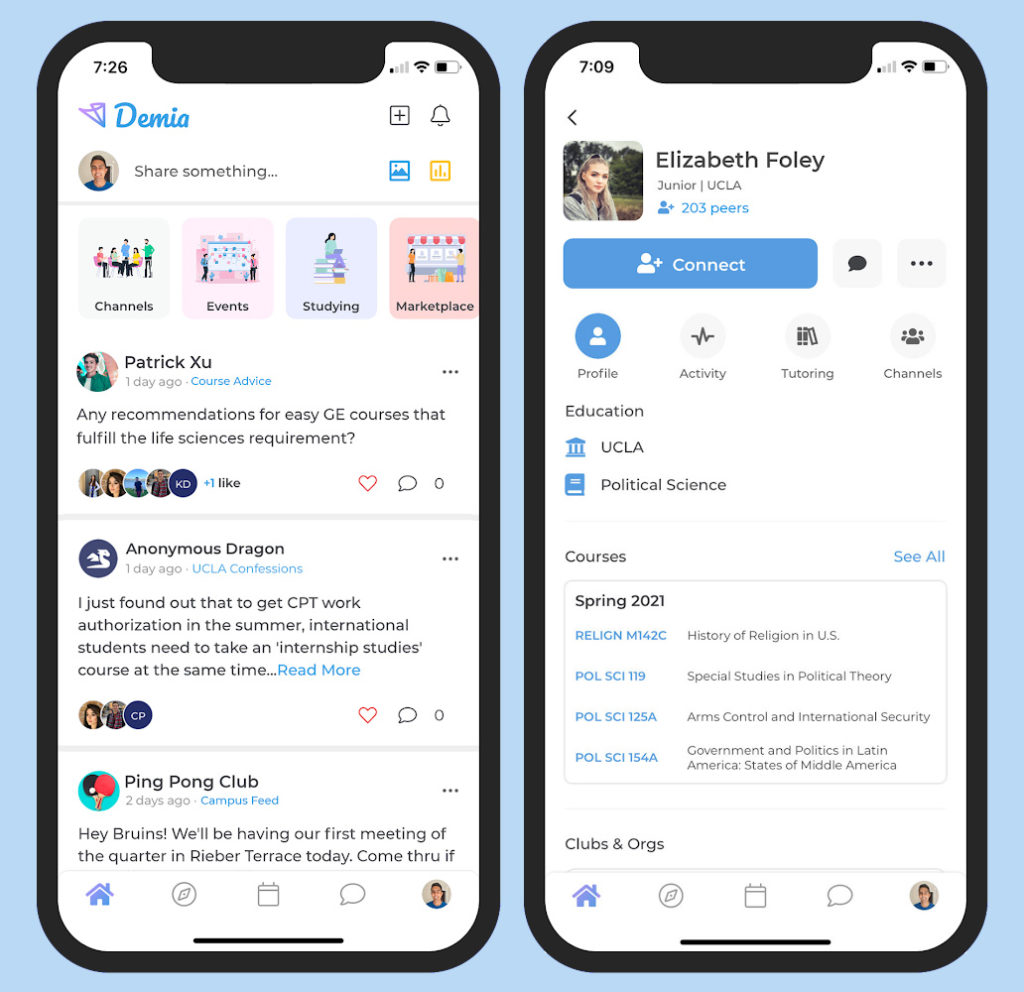 These networks are confined to the student body each user is part of. Fourth-year political science student Ayat Izz, who became a member of the Demia team after initially being a user of the app, said the university-specific spaces are her favorite aspect of the platform. Izz said the app was useful for her by helping to facilitate recruitment for clubs she was involved in
"With the Bruin Walk club page, I like how they have cool organizations," Izz said. "There's a poker room, there's a Bruins friends page (and) … a marketplace."
Although inspired by online school, Demia can still aid students in discovering communities and events when campus reopens, Malhotra said. At a large university like UCLA, Malhotra said one major goal of Demia is to help students get the most out of their school's opportunities in a way that is less stressful or intimidating.
Another goal of the app is to help introduce and guide students to different career paths. Malhotra, who said he neglected collegiate networking opportunities in favor of focusing on classes and his social life when he started college, created a series on Demia titled "How to Succeed." Mainly intended for incoming freshmen, the platform has hosted events featuring alumni at companies such as Apple and Microsoft for computer science students, business economics students and pre-law students, Malhotra said.
[Related: UCLA students launch PeerUp, an anonymous peer-led mental health resource]
Wanting to support her fellow Bruins, fourth-year political science student Mariella Solano said she downloaded the app after coming across it on social media and has enjoyed having a place where she can find different academic resources specifically for UCLA students. Since the app is still in its early stages after launching, she said an increase in the number of student users on the platform would go a long way toward maximizing its usefulness.
"Instead of having Facebook Marketplace and all those different social apps … having (these resources) all in one spot would be really cool and useful," Solano said. "I feel like it's just not enough people are aware of (Demia) or have downloaded it for it to reach its full potential."
After their initial launches, Malhotra said the team plans to expand Demia to campuses such as the University of Southern California and the University of Texas at Austin in the near future. As for the long term, Malhotra said the platform hopes to benefit local businesses as well as students. Users would have the option to follow their favorite restaurants and shops in Westwood and to receive push notifications when discounts are offered, which would help drive UCLA students to these storefronts, Malhotra said.
As the new school year approaches, Malhotra said he hopes Demia can help ease the pressure for students searching for a community at UCLA, particularly with many stepping foot in Westwood for the first time. However, he said the app ultimately aims to make lives easier for new and returning students alike by providing academic resources in one location.
"With all the technology that we have at our disposal, there should be an easy way to find out about everything happening within your campus," Malhotra said. "Community events, posts, housing – everything we need at our fingertips."
Moon is currently an assistant Sports editor on the women's basketball, men's soccer, track and field and cross country beats. He was previously a contributor on the women's basketball and women's tennis beats.
Moon is currently an assistant Sports editor on the women's basketball, men's soccer, track and field and cross country beats. He was previously a contributor on the women's basketball and women's tennis beats.