Movie Review: 'Free Guy' demonstrates successful world building, fails narrative depth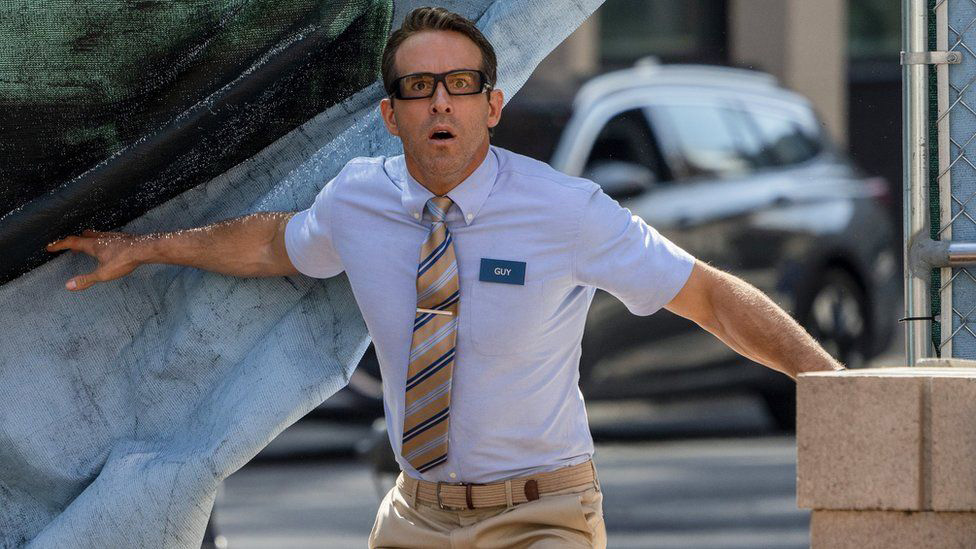 (courtesy of Alan Markfield)
"Free Guy"
Directed by Shawn Levy
Walt Disney Studios Motion Pictures
Aug. 13
This post was updated Aug. 15 at 5:48 p.m.
In a world programmed by zeros and ones, "Free Guy" breathes life into NPCs.
Starring Ryan Reynolds, "Free Guy" has all the stereotypical elements of a blockbuster film: action-packed violence, punchy one-liners and an unrequited romance. Even so, the film manages to maintain a level of originality – one that effectively appeals to the niche of video gamers in present society. Reynolds plays the lead role of Guy, an NPC, or nonplayer character, in a fictional video game known as Free City. Destined to exist within his routine – which includes walking to work with his best friend, Buddy (Lil Rel Howery), and ordering coffee with cream and two sugars – Guy lives a life without meaning.
That is, until he meets Molotov Girl (Jodie Comer), a video game developer whose real name is Millie. Convinced that the publisher of Free City, Antwan (Taika Waititi), stole her and her ex-partner Keys' (Joe Keery) code, Millie peruses the fictional streets in search of any evidence of Antwan's theft. Guy's infatuation with Molotov Girl catalyzes his journey of self-discovery, setting him upon a path to reach his true potential as an NPC – while also helping Millie along the way.
In terms of atmosphere, Free City's world building, colorful action sequences and inherent violence are odes to popular open-world video games such as Grand Theft Auto and Fortnite. Minus the relentless action and crime, the gamescape is surprisingly convincing, with skyscrapers and apartments similar to those in the real world, creating a landscape that paradoxically ties together and distinguishes between Guy's and Millie's storylines.
[Related: Movie review: 'The Green Knight' provides a masterful meditation on honor, greatness]
Though the film largely revolves around a fictional, artificial life-form, certain premises are strikingly cognizant of today's society. Guy's popularity that comes with his newfound quest for fulfillment reaches people worldwide, who dub him the "Blue Shirt Guy." Media outlets, news anchors and video game streamers alike all commentate on Guy and, intercut with scenes of gamers playing Free City from around the world, the film leans into the universal power video games currently have on the global population.
Another impressive feature comes with Dude (Aaron W. Reed), a beefed-up version of Guy. Antwan authorizes the creation of Dude as a foil to Guy but orders his entry into the game before he has been completely developed. Thus, this buff Ryan Reynolds appears fake – a seemingly tight-budget product of bad CGI. But the film maintains a level of self-awareness, as this is how Dude is expected to look. And it's this mindfulness that ultimately furthers the film's originality, with the film's editing paralleling Guy's self-aware character arc.
But despite its world building success, the film falls short in narrative depth. "Free Guy" capitalizes on the intersection between realism and outright ridiculousness but fails to maintain the level of sobriety needed when dealing with introspective topics such as free will. In one instance, Guy attempts to convince his fellow NPCs to ditch their routines, to which they reply positively after just a bit of protest, undergoing a development that comes much too fast – especially since the decision followed a mere surface-level discourse on free will.
Narratively, Guy reaches a climactic downfall after realizing he's not actually real but simply an NPC living in a fictional world. Buddy consequently attempts to reassure Guy, and though the monologue Buddy delivers is rooted in friendship and honesty, it remains clunky and awkward among the film's comedic one-liners and action sequences.
[Related: Movie review: 'Snake Eyes' is visually artistic, albeit predictable action flick]
As a comedy, the film delivers punchy lines that elicit smiles and some giggles – but nothing more. The dialogue is riddled with subtle one-liners packed with sexual undertones, and though they somewhat work within the film's world, they are slightly reminiscent of jokes heard on a middle school playground.
Additionally, with such a heavy focus on character development, it's ironic that many of the film's side characters are reduced to convention. Audiences know little about Keys' background and what led him to work for Soonami despite his ex-partner's accusation that the company stole their code. His position in the company does prove convenient for Millie's infiltration later on, but the film fails to characterize his involvement beyond being Millie's sidekick.
Despite its similarities to previous films such as "The Truman Show" and "Ready Player One," "Free Guy" manages to give a new voice to NPCs. Paired with unexpected but welcome cameos, the film provides a flair of summer fun – but nothing more than that.
Within the span of two hours, Guy explores everything from romance to friendship to community. Not too shabby for an NPC.