Student unwinds, displays creativity through Instagram-based jewelry business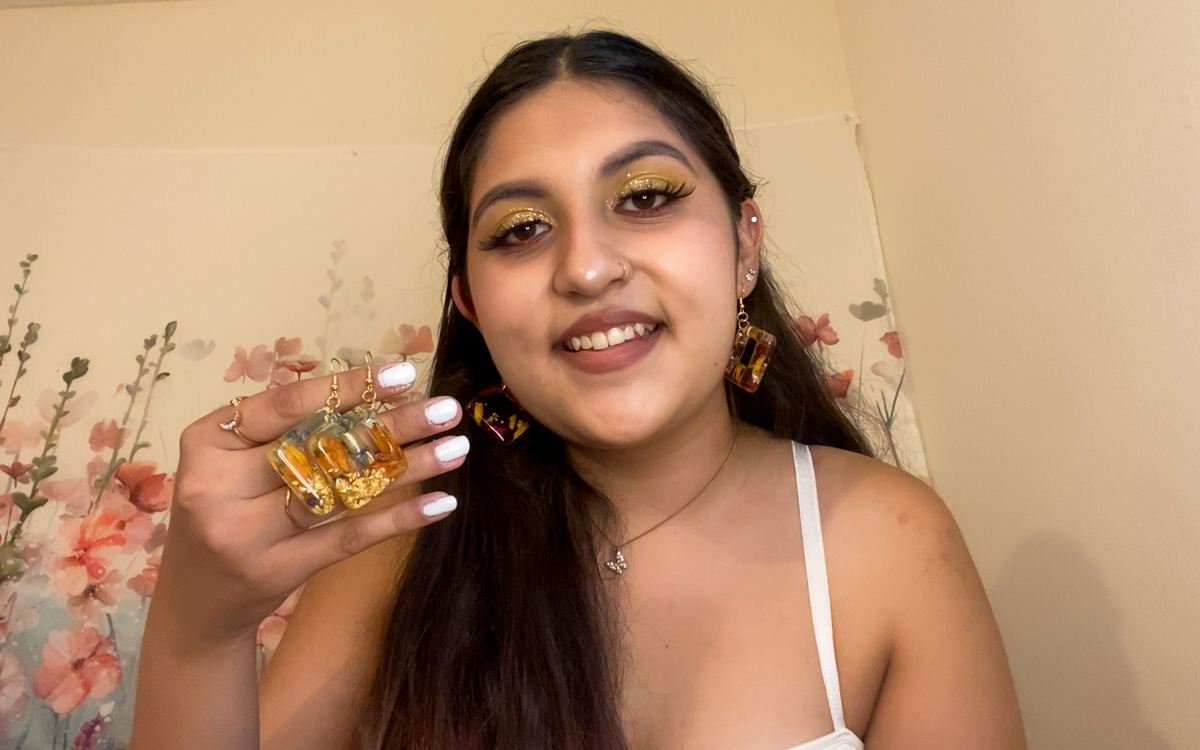 Third-year Chicana and Chicano studies and labor studies student Alondra Gomez is channeling her artistic expression through Alo's Joyería. Started half a year ago, the small business mainly sells earrings and was spurred by encouragement from her family and friends. (Sakshi Joglekar/Assistant Photo editor)
This post was updated Aug. 8 at 6:52 p.m.
For Alondra Gomez, no hobby is off-limits.
The third-year Chicana and Chicano studies and labor studies student's latest artistic endeavor is Alo's Joyería – a small jewelry business featuring handmade pieces. Gomez said she has had a hard time finding a hobby that could keep her attention for as long as she can remember, leading her to try a range of new things. Started about six months ago, Alo's Joyería, meaning "Alo's jewelry store" in Spanish, features beaded and resin jewelry and operates through Instagram.
"I decided to try to go back into jewelry and see how it would go," Gomez said. "I personally just made jewelry for myself, for my roommates – just friends, and they seem to really like it."
While her business wasn't her first foray into jewelry-making, Gomez said it did mark the beginning of monetizing it. After creating pieces for herself, Gomez said her roommates' encouragement led her to start selling her jewelry to friends and followers on social media. Although she crafts items to sell, Gomez said she still utilizes jewelry-making to express herself and de-stress.
"Sometimes I make jewelry while I'm watching Netflix, so it helps me unwind," Gomez said. "But I also really enjoy seeing the jewelry on my friends and the people that buy it from me."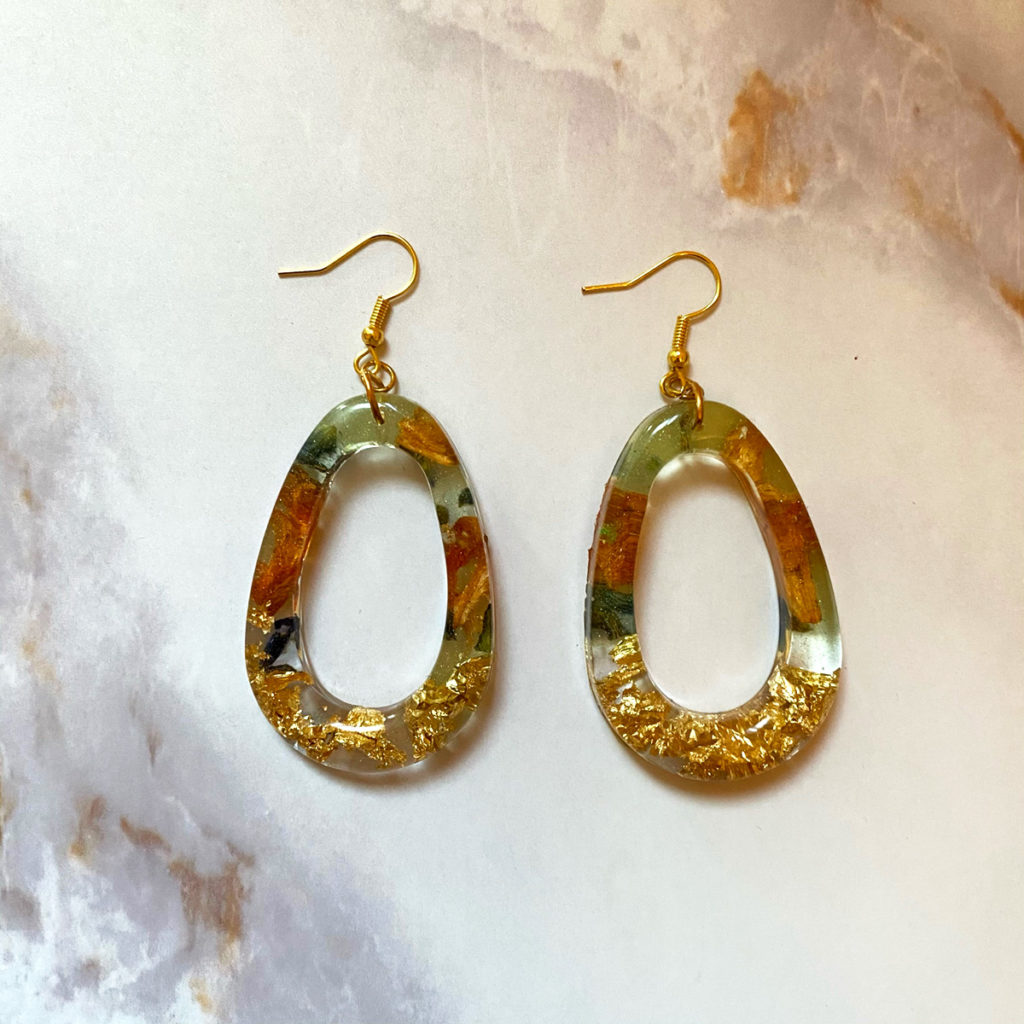 [Related: Student launches sustainable jewelry business using repurposed materials]
One of these friends, fourth-year Chicana and Chicano studies and labor studies student Alejandra Sanchez-Castro, said she has seen growth in Gomez through Alo's Joyería over the past few months. Sanchez-Castro said her friend, who serves as the public relations chair for their sorority, has accumulated and transferred her skills from that role to her small business.
"It makes sense that she would also do something to express her creativity further, but (Alo's Joyería) is definitely a way of coming out of her shell," Sanchez-Castro said.
Besides creating art, selling it and photographing pieces, Gomez said she oversees sales and packages items herself. Her recent collections have focused on earrings, something with which she has long had a fascination, she said. She added that the straightforward nature of earrings lends itself well to her rapidly changing interests, and their small shape makes them less time-consuming than other pieces.
Within the last few months, Gomez said she has started to utilize new materials, mainly resin. After seeing online examples of resin pieces incorporating foil and florals, she was inspired to try the technique herself, she said. Shifting away from her original beaded pieces, Gomez said her exploration into resin was reliant on trial and error.
"I don't usually go in with a set plan when I start doing stuff. It's more of just, 'Let's see how it goes and then work from there and build up to what I want,'" Gomez said.
Araceli Lozano, a fourth-year political science and sociology student and friend of Gomez, said she has watched firsthand the process of creating collections as one of Gomez's roommates. After finding out Gomez had an artistic eye from painting together, Lozano said she saw one of Gomez's strengths: her ability to continually find distinct ideas for collections and pieces.
Released periodically, Gomez's collections feature pieces all under one theme. Gomez said she tries to appeal to as many people as possible, resulting in the variety of styles and colors featured in her collections. Her themed releases range from a collection inspired by "Starry Night" to her most recent collection called "Primavera." Lozano said her personal favorite is the "La Playa" collection which features bold, beachy colors.
"It was pretty cool seeing the sales, how it went from her just making earrings and making them for us to actually being able to make a profit out of them," Lozano said.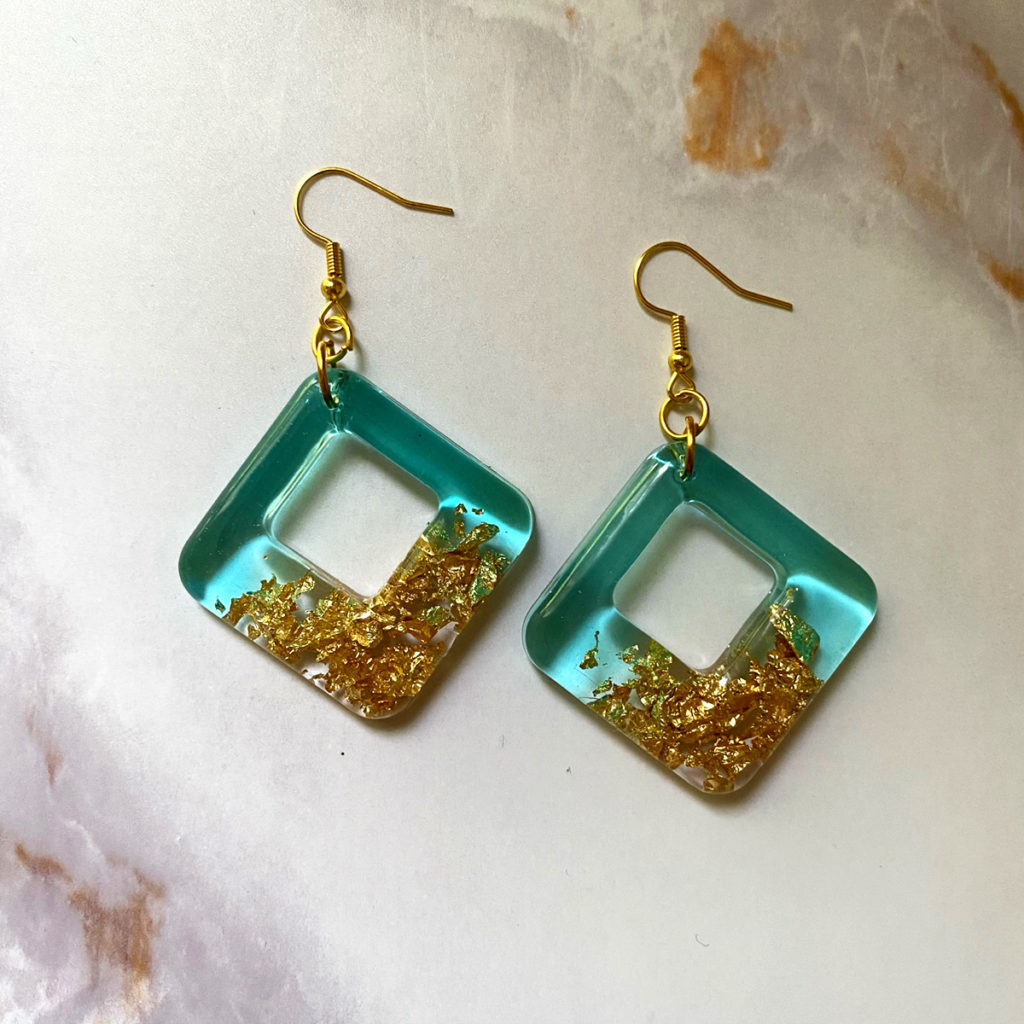 [Related: Alumna-owned Stunner Jewelry brings together style and ethical manufacturing]
When it comes to the business side of Alo's Joyería, Gomez said it has been challenging to manage the operation by herself. Much of the experience has been learning on the job for Gomez, who said she came into this position with no idea how to operate a small business. Despite the added pressure, Gomez said she still prioritizes keeping jewelry-making as a hobby and de-stressor for herself.
As her business continues to grow, Gomez said she hopes to get a website for Alo's Joyería up and running. Gomez encourages other people looking to start small businesses not to hold back and work with whatever they have. Gomez said she struggled with her own self-doubt before starting Alo's Joyería but has learned through the process of creating her own small business.
"(Having a small business) is good because you don't know the dynamics of everything, but you grow and learn, and it can come out to be something really good," Gomez said.