'Gossip Girl' season 1 recap – episode 2: 'She's Having a Maybe'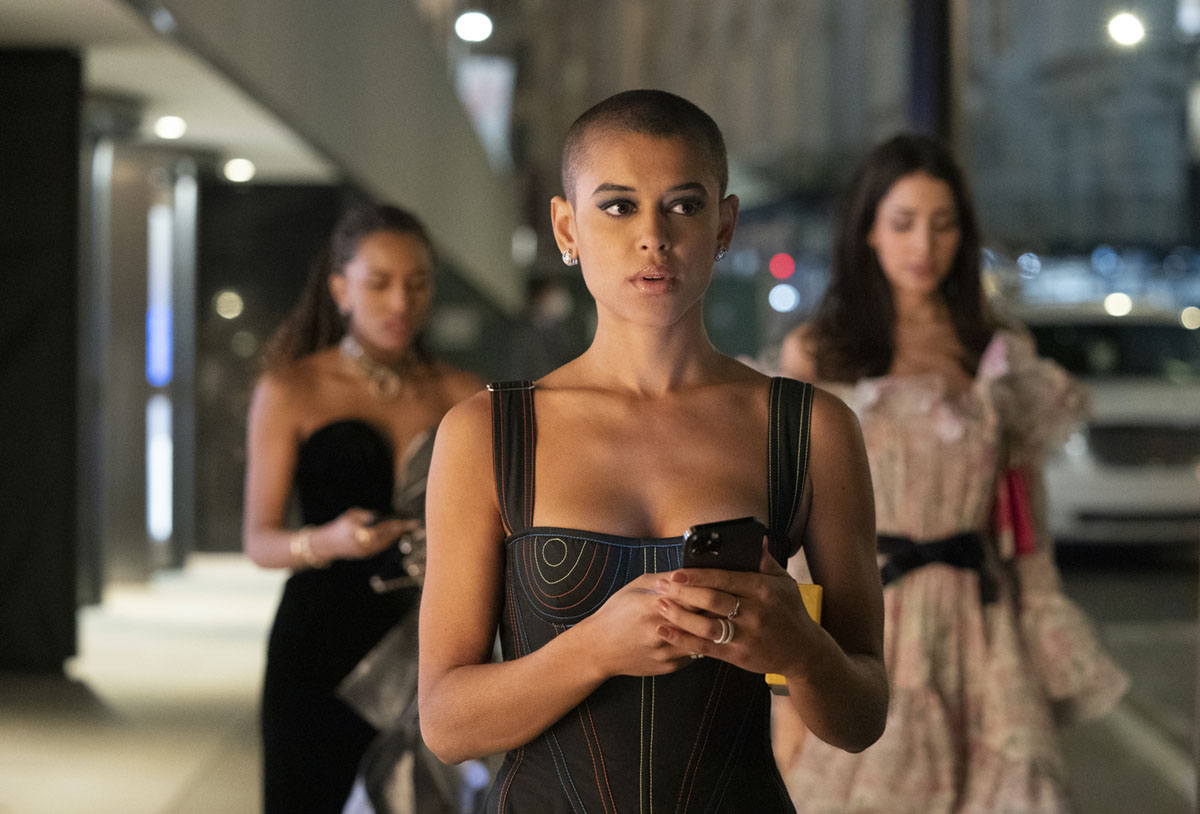 (Courtesy of Karolina Wojtasik/HBO Max)
"She's Having a Maybe"
Directed by Karena Evans
HBO Max
July 15
(
Warning: spoilers ahead.
Spotted: Gossip Girl leaks juicy content for her followers – until it backfires harshly.
Released Thursday, the second installment of "Gossip Girl" follows the insurmountable figure taking another jab at the problematic Julien (Jordan Alexander) and Zoya (Whitney Peak) sister duo. While the former struggles to keep her "Julliance" fanbase after being dumped by Obie (Eli Brown), the charming ex-boyfriend now has hopes to pair with the latter. Topped with pesky Instagram posts and a self-determined Julien, the episode questions the credibility of Gossip Girl and reveals Kate Keller's (Tavi Gevinson) emotional vulnerability despite plotting to exploit her students' lives.
In an elegant opening scene, Keller prepares for the annual parent-teacher conferences and soon mingles with her fellow Gossip Girl crewmates of Constance Billard, who strongly suggest she make her next move with the account to round up their students' attention and respect. Plotting to exploit their students' lives in exchange for power while simultaneously praising their academic performances during the parent-teacher meetings, Keller and her colleagues' motives are ironic to say the least.
While the teachers sit through a long night of kissing up to the parents, the main group of students gather in Dumbo Hall where Julien and her minions, Monet (Savannah Lee Smith) and Luna (Zión Moreno), hatch up a plan to keep her fanship. Knowing the recent spotting of Zoya and Obie would threaten Julien's fan following, the three cover up their hangout as #girlsnightout in order to lure her followers into believing she is still dating the beloved Obie.
[Related: 'Gossip Girl' season 1 recap – episode 1: 'Just Another Girl on the MTA']
Moments like this reveal the reality that many influencers face as they fight to sustain a fanbase at any cost. Julien's public relationship with Obie closely resembles that of Justin Bieber and Selena Gomez's past romance, as many of her followers repeatedly ask of his and Zoya's whereabouts on her recent posts and vow to abandon Julien if she leaves him.
Meanwhile, on the other side of town, Obie secretly meets up with a grounded Zoya only to be exposed and exploited by Gossip Girl shortly after. The power of the vicious Instagram account's loyal followers is evident as a random pedestrian sends her a picture of the not-so-sly couple's romantic interaction. While the scene creates more tension for the rising couple, it escalates quickly compared to other TV dramas that give their lovebirds a few episodes to settle in before stirring up the plot.
The tension continues to build on the night of a school fundraiser, where Davis (Luke Kirby) and Nick (Johnathan Fernandez) – Julien and Zoya's respective fathers – run into each other and Davis discovers the half-sisters' secret relationship. Alexander delivers an emotionally raw performance as she conveys Julien's desperate desire to reconnect with her newfound sister after the passing of their mother. Almost breaking into tears, Julien reacts as if releasing her inner grievance against her father was the price she had to pay to keep her sister – revealing hardships beyond those caused by her social status.
[Related: Movie Review: 'Black Widow' a compelling story of female empowerment unique in Marvel catalog]
After Julien's argument with her father, she tracks down Obie and Zoya on their secret date in hopes of exposing the couple to Nick and Davis but has a last-minute change of heart after seeing the genuine attraction Obie has for her sister. Although there is a glimpse of a power-hungry Julien in her efforts to bring down Zoya, she also holds a sympathetic side to her – just as Blair Waldorf held on occasion when trying to sabotage Serena van der Woodsen. While the sisters' short-lived clash closely resembles the relationship between Serena and Blair – who also often entered heated arguments but always eventually made amends – there is eventually a resolution to the brutal punches from Gossip Girl.
Altogether, Julien's strong but quickly watered-down effort to bring down Zoya sets up hope for a more amicable relationship between the sisters, but no promises can be made. Alexander and Peaks' performances depict an outstanding rivalry and reconnection between the two main characters – following the iconic, dramatic feuding between the 2007 leads. However, there is some realistic sympathy to Keller's Gossip Girl that did not show in the original, which could introduce new themes of guilt and the abuse of power in future episodes.
Gossip Girl is still on the loose, and she's coming for more Upper East Side blood.