Lotus Swim offers affordable, on-trend swimwear without sacrificing sustainability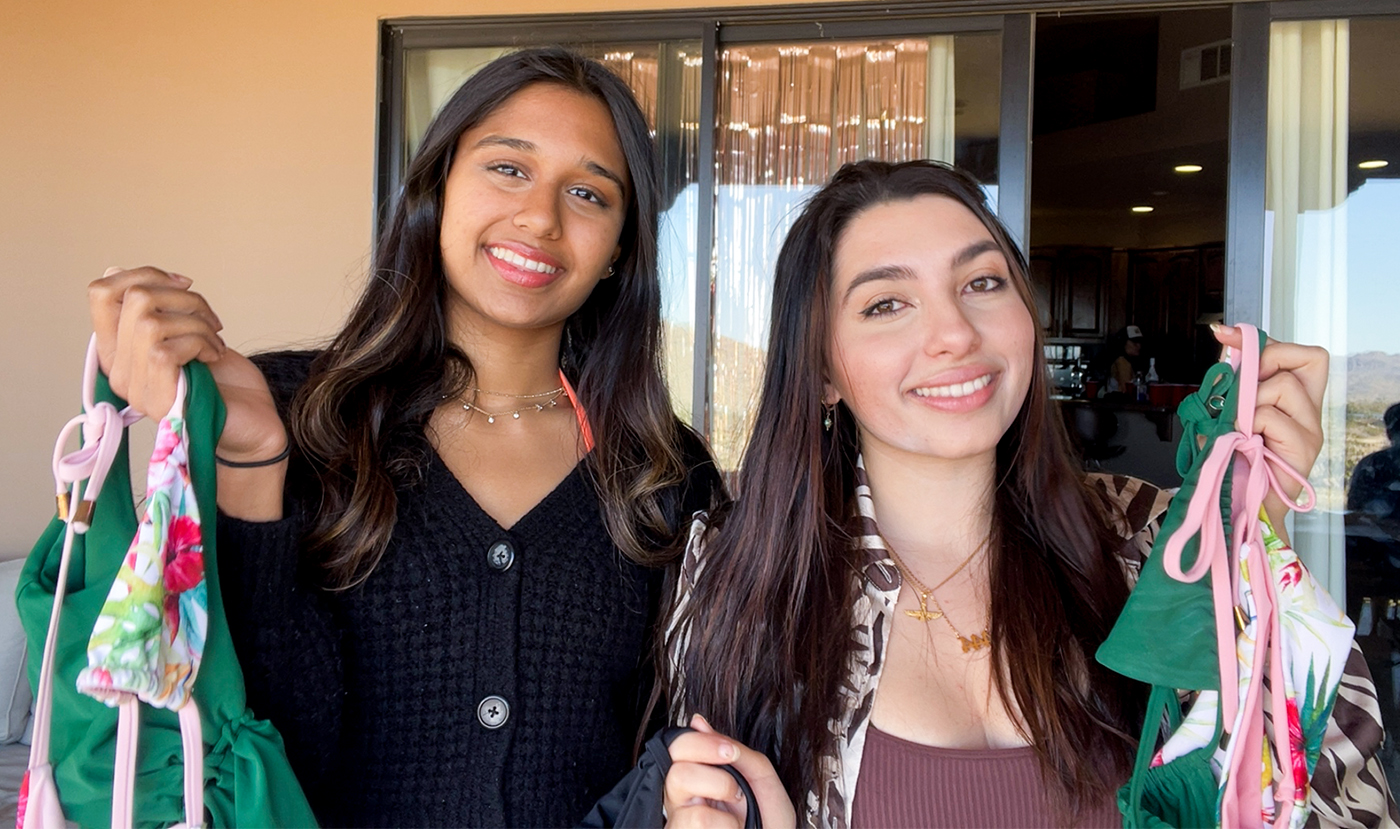 Co-founded by Roxanne Ohayon, a fourth-year microbiology, immunology and molecular genetics student, and Marissa Shankar, a fourth-year business economics student, Lotus Swim is operated entirely by undergraduate students. The brand offers affordable swimwear while ensuring that all levels of production are ethical and sustainable. (Sakshi Joglekar/Daily Bruin staff)
Lotus Swim is carving out its own space in the fashion sphere.
Operated entirely by undergraduate students, the fashion line offers clothing that is both affordable and sustainable. After its first launch of reversible swimwear in 2019, Lotus Swim co-founder and fourth-year microbiology, immunology and molecular genetics student Roxanne Ohayon said the team is branching out into loungewear for its upcoming launch this month. She said Lotus Swim's mission is not to compete with fast fashion brands, but rather to empower an environmentalist community of Generation Z and millennials who are passionate about sustainability.
"It is becoming more popular for people to vote with their wallets," Ohayon said. "Not only do we want to make (clothing) accessible in terms of price range, but we also want to emphasize how your purchase is going towards causes you care about."
[Related: Social connection app bLinkup launches UCLA ambassador team]
Co-founder Marissa Shankar, a fourth-year business economics student, said the inspiration for Lotus Swim began with Pinterest mood boards and a few design ideas. With the help of Bruin Tank – an annual pitch competition for student entrepreneurs – and reaching out to UCLA sororities for exposure, she said they were able to flesh out a fully realized brand.
"Roxanne was very on top of business and production and I mostly focus on the marketing and the branding side of it," Shankar said. "We split the work between the two of us (focusing) on what our strengths are."
Limiting the quantity of the swimwear's manufacturing was the first step in ensuring Lotus Swim is environmentally sustainable in ways that fast fashion is not, Ohayon said. Finding a manufacturer took a lot of trial and error until Ohayon landed on Eco Now, which repurposes recovered fishing nets to make fabric for small batch orders. She said the overseas manufacturer also fulfills her other priority of partnering with a women-owned factory that ensures safe working conditions and livable wages for its employees.
Although the company's sustainability efforts may have slightly lowered its profit margins compared to large corporations, Ohayon said she is not willing to compromise her ethical standards for the sake of financial gain. Instead, she said she focuses on having solid marketing strategies such as posting spotlights on social media to highlight customers and hosting pop-up shops at the Melrose Trading Post. To demonstrate her business ideals in her products, Ohayon said she designed her bikinis using timeless colors like a neutral black and a natural green, reversible designs and strings that can be fashioned multiple ways rather than keeping up with fast fashion trends.
"Fast fashion really falls short on being able to connect with the consumer and make them feel like they're a part of something that is bigger than just purchasing clothes," Ohayon said.
Another aspect of Lotus Swim that differs from big brands is its close-knit team, which Ohayon said includes its internship program that focuses on primary market research strategy and trend forecasting. Trinity Chang, a first-year business economics and environmental science student and Lotus Swim intern, said each team member plays a critical role in almost all of the tasks involved with a startup, like finding funding and developing a marketing strategy.
[Related: Bicycle project aims to encourage sustainable commuting in low-income areas]
The sisterhoodlike bond within the team, consisting of Ohayon, Chang and fellow intern Laila Sarhan, also helps mitigate the hardships of being a small business, Chang said. Although the production and delivery time are far slower than larger brands, Chang said it is exciting to be pivoting into a new sector of completely biodegradable loungewear.
"Lotus' mission is first to educate the UCLA community and beyond about the importance of sustainability and voting with your dollar," Chang said. "And then secondly, provide products that make consumers feel good about themselves and about what they're contributing to."
When creating her own startup, Ohayon said the biggest challenge was learning that oftentimes she would be the only female in the room. However, she now uses herself as an example for other young female entrepreneurs, encouraging them to advocate for themselves and seek support when necessary.
"You need to be confident and speak your truth. Know that your ideas are valid and deserve to be heard," Ohayon said.
Moving forward, Ohayon and her team will be partnering with the only Black-woman-owned small batch manufacturer in downtown Los Angeles for Lotus Swim's next launch. She said the next collection involves biodegradable and modal fabric made from wood chips in an effort to showcase that Lotus Swim's brand aims to empower women of color without sacrificing sustainability. Ohayon said her vision for the brand is to further integrate it into the UCLA and LA community at large through future partnerships with sustainable organizations like Duffl.
"We are turning away from wanting to substitute fast fashion and turning more into an artistic collective," Ohayon said. "We want limited drops that are more impactful and making an impact on the local space."