New Hammer Museum series to explore 'Invisible Man' novel via weekly discussions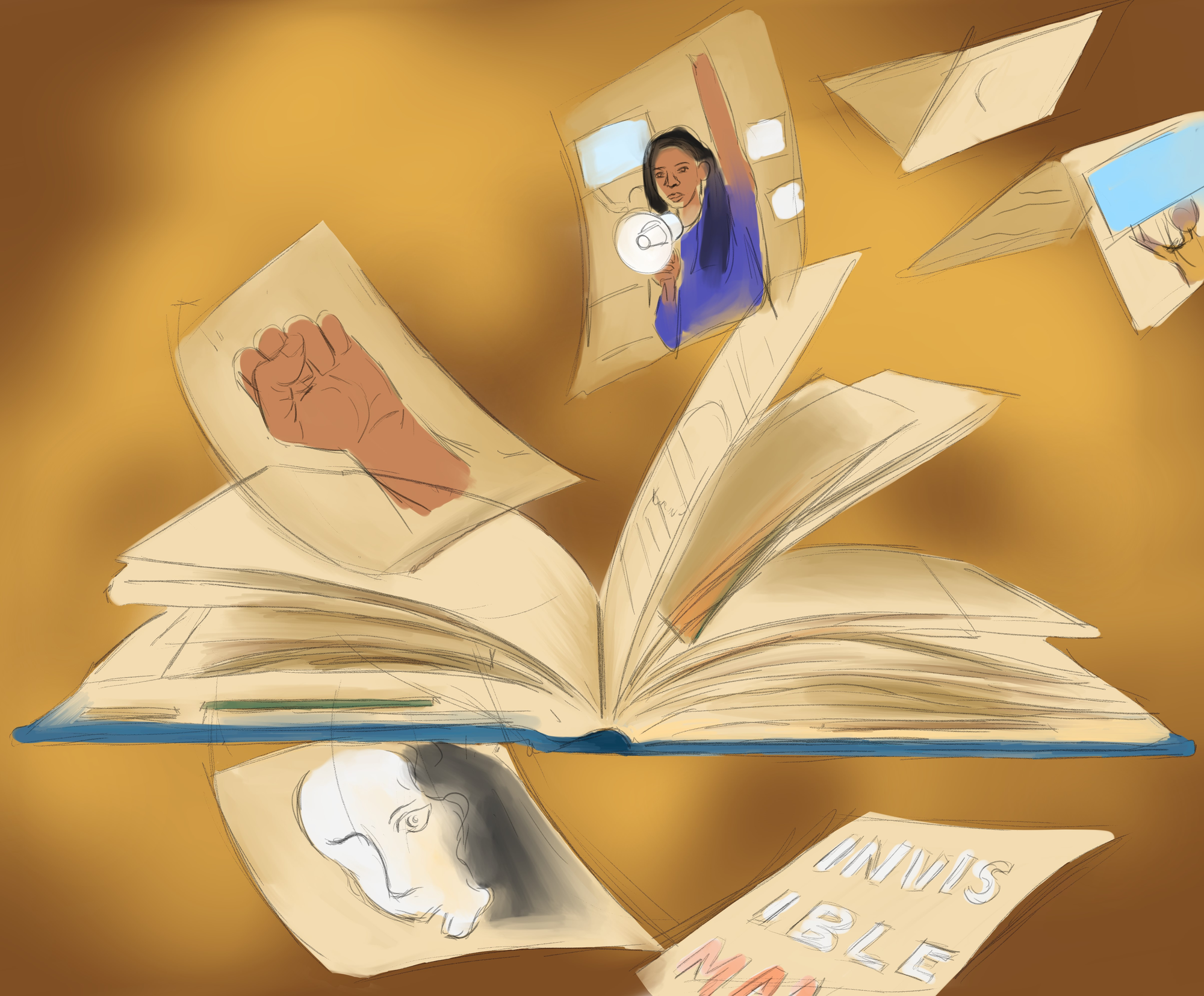 (Vaibhavi Patankar/Daily Bruin)
This post was updated April 25 6:12 p.m.
It's never too late to reread an old classic.
The Hammer Museum's new program series, "Revisiting Ralph Ellison's 'Invisible Man,'" begins Tuesday and runs every Tuesday until May 18. Through group discussions and a final panel with guest speakers, attendees have the opportunity to discuss Ellison's classic novel "Invisible Man" with UCLA faculty, including English professors Mona Simpson and Adam Bradley. Simpson, who will be a moderator and panelist for the upcoming series, said it was inspired by author Yiyun Li's virtual book club Tolstoy Together, which started at the beginning of the COVID-19 pandemic.
"(Tolstoy Together) was a really lovely thing," Simpson said. "(It was) really fun and successful because you have all these people reading this great book together, so I wanted to do that – I wanted (us) to read a great book together."
[Related: Brown Bag lecture explores themes of inclusivity, identity in Alice Notley's poems]
Simpson was originally the host and organizer of "Some Favorite Writers," a Hammer Museum series inviting contemporary authors to read and discuss their work. But because the live readings weren't as successful over Zoom, Simpson said she decided to shift to a program focused on discussing classic literature instead – namely Ellison's "Invisible Man."
Although Simpson's past series typically invited authors to answer guests' questions, the new program will deviate from the typical format. For each meeting, discussion leaders will have a set of prepared questions pertaining to that week's topic, but the conversation will be open for anyone to contribute, she said. The first three sessions focus on specific themes in "Invisible Man" like politics, identity and race, ending with a panel on the novel's lasting resonance.
Once Simpson had the idea for the series, Claudia Bestor, director of public programs at the Hammer Museum, said she and Simpson decided on the novel together and reached out to Bradley to help organize the program. As they planned which authors and scholars to include, Bradley said they considered those who were the most connected to and influenced by Ellison's work. Ellison's literary executor, John Callahan, and author Danielle Evans joined the program series as discussion leaders and panelists.
"We wanted to talk about 'Invisible Man' as a great work of literature but also where it stands today and its relevancy today," Bestor said. "So we decided to do a program where we invited contemporary authors who also write about race and alienation in America and open the discussion up."
While the program series isn't necessarily called a book club, Bestor said it is patterned like one. To make the Zoom discussions feel more intimate, attendance is limited to 25 people per meeting, Bestor said. And instead of using a webinar format in which participants can only view the designated speakers, each event will be held through a regular Zoom meeting, so all attendees can participate and speak to each other.
"It's very much a dialogue," Simpson said, "Hopefully it'll feel like a good book group or a good dinner party with friends, where we all read the same book."
[Related: UCLA Film and Television Archive honors Black cinematic pioneer Sarah Maldoror]
And although Ellison is not alive to answer questions about his novel, Bradley said his experience researching and writing an annotated version of "Invisible Man" has allowed him to get to know Ellison on an almost personal level.
"The thing I'll bring to the participants is that inside glimpse into the private Ellison –into his notes, letters, musings and drafts of the manuscript that he labored over for seven years writing 'Invisible Man,'" Bradley said. "And (I can) share some insider perspective of Ellison as a writer, as a thinker and as an American citizen."
Ultimately, Bradley said the classic novel is timely in its discussion of race and police brutality and timeless because it is a universal coming-of-age story about finding one's place in the world. He aims to have attendees leave the program with a greater understanding of Ellison's literary vision and the importance of "Invisible Man," he said.
"I hope that they will be provoked to look at the world differently based upon what the novel brings to them," Bradley said. "The 'Invisible Man' will take up residence in their heads and they will look out at the world, and sometimes see it through the character's eyes."