Brown Bag lecture explores themes of inclusivity, identity in Alice Notley's poems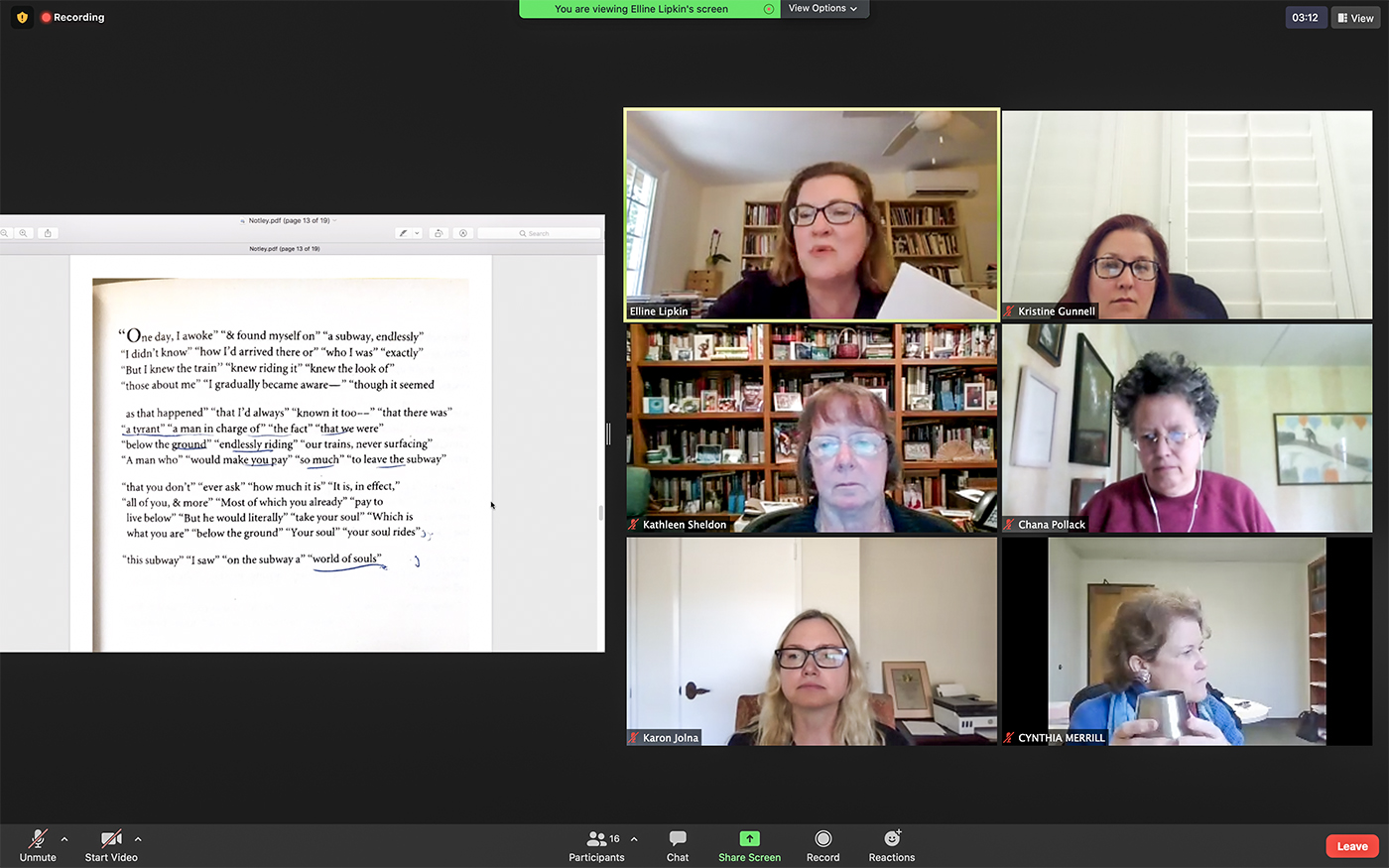 This year's Brown Bag lecture series, hosted by the Center for the Study of Women, ended Friday with Elline Lipkin's talk, "Resist, Reframe, Insist: Alice Notley's Poetics of Inclusion." (Esther Li/Daily Bruin staff)
By embodying multiple voices in her poetry, Alice Notley takes inclusivity to the max.
On Friday, the Center for the Study of Women virtually hosted Elline Lipkin's talk, "Resist, Reframe, Insist: Alice Notley's Poetics of Inclusion." Based on her research for an article in "Northern American Women Poets in the 21st Century: Beyond Lyric and Language," Lipkin covered the elements and themes of Notley's work. Kristine Gunnell, Research Affiliate at the Center for the Study of Women, said the talk is the last of three for this year's Brown Bag lecture series.
"The Research Affiliates program is intended to give scholars not only an opportunity to continue their research but to present it," Gunnell said. "CSW is intended to be a gathering place for scholars who are interested in any type of gender research throughout campus."
[Related: Dance Marathon 2021 virtually raises awareness for pediatric HIV/AIDS]
The goal of research scholars is always to build community and to share ideas, Gunnell said. The Brown Bag series is interdisciplinary, offering talks not only about poetry but also about a number of other subjects like law and history. For this reason, Lipkin said she hopes people who feel daunted by poetry will find a way to understand and connect with the work through her writing and lectures.
Over the course of her research, Lipkin said she found that Notley is a writer who teaches people how to read her. While she initially found Notley's poetry complex and slightly inaccessible, thinking about it for years enriched her understanding of Notley's work and intentions. In her poems, Notley writes from different perspectives and employs quotation marks unconventionally. For example, Notley's book-length contemporary epic poem "The Descent of Alette" opens with the line "'One day, I awoke' '& found myself on' 'a subway, endlessly.'" Lipkin said it took her time to understand Notley's intentions in dividing the phrases with quotation marks.
"The more you read it, the more you begin to feel how the quickness of marks are working," Lipkin said. "It came to feel like something incredibly unique that she invented, a way of presenting text and marking or demarcating text in a way that is wholly hers."
Another characteristic of Notley's writing is her adoption of different voices through the "expanded 'I.'" Notley used this mode to write in the voices of her children, Lipkin said. Writing in the 1960s, Notley's desire to be a full-time writer conflicted with the societal expectation that she be the primary caretaker of her children. Lipkin said Notley began her poetic career in the second generation of the New York School of poets as part of a second-wave feminist consciousness, overcoming social barriers to garner attention for her work. In her book "Culture of One," Notley writes about her attitude toward poetry, Lipkin said.
"When she wrote, she didn't want to just write from her perspective," Lipkin said. "She deliberately wanted to write from other positions and almost in a ghostlike way, she's almost channeling other presences. In some ways, it's a radical point of view for a poet."
[Related: Online dance performance emphasizes resisting white supremacy through movement]
Notley's shifting perspective manifests in her fluid use of pronouns – a device that resonated with first-year life sciences student Audrey Laun, who attended Friday's event. She said Notley's ideas can be relevant today, especially regarding the flexibility of pronouns. Many of Notley's themes are applicable on a general level, Laun said, such as Notley's struggle between being a writer and a mother, reflecting the universal experience of having a multifaceted identity. Struggles with identity – its fragmentation and dissolution – stood out to Laun, especially in passages from "The Descent of Alette."
"In that story the narrator … doesn't even know her own name," Laun said. "She doesn't know who she is, but she still recognizes her surroundings. It's an interesting loss of self."
Still addressing these themes in her work, Notley currently lives in Paris, France and writes prolifically, Lipkin said. Notley released "For the Ride" in 2020, in which Lipkin said the writing is deliberately unguarded and unfiltered. The permeability between Notley's thoughts and what she puts on the page has influenced Lipkin's own work, she said. With April being National Poetry Month, Gunnell said she hopes people can find a greater appreciation for American poetry through Notley's work. Lipkin's lecture for the Center for the Study of Women is a celebration of scholarly community and the power of poetry.
"Poetry itself can provide a view on the world which we don't always see empirically," Gunnell said.