Dance film 'IYAguration' celebrates Black culture through dance styles, design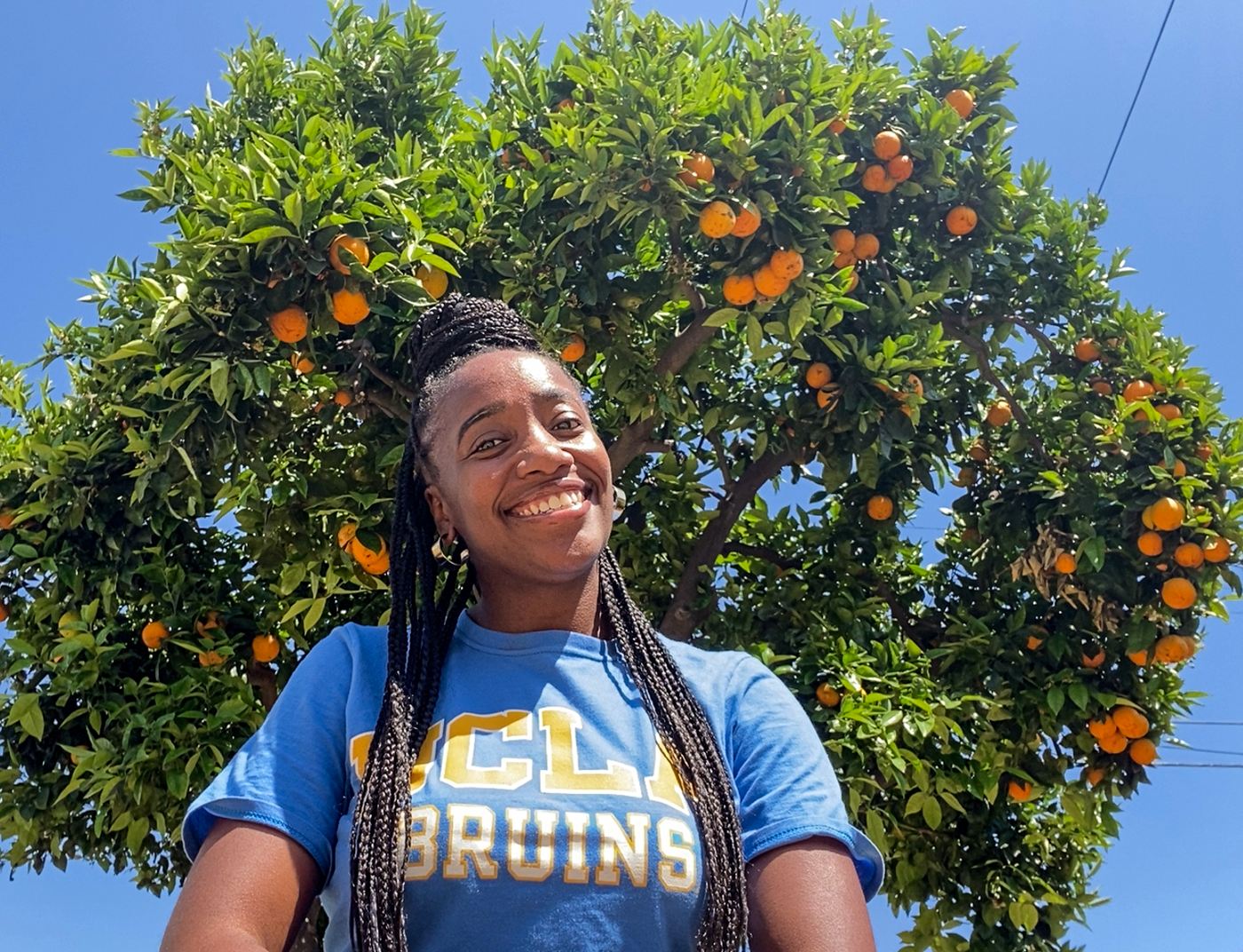 Graduate student Kara Jenelle Wade was the choreographer and director for "IYAguration," a dance film premiering virtually Friday through the Department of World Arts and Cultures/Dance. (Sakshi Joglekar/Daily Bruin staff)
"IYAguration" aims to immerse its audience in the African culture it was inspired by.
Choreographed by graduate student Kara Jenelle Wade, the dance film celebrates the resilience of Black women throughout the African diaspora. The film will premiere virtually Friday through the Department of World Arts and Cultures/Dance. Drawing on Wade's own identity and heritage, the choreography pulls from styles from across the African continent. Wade said she hopes audiences get a glimpse of the history and culture of Black women, and for Black women themselves to feel a sense of pride in being represented through dance.
"My inspiration came from my connection with my identity, my heritage and my roots as a Black woman in America," Wade said.
From the piece's name to the costume choices, Wade said every aspect of the film reflects her desire to express a culture authentic to the experience of Black women. The name "IYAguration" is a combination of the Yoruba word "Iya," meaning "great mother," and "inauguration," which celebrates Kamala Harris being elected as the first woman of color to be vice president. As for the costumes, Wade said the color palette stemmed from royal colors, as well as the purple, yellow and burgundy worn by Kamala Harris, Michelle Obama and Amanda Gorman during President Joe Biden's inauguration ceremony.
Even the hairstyling choices were intended to honor her African heritage, Wade said. Wade chose for the dancers to wear their hair in natural styles in support of The CROWN Act, which continues to fight for Black women to wear their natural hair and still be deemed professional. The braids and bantu knots display a sense of pride for the nuances that come with being a Black woman, she said. Wade used South African aesthetics with her jewelry choices and included masks in the costumes to reflect the current pandemic and its effects on minority groups in particular, she said. The costumes themselves used a print called Subra, a design originating in Ghana with circles to symbolize water and the circle of life.
"A libation is a pouring of water which is honoring your ancestors and those who came before you," Wade said. "I also speak to the transatlantic slave trade, where we lost a lot of our African brothers and sisters."
[Related: Online dance performance emphasizes resisting white supremacy through movement]
"IYAguration" was filmed in Rosarito Beach, Mexico, as Wade said the setting next to the ocean and the real sound footage of the waves reflect the film's theme of liberation. Filming at the beach was also significant because Wade said she wanted the film to take place in nature with some man-made elements to reflect both the past, present and future of African culture.
For the choreography, Wade said she spanned across genres to convey themes of racial injustice while celebrating the triumphs of Black women. She said her technique encompasses traditional Djembe West African style, Afro House from Guinea and South Africa, and Caribbean movements. The tones and movement combined with polyrhythmic sounds create a style that is innately African, Wade said.
These rhythms layered with the sounds of nature and drum beats underscore the tradition of dance lineages that go back to West Africa, said alumna and production consultant Tula Strong. The physical dance movements, sounds and moments where the dancers are speaking to each other all work together to amplify the need to speak out against larger societal issues, she said. In the midst of a reckoning surrounding white supremacy and racial injustice, Strong said a key component of "IYAguration" is the encouragement of its audience to rejoice in celebration of Black history and stories.
"In all the heaviness, it's important for folks of color to have a time to breathe," Strong said. "I feel like this work is also about having joy and breathing."
[Related: Student-run WACsmash event brings dance, art into digital space]
The choreography came to life when it was combined with music, said sound designer and third-year theater student Alexis Tongue. As a Black woman herself, she said it is especially important to see herself represented on the screen and be a part of a majority Black production. In terms of the project as a whole, she said she hopes audiences can see how "IYAguration" uses dance to portray and heighten emotion, while incorporating authentic beats native to the countries the dances originate from.
"I think sound is a really powerful storytelling mechanism," Tongue said. "The music, drumming and water sounds you hear give the piece a clarity and cohesion that would not have been possible with just visuals."
Ultimately, Wade said she intended to create a cohesive piece that spoke to her own heritage, as well as the experiences of the other Black woman who have inspired her and whom she hopes to inspire. She said the choreography and overall vision for "IYAguration" were informed by the pride and resilience instilled in her from the women that came before her, especially her mother.
"If (the audience) is not Black or of African ethnicity, I hope they get a glimpse of our history," Wade said. "For those who relate to the work, I hope they can see a piece of themselves within this work."