Documentary-style podcast explores creative process behind horror comedy 'Scare Me'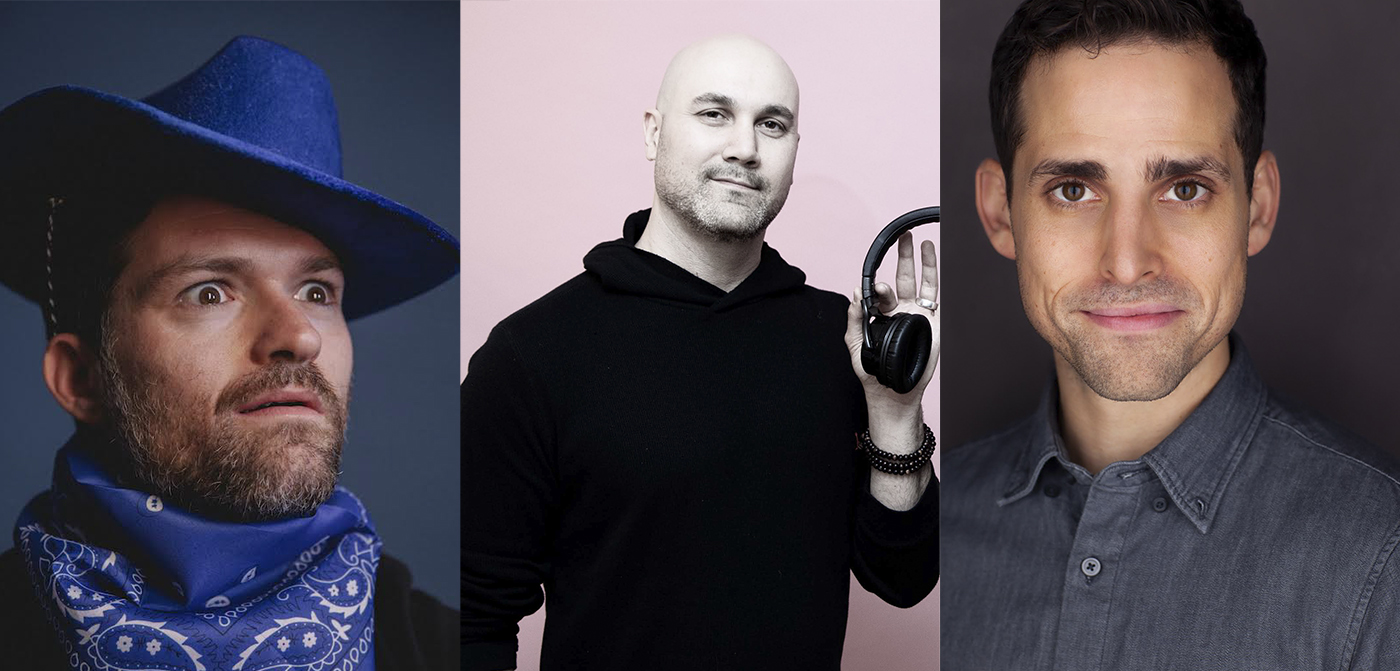 (Left to right: Courtesy of Jackie Russo, Christopher Lane & Coco Jourdana)
By
Daily Bruin Staff
April 19, 2021 8:49 p.m.
The first season of MCS Media's recent podcast explores one director's quest to make a cool movie.
Completing its first season with Tuesday's episode, MCS Media's documentary-style podcast "Make Cool Sh!t" focuses on director Josh Ruben's filmmaking journey of his horror-comedy feature, "Scare Me." Donny Dykowsky said he and the podcast series's other co-founder Mike Bulger originally set out to tell the stories of artists executing their different creative processes.
"Everyone's artful process is like a snowflake, always a bit different, and how people persevere, whether they succeed or not, is fascinating to all of us, and that's why we put so much work into telling Josh's story," Dykowsky said.
[Related: Students delve into diverse narratives of popular films in new 'Iridescence' podcast]
At the project's conception, Dykowsky said the podcast's desire was to have two different creatives produce something new together each episode. However, he said their vision shifted when an opportunity arose to invest in the film "Scare Me," giving the team complete behind-the-scenes access. Once the paperwork was signed, he said he was on set capturing material with a field recorder regularly.
Since Dykowsky was present throughout Ruben's journey, the podcast features audio footage of numerous hardships the filmmakers faced during production, said the podcast's host, Aaron Kheifets. By presenting the audio in a documentary style, Kheifets said the series's portrayal of Ruben's story became more interesting and honest as they captured the challenges faced. Along with this objective dimension, the podcast's editor Dan Strong said the documentary style allows the podcast to be both entertaining and informative.
"Documentary (style) really plays (into the podcast) because we can have a serious moment where you're learning something, and then have a goofy moment, and then have a real moment if something happened on set," Strong said.
In addition to combining both educational and entertaining elements into the podcast, Kheifets said they wanted both casual listeners and listeners familiar with the filmmaking process to feel included. He said no technical knowledge is required to listen to the show, but those with film knowledge will see aspects of production that differ from the norm and can pick up on some tips and tricks. Dykowsky said the podcast also includes learning moments that reference "The Filmmaker's Handbook: a Comprehensive Guide for a Digital Age," a book for filmmaking used by universities around the world.
"We have these little cut scenes where we give you the rule, and then we show you how it's absolutely either broken or applied to the story of 'Scare Me,'" Dykowsky said.
When designing the podcast narrative, Dykowsky said their two main goals were to make people care about the story and to follow Kheifets' principle of storytelling. Attributing his principle to the creators of "South Park" – Trey Parker and Matt Stone – Kheifets said everything happening in a story must be connected with a "but" or "therefore" rather than an "and." With his guidance, Strong said they pieced together distinct chapters from the behind-the-scenes footage of "Scare Me," creating a story that may have differed from their original vision of the podcast's narrative, yet remained an honest account of Ruben's journey.
"By the time the edit was done, I don't know if (the podcast's story) was the exact story the way we thought it would be told, but it was definitely a real and true account of what happened," Strong said.
[Related: 'The Last Days of Judas Iscariot' adds virtual reality to biblical tale]
Discussing the development of Ruben's film, Strong said Ruben was an established writer and comedian who also directed commercials, but he decided to stop doing what was comfortable and take a risk to follow his dream in creating "Scare Me." From Ruben's story, Strong hopes film students could learn that they can always pursue their dream even if it is not possible at first.
Kheifets said the standard approach to succeeding in the film industry involves relying on industry professionals for funding or resources. However, Ruben had not been successful with this strategy, so Kheifets said aspiring filmmakers can learn from his journey of producing a film without a huge budget or insider industry support.
While the podcast's first season focuses on the production of "Scare Me," Dykowsky said next season will likely not concentrate on a film since the variety within creative processes is the podcast's main focus. Regarding the podcast's future, Dykowsky said he will consider the series a success if they can repeat what they have done and draw more attention to the show. Moreover, Kheifets said he wants the podcast to show people they can fulfill their own creative visions if they have the necessary drive.
"The world is designed to make you want to get in line and do (what) other people expect you to do, (what) will make other people money, make you safe, a career and all of those things," Kheifets said. "And I hope (our podcast) shows people that it doesn't have to be that way."
Email Harrison at [email protected] or tweet @lindsayhDB