Students delve into diverse narratives of popular films in new 'Iridescence' podcast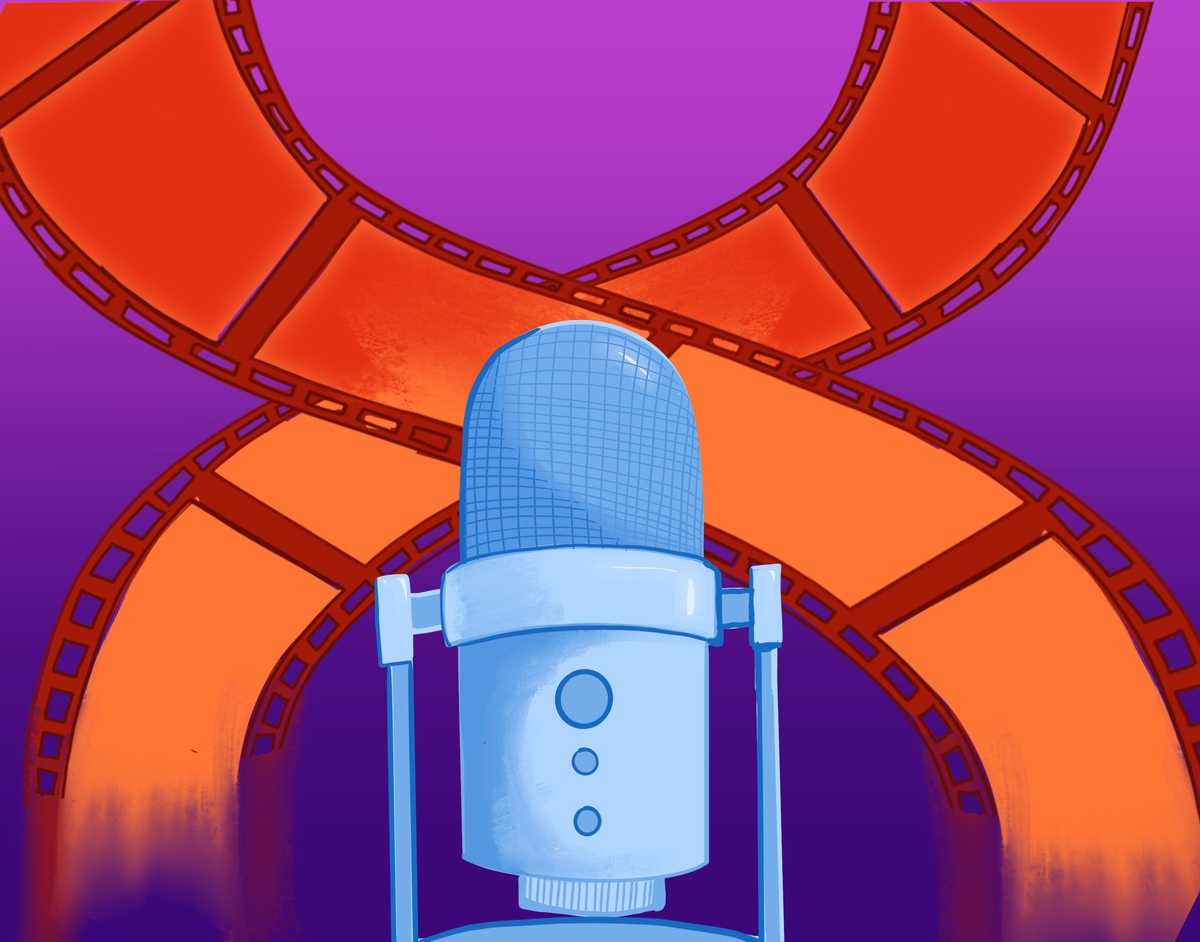 (Emily Dembinski/Daily Bruin)
This post was updated April 2 at 11:20 a.m. to reflect increased transparency regarding Raylene Factora's previous involvement with the Daily Bruin.
Two undergraduate students are shining a colorful light on diverse stories in their new podcast, "Iridescence."
The podcast was started this year by third-year communication student Raylene Factora and third-year psychology student Jeremy Hsing. Factora previously worked at the Daily Bruin. Defining the title as "showing luminous colors that seem to change when seen from different angles," Hsing said film and television does exactly that by allowing people to experience stories from different perspectives. Released on a biweekly basis, each episode is dedicated to reviewing a film and how its impact speaks to the representation of diversity in media and real life.
"In many ways, film is (iridescent) because we get to live vicariously (through it) and experience perspectives that we otherwise never would have," Hsing said. "It allows us to be more globally minded, socially conscious and empathetic of other cultures."
[Related: Q&A: Kelly Marie Tran discusses Asian representation in 'Raya and the Last Dragon']
Although the two bonded over their love of film in their first year at UCLA, they decided to launch the podcast in 2021 because of timing. Hsing said quarantine during the COVID-19 pandemic has given him more time to pursue creative projects, whereas Factora credited the relevancy of current social issues. But ultimately, they both wanted to create the podcast out of their passion for diverse narratives told through film and television.
Having covered features such as "Soul" and most recently "Judas and the Black Messiah," Hsing said they review a movie on the condition that they like it and think it pushes the boundaries of diversity and inclusion. While they have a general outline of the synopsis and their favorite scenes among other topics, Factora said the co-hosts' dialogue is mostly unscripted, waiting until they go on record to share their thoughts. This way, she said they react more organically to each other as co-hosts because it's the first time they hear what the other has to say.
Hsing also attributes their respective takes on a certain scene to their different lived experiences and interests, which is why he said it is so important to have that discourse with someone else. He said the whole point of the podcast is to learn and educate, and he wouldn't be learning by doing the podcast on his own. Similarly, Factora said the experience has also deepened her understanding of films through more fleshed out conversations than the duo's typical discussions.
Other noteworthy aspects the podcasters discuss include general aesthetics, cinematography and actors' performances. The film score is also more than a talking point, as Christopher Asperin, a fourth-year biochemistry student, said he sampled the ambient acoustic guitar in "Rain Song" from the "Minari" soundtrack for the podcast's intro and outro music. Asperin said he added piano and a drum pattern on top to give it a lo-fi sound representative of the contemplative feel that the co-hosts requested.
"We wanted to pay respect to the film score because that's the whole point of using the sample and (Hsing) is a big fan of it," Asperin said. "We also (put) our own personal twist to get the listener in the mood (for) the podcast and what ideas (Factora and Hsing) are trying to convey."
[Related: UCLA film student draws on Filipino heritage in thesis project 'Beauty Queen']
To end an episode, Factora said she and Hsing try to show how the film connects to life by relating its main themes to the present day and their own lives as Asian American college students. Current social issues like the Black Lives Matter resurgence and violence against Asian Americans and Pacific Islanders are also touched upon when discussing the film's content or controversy surrounding the motion picture itself. For example, Factora said the duo addressed how "Minari" was nominated for Best Motion Picture – Foreign Language at this year's Golden Globes despite it telling an American story, reflecting the gatekeeping power the film industry has against Asian Americans.
"These (sociopolitical) issues aren't the main cause of misrepresentation in the media, but you can see a lot of (the misrepresentation) in film and TV as a microcosm of society," Factora said. "It's how people think of (the marginalized groups), and it's really important that we uplift diverse voices and tell stories that accurately represent these people (so) that stereotypes don't form."
In keeping with award show season, Factora said they will continue to review Oscar-nominated works like "Sound of Metal" for their next episode. Hsing also added that they're always looking for films that aren't necessarily mainstream but deserve to be given how well the movie is made and how emotionally poignant, timely and universal the story is. During the summer when there is less buzz around awards, they plan on talking about their all-time favorite movies from different genres. Factora also said they want to branch out into television shows and bring in guests like her friend from the LA Film Festival as they take the podcast in different directions in the future.
"For now, we are doing this (podcast) for ourselves because it's a passion (for) us to talk about film," Factora said. "What we want is to learn more ourselves and also help spread these perspectives and knowledge to the people that listen to our podcast."