'The Last Days of Judas Iscariot' adds virtual reality to biblical tale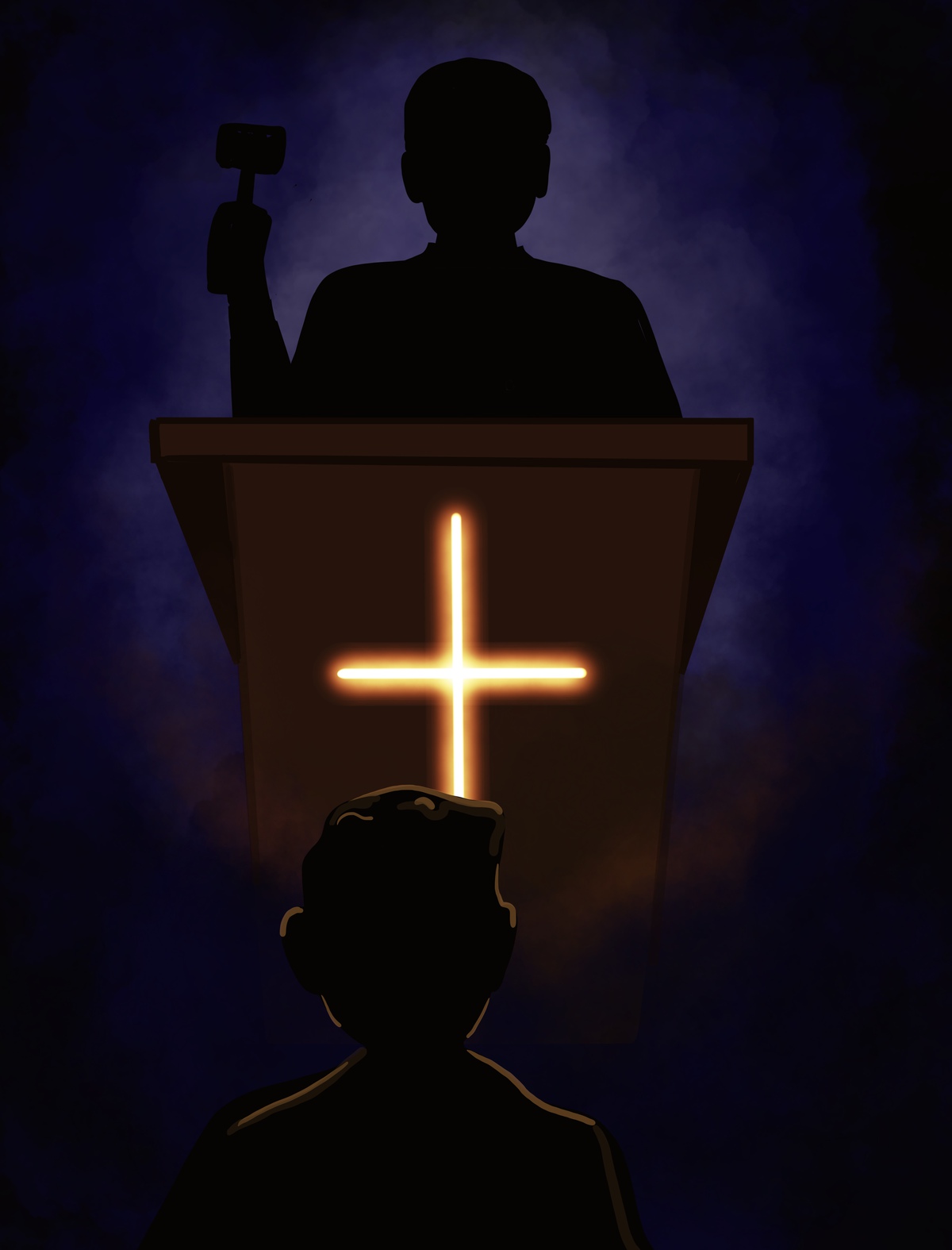 (Emily Dembinski/Illustrations Director)
"The Last Days of Judas Iscariot"
Mar. 18-20
Online
$5.00
March 16, 2021 11:24 a.m.
What happens when Judgment Day arrives and there's no judge?
This is one of the driving questions behind the School of Theater, Film and Television's upcoming production of "The Last Days of Judas Iscariot."
The play proposes a new interpretation of Judas' famous biblical betrayal and will stream on demand March 18-20. Featuring actors from TFT's graduate and undergraduate programs, the production will blend together prerecorded Zoom theater with animated virtual reality elements. Graduate acting student Jacob Salazar, who plays the Judge, said the cast has worked hard all quarter to facilitate chemistry during Zoom rehearsals and to create a safe virtual space for their audience.
"Actors always try to make sure that people are entertained, feel comfortable and learn something," Salazar said. "When you see a show, we make a contract to say that you're safe to think and feel what you will, but the safety of that immediate environment has been removed. We now can't feel our audience or promise that wherever you are is a good place, so we've got to really support each other more."
[Related: UCLA film student draws on Filipino heritage in thesis project 'Beauty Queen']
Playing Judas, graduate acting student Kendale Winbush said connecting emotionally with castmates was challenging over Zoom, a platform dependent on stable internet connections and steady webcams. In rehearsals, the cast had to wait for minutes at a time if someone's Wi-Fi went out and needed to be reset.
The cast members also took a novel approach to getting into character by incorporating animal work into their process, Winbush said. For him, this involved exploring the characteristics of a Judas goat – the goat trained to lead sheep to the slaughter. He said the animal's role evoked the "blood of the lamb" Judas has on his hands after his betrayal of Jesus and helped him inhabit Judas' physicality, enriching his connection to the character beyond the purely psychological.
Although bringing a character to life is a complicated process, Winbush said the technological intricacies of the show's virtual reality dimension are even more complex. The production makes use of a virtual gaming engine called Unreal Engine to animate and augment the more magical elements of the show.
"All of those descriptions in plays that have magic are possible in this realm," Winbush said. "We can travel to the heavens and we can travel to hell – just with a lot of programming."
As enthusiastic as the cast is about the virtual reality component, Winbush said he also finds the subject matter of "The Last Days of Judas Iscariot" incredibly relevant to American life today. The play is set in purgatory and examines Judas' fate through a trial structure, positing alternative motivations for his betrayal all while casting a different light on well-known religious figures from the saints to Lucifer himself. Winbush said such commentary on the importance of seeing through the eyes of others is well-timed.
"The play is written to reveal a different perspective on an old story, just like this year has revealed new perspectives on old American stories," he said. "On both sides of the table – red and blue, poor and rich – there is a sense of betrayal by the other."
[Related: 'Tango Shalom' dances its way through cross-cultural tale of community]
Beyond urging audiences to reconsider the traditional criminalizing interpretation of Judas' story, director Deena Selenow said the protagonist's arc in the play somewhat resembles life during today's pandemic. She compared Judas' isolation in purgatory to the inherent solitude of life during the pandemic and said the play examines what happens to someone left alone with endless time to question their choices.
In terms of her directorial approach, Selenow said she took influences from courtroom procedurals like "Law & Order" and "Perry Mason" that she grew up on. But she said the team ultimately had fun playing within a mishmash of eras and bringing '80s and '90s influences to the production.
"I think it's going to be an interesting, crunchy, funny and strange piece of hybrid performance," Selenow said. "I wouldn't even call it theater, because we're taking a piece written for theater, and it's become some other form entirely."
Ultimately, the power of the play stems from the way it uncovers humanity in everyone – from the Judge who was a confederate soldier in his life to Judas himself. Salazar said the piece's stark examination of despair applies to Judas' experience in hell as well as the current socio-political climate.
"We can't be in person; we're kind of stuck in this virtual landscape," Salazar said. "This play is the perfect analogy for the madness that we're all going through right now. We all feel like we're stuck in the waiting room."