Outdoor film installation fuses ambient music, perceptions of LA during pandemic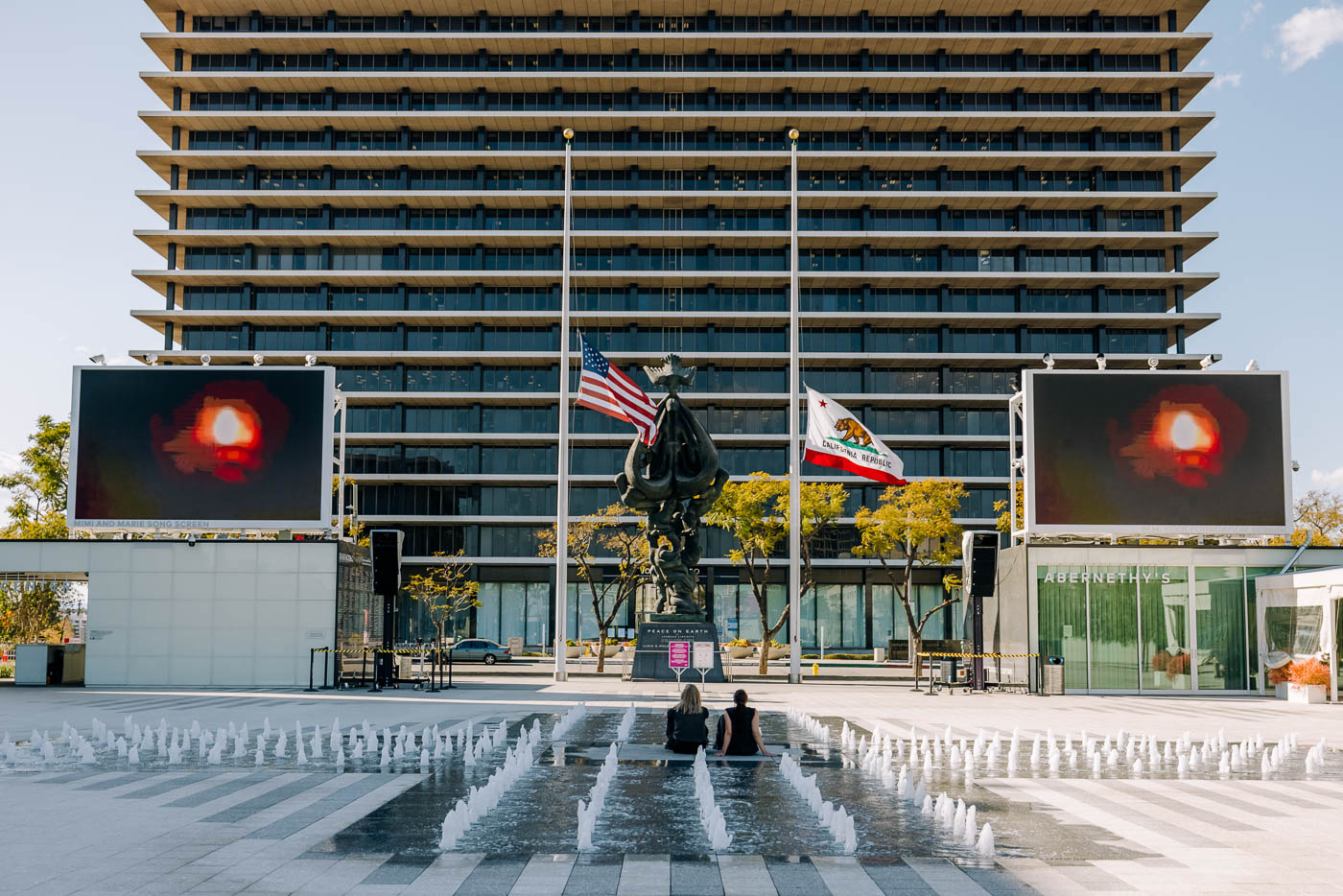 "A Quiet Scene: L.A.," a film competition and free outdoor installation, was a project that came to life in a collaboration between The Music Center and dublab. The installation features 71 preselected films that are each paired with one of seven tracks from Roger and Brian Eno's EP "Luminous." (Courtesy of The Music Center)
This post was updated April 11 at 7:50 p.m.
While most museums are closed, The Music Center in downtown Los Angeles hopes to engage its audiences through an immersive visual and musical experience.
The Music Center collaborated with the radio station dublab to create "A Quiet Scene: L.A.," a film competition and free outdoor installation. Open to the public until April 18 and viewable on the center's website, the installation features 71 preselected films that are each paired with one of seven tracks from Roger and Brian Eno's "Luminous" EP – an expansion to their album "Mixing Colours." Daniel Soto, program manager for community engagement at The Music Center, said dublab first approached The Music Center last summer with this idea.
"We thought this would be a really wonderful opportunity for us to both work with these phenomenal artists, Brian and Roger Eno, as well as inviting Angelenos to create something during this time that reflected our current moment where … we could still prompt people to create together and experience this beautiful music together," Soto said.
[Related: School of Music panel to discuss storytelling in a film's musical composition]
As viewers walk up the steps to Jerry Moss Plaza at The Music Center, they are presented with two large LED screens and speakers that continuously feature selected films from the competition. The shorts express each artist's perspective of a quiet scene in Los Angeles during the COVID-19 pandemic.
Soto said the competition was open to artists, filmmakers and anyone in the community who was interested. Out of the films submitted, a panel of judges selected 71 to be played on the screens at The Music Center and its website. Seven "best films" were subsequently chosen, one for each of the seven tracks from the "Luminous" EP.
Viewers can also vote for their favorite films until April 11 either virtually or in person by scanning the QR codes on site as an additional engagement opportunity, Soto said. The films with the most votes will be recognized as fan favorites in the exhibition as well. Out of the 71 films, he said many of them featured nature, empty streets and domestic scenes that are reflective of the past year – a stark contrast from the bustling entertainment industry that people normally associate with Los Angeles.
In terms of the selection process, each of the judges reviewed the films individually and also discussed them as a group, said Dexter Story, who was a judge and also is an ethnomusicology doctoral student at UCLA. Being part of this project was special because it consisted of evaluating the marriage of music to film, he said.
[Related: 'Chevy Mystery Show' episode screening prompts discussion on impact of 'Columbo']
"I was impressed by the kind of abstract interpretation that these filmmakers employed," Story said. "That's the beautiful nature of film … that the participants were also exercising their imagination with what Los Angeles' COVID reality (is), what Brian and Roger Eno's music (is). … That was just beautiful to see all the different interpretations."
Among the various films submitted, alumna Megan Lee's was chosen as the "best film" for the track titled "Malachite." Although she is not a filmmaker by trade, Lee said she was encouraged by a friend and fellow alumnus to submit a film and she did not expect to receive any awards.
"I was obviously very excited and very humbled and appreciative that (the judges) really liked it and saw what I saw," Lee said. "I think that's the best part – not necessarily winning something but just knowing that someone else gets it too."
Lee's black-and-white film portrayed the perspective of someone in a car while going through a car wash. She said she slowed down certain parts of the film in order for the flashing lights to match the beat of the music. This scene in Los Angeles stems from Lee's experience in a drive-thru car wash, which is typically loud and busy. But to her, she said it is personal and metaphorically quiet.
Soto said he thought Lee's depiction of car culture was clever and liked the connection to the feelings of isolation that many have experienced this past year. He added that he appreciated how Lee's visuals complimented the music.
During this challenging time when theaters are not open, Soto said The Music Center is connecting people in Los Angeles and around the world. Through offering both an outdoor and virtual space, people can participate in this interdisciplinary arts and culture project. He said he is grateful for the community's positive response to the installation.
"One of our main questions that we've been grappling with over the pandemic is, 'How do we continue to create community during a time when we can't physically gather?'" Soto said. "And so, through this competition, we were able to get people to pay attention to the same thing and to invite them to create something new."