UCLA film student draws on Filipino heritage in thesis project 'Beauty Queen'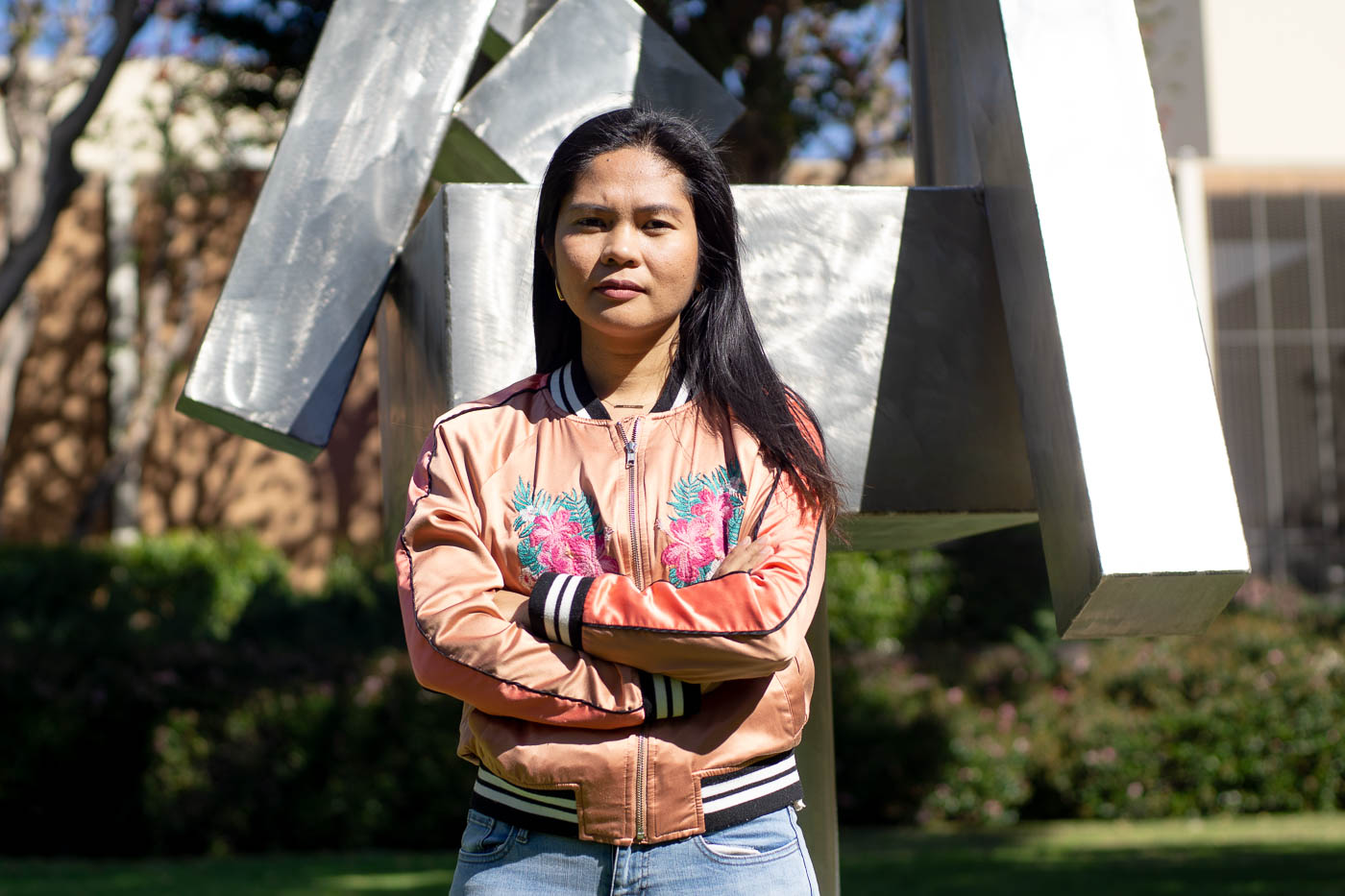 UCLA MFA film student, Myra Aquino, pays tribute to her Filipino heritage and family through her thesis film, "Beauty Queen." (Antonio Martinez/Daily Bruin)
From medical school to film school, Myra Aquino's journey is rooted in her Filipino heritage and passion for the arts.
In 2020, the UCLA MFA film student received one of the six grants awarded by the Caucus Foundation for Producers, Writers & Directors, which helped her complete her thesis film "Beauty Queen." The foundation also selected Aquino as this year's first-place Gold Circle winner, providing her with a $60,000 Panavision camera package rental and highlighting her film at the Caucus' virtual 38th Annual Awards Gala on March 4. Aquino said "Beauty Queen" is an ode to her Filipino heritage and the parallels between the lives of her grandparents and the Filipina war hero, Remedios Gomez.
"I wanted to make this film as an homage to my grandparents," Aquino said. "They've all since passed away, but it was my way of connecting with them because they lived through World War II. In some ways, I saw it as bringing their lives onto the screen through this specific story."
[Related: Alumni couple cultivates online community around Filipino Instant Pot recipes]
As one of the grant recipients, Aquino had to meet a number of requirements ranging from demonstrating financial need to producing a foreign language film. And alongside a short highlight of Aquino and her film at this year's restructured virtual Caucus Awards Gala, the event also presented awards for industry filmmakers. With well-known honorees Aaron Sorkin and Reese Witherspoon attending this year's virtual Caucus awards banquet, Caucus Co-Chair James Hirsch said they are setting the tone for the types of stories they want to see from student filmmakers.
"One of the reasons that we got such a stellar lineup (of honorees and presenters) this year (is) because they connect with our mission statement. They see how their own lives can reflect to these young people and give them something to aim for," Hirsch said. "They represent the kind of filmmaking that we encourage, that we respond to."
Similarly, Caucus Foundation President Sharon Arnett said the board is looking for filmmakers who are not only great storytellers but are also creating work that focuses on real-world issues and engages with important topics. Ultimately, Arnett said the filmmakers and the projects they select are a way for the Caucus to reach out to the community.
For Arnett, "Beauty Queen" is one such film that embodies the Caucus Foundation's values. She said it stood out to the Caucus judges because it makes people stop and think through its strong messaging and basis in a true story.
The film depicts the life of Remedios Gomez, a Filipina woman who became a commander in the Hukbalahap rebellion after her father's death at the hands of Japanese soldiers. Aquino said she heard about Remedios Gomez through word of mouth while visiting the Philippines and was immediately enamored by her story.
"She was famous and infamous for being a commander who wore lipstick, did her hair and wore nice dresses before battle," Aquino said. "She was a former beauty queen who was just so unapologetically feminine, while also being masculine at the same time."
[Related: 'I Was a Simple Man' tells complex story of spirituality and loss]
During her research process, Aquino said it was difficult to unearth more information about the acclaimed war hero, but she eventually discovered a biography on Gomez written by Gomez's younger brother. After unsuccessfully reaching out to the publishers, she heard about a school, Betty's Vermillion Academy in Pasay City in the capital of Manila, Philippines, that might have kept some copies. She said the principal happened to be teaching their students about Gomez and was excited to send a book to Aquino in Los Angeles to support her film.
"I remember sitting in Melnitz Hall, alone in a conference room, and after I read the last page I started crying because her story was so incredible," Aquino said. "I was thinking to myself that it would be such a shame for (her) story to not be told."
After reading about the female warrior's life, Aquino wrote her thesis film on Gomez transition from a beauty queen to a commander. Though proficient in Tagalog – the national language of the Philippines – Aquino said she wanted to maintain the authenticity of the film by writing the script in English and translating it to Kapampangan, the language of the province that Gomez defended.
"The set was a mix of three languages where people were speaking English, Tagalog and Kapampangan," Aquino said. "It was crazy, and then it turned out that the cheapest place we could shoot at for this film was in the same mountain that the actual resistance was many decades prior."
The film was shot primarily in the jungle during monsoon season and the crew had to film in between two big storms. Aquino said despite these setbacks, the successful creation of the film was due in large part to the passion of the people involved. The majority of the actors were nonprofessionals who were inspired by Gomez and the subject matter of the film, Aquino said.
Through this film, she hopes to highlight the experiences of women during war times, as their involvement in rebellions and revolutionary movements is often overlooked in history. Aquino said she is currently in development for her next production and hopes to shoot a feature film by next year.
"('Beauty Queen') was an opportunity for me to talk about a young woman (who) was 22 and involved in something that was filled with so much purpose," she said. "I want people to recognize how aspects of this kind of womanhood can still be present in today's time, and for me, it's about bringing those voices out to be represented in film."