Q&A: 'Godzilla vs. Kong' co-stars talk cast chemistry, legacy of franchise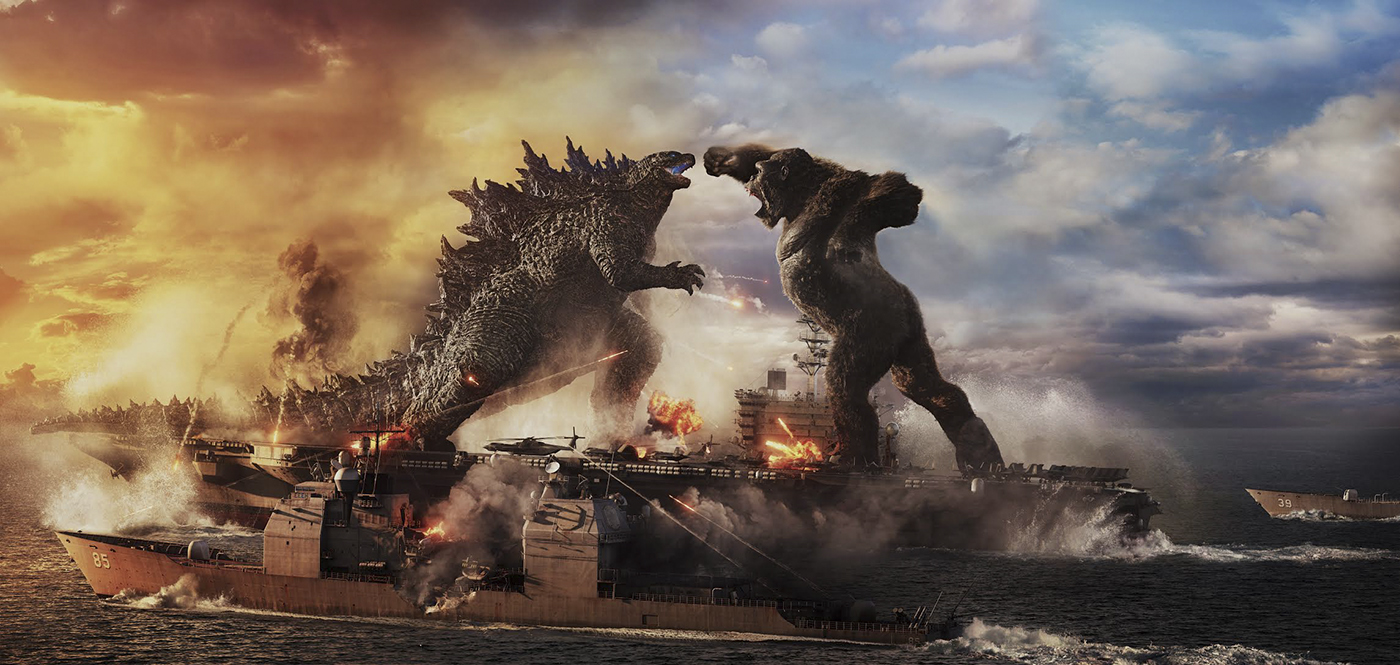 (Courtesy of Warner Bros. Pictures and Legendary Pictures)
"Godzilla vs. Kong"
Directed by Adam Wingard
In Theaters and HBOMax
March 31
A duel of monstrous proportions is soon to hit the big screen.
Set to release March 31 on HBOMax and in theaters, "Godzilla vs. Kong" pits the two titular characters against each other in this continuation of Warner Bros. Pictures and Legendary Pictures' MonsterVerse franchise. Following the previous film, "Godzilla: King of Monsters," the new feature follows King Kong's search for his home and other members of his species, as Godzilla goes on a rampage on the other side of the world. Meanwhile, Madison (Millie Bobby Brown), the daughter of Monarch scientists, recruits her friend Josh (Julian Dennison) and conspiracy theorist Bernie (Brian Tyree Henry) to uncover a sinister plot that not only involves Godzilla and Kong, but threatens all of humanity.
Brian Tyree Henry and Julian Dennison spoke with the Daily Bruin's Breanna Diaz and other college journalists from across the country in a virtual roundtable organized by Warner Bros. The two co-stars spoke on joining the legendary franchise, as well as their chemistry with each other and co-star Millie Bobby Brown.
[Related: Q&A: Kelly Marie Tran discusses Asian representation in 'Raya and the Last Dragon']
Daily Bruin: Were you already fans of the Godzilla and King Kong universe, and how did that play into how you approached these roles?
Brian Tyree Henry: I remember the Godzilla (movie) that came out in (1998). I was like, "this is the craziest thing I've ever seen in my life." But when I saw how they've revamped it and decided to actually create rounded characters and a universe that was a little bit richer, more imaginative and open to the times that we're going through – I was in awe. It's really, really amazing how much attention to detail (director) Adam (Wingard) paid to make sure the fans weren't rolling up on our doorsteps like, "How'd y'all do that to Kong?"
Noelia Salazar (contributor for HerCampus at University of Colorado Boulder): How do you think your roles fed into each other?
Julian Dennison: I didn't want (our relationship) to seem fake, and I wanted it to be relatable because there were so many moving parts. You have team Kong and team Godzilla, and for them to come together at the end and create this good ending – I wanted it to be super solid.
BTH: Most of this movie – (and) the things that you see coming out of our mouths – was just on the fly, us being crazy. Julian is one of the best people to have a scene with, because he'll just knock it right back to you – and I think that showed. The thing I cared about the most is that you saw the camaraderie, how much we cared about each other and the fun that we were having while also trying not to get killed by these two big-ass monsters.
[Related: Q&A: Director Ian Samuels talks authenticity, positivity in his coming-of-age film]
Sidney Fleeks (staff writer at The Famuan): What made you realize your love for acting or the arts in general?
BTH: I didn't see enough people like me doing all these (plays) that I've been taught to read. When I was going to school, they were giving me Shakespeare … or things like that. And there was nobody that reflected me back to me, but I had a lot of stories to tell. It doesn't make sense that I'm limited. At one point I played a tree in a play and I was like, "Y'all are making me the tree?" And this is when I was a grown man.
We have to find a way to broaden the range of characters, because there's no one way for us to be us, especially being Black. There is no one way for us to be seen and no one way for us to tell (stories). I just wanted to really knock that down.
Nolan Robinson (anchor for Northwestern News Network): The King Kong and Godzilla sagas have become such a cultural legacy for at least six decades. How has it been to have the opportunity to add to the legacy of both of these characters?
JD: It was super cool to be a part of such a long-standing history. It was so amazing to work with people like Brian and Millie who are A-game actors. Adam had such a vision for this film. Every day he stepped on the set ready to see that vision come to life. We've all seen the (King Kong) and the Godzilla films, and he wanted to bring something new and … he did it.
BTH: It just seemed like the right place to be and to work with Julian, Millie and Adam. These characters became part of who we are. I was with Millie and Julian every day, and they became my family, and I really found myself wanting to protect them … and I think something we all need right now is just to turn something on and have fun, and then realize that we are shouting at a monkey and a lizard fighting.