Monet UCLA aims to connect Bruins through art, creative expression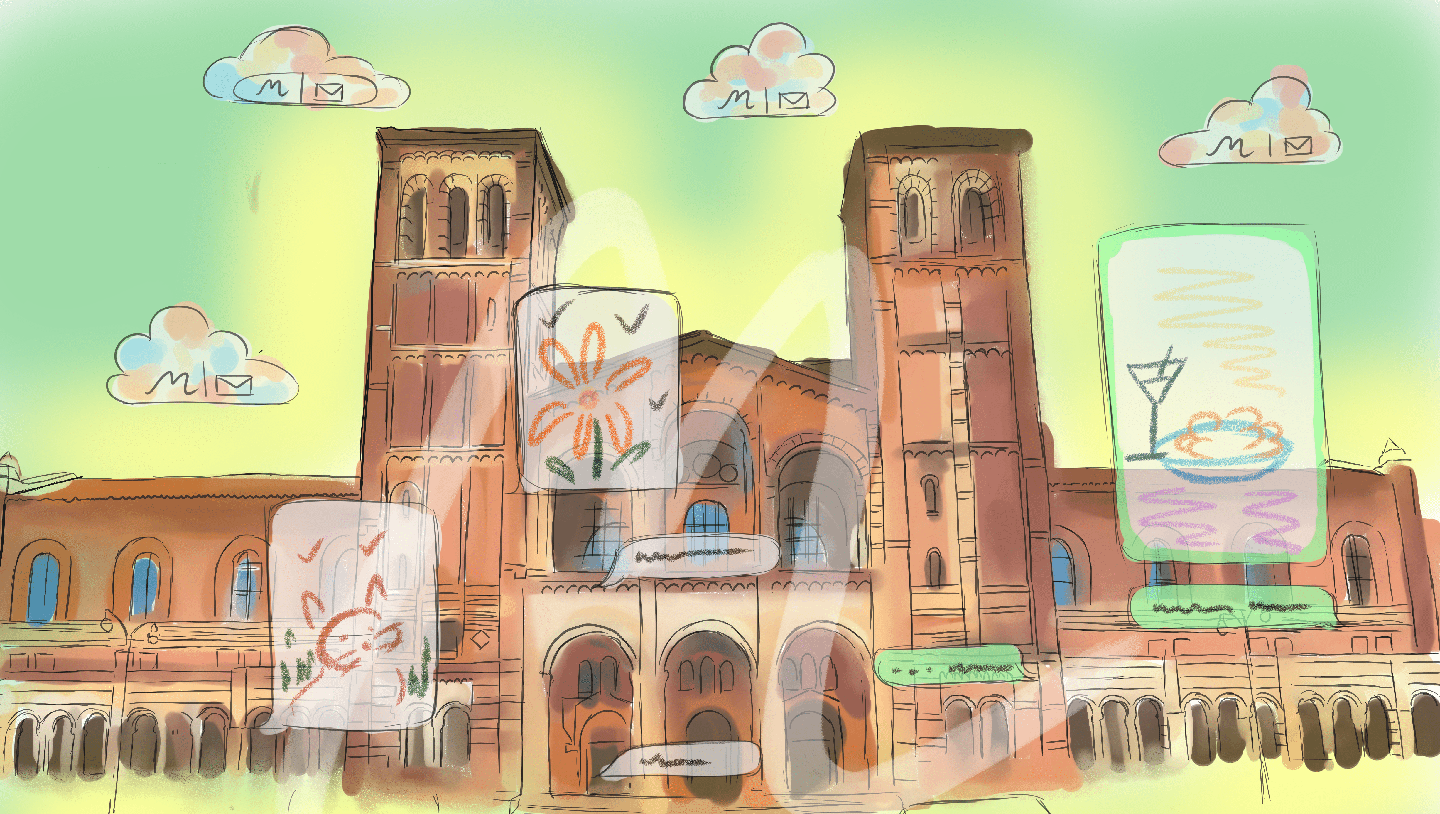 (Vaibhavi Patankar/Daily Bruin)
The swiping days are over – with Monet UCLA, doodles lead to dates.
Joyce Ma, a third-year sociology student, said she was scrolling through TikTok when she came across a video advertising Monet – a new dating app that initiates matches by sending drawings to interested parties. She said the founders of Monet reached out to her to serve as a campus director and help establish the first university chapter of the app after she applied to the campus ambassador program. Launched Feb. 26, she said Monet UCLA connects students on a global scale through art.
"I have a background in art and drawing," Ma said. "To combine that with a way to meet new people was just really interesting to me."
[Related: Palgorithms app uses interests, personality types to help students make friends]
The brand's original app was developed by Joanna Shan, a second-year student at the University of Pennsylvania, and a group of her high school friends. After experiencing the gamut of using Tinder, Bumble and Hinge, Shan said the group wanted to create a more fun and less risqué mode of meeting people. The basis of the app is that users send personalized doodles to start conversations – a divergence from the trademark swipe method seen on conventional dating apps like Tinder or Bumble, she said.
Monet uses an invitation-to-match method in which users have the option to respond to drawings arriving in their inbox, Shan said. These drawings can be random or in response to a user's specific requests shown on their profile. Shan said drawing can be a more meaningful way to meet people and make connections in a one-on-one setting, as it easily showcases one's personality.
"You can't not be yourself when you're drawing," Shan said. "It's all about your personality. It's all about your humor, and that's the first impression you make on somebody when you see their drawing."
Furthering this impression is the variety of drawings that users create, Shan said. Third-year statistics student and one of Monet UCLA's ambassadors, Derek Wang, said one of the most attractive aspects of the app is seeing the various drawing styles when users respond to his prompts. Wang said the actual act of drawing is very personal and subsequently can be used as a deep conversation starter.
"I've gotten a lot of different sorts of drawings for the same prompt," Wang said. "They're always very unique, different and very interesting to see."
Amid the ongoing COVID-19 pandemic, the cancellation of in-person activities has made it difficult for students to socialize, Shan said. Remedying this, one of Monet UCLA's distinctive features is that it is not a location-based server, allowing Bruins to interact with other UCLA students regardless of locality.
Users can also specify on their profiles whether they're looking for friends, romantic relationships or both. First-year psychobiology student and a Monet UCLA ambassador, Joanna Pak, said this feature has allowed her to meet friends in a more genuine manner. Drawing is a more casual approach to starting conversations, and Pak said the mystery of what drawings a user can send makes the matching process feel less arranged.
"I've been in group chats with the aim of meeting new people, and it honestly never works out," Pak said. "So I think it's really cool that you can match with Bruins anywhere."
[Related: Peer support app Unmasked aims to foster community through anonymity]
The university mode of the app not only connects students globally, but the server is also tailored to fit the needs of users in relevance to their specific university. Ma said because Monet is a smaller company, it has more opportunities to create personal experiences for students, such as having UCLA-specific drawing prompts and giveaways with on-campus organizations.
In the long term, Shan said the Monet team is keeping an open mind with the future trajectory and development of the app. She said a potential expansion is adding art mediums like audio for users to utilize as conversation starters. By having additional creative outlets, she said users can showcase their expressions through their profiles. Overall, Shan said Monet's current motive remains rooted in its foundation – for people to create meaningful connections.
"The success for us is just helping people find relationships," Shan said. "We want to build something that's fun to use and helps you meet people. … As long as it's creative and it helps you make relationships, that's our goal."