Peer support app Unmasked aims to foster community through anonymity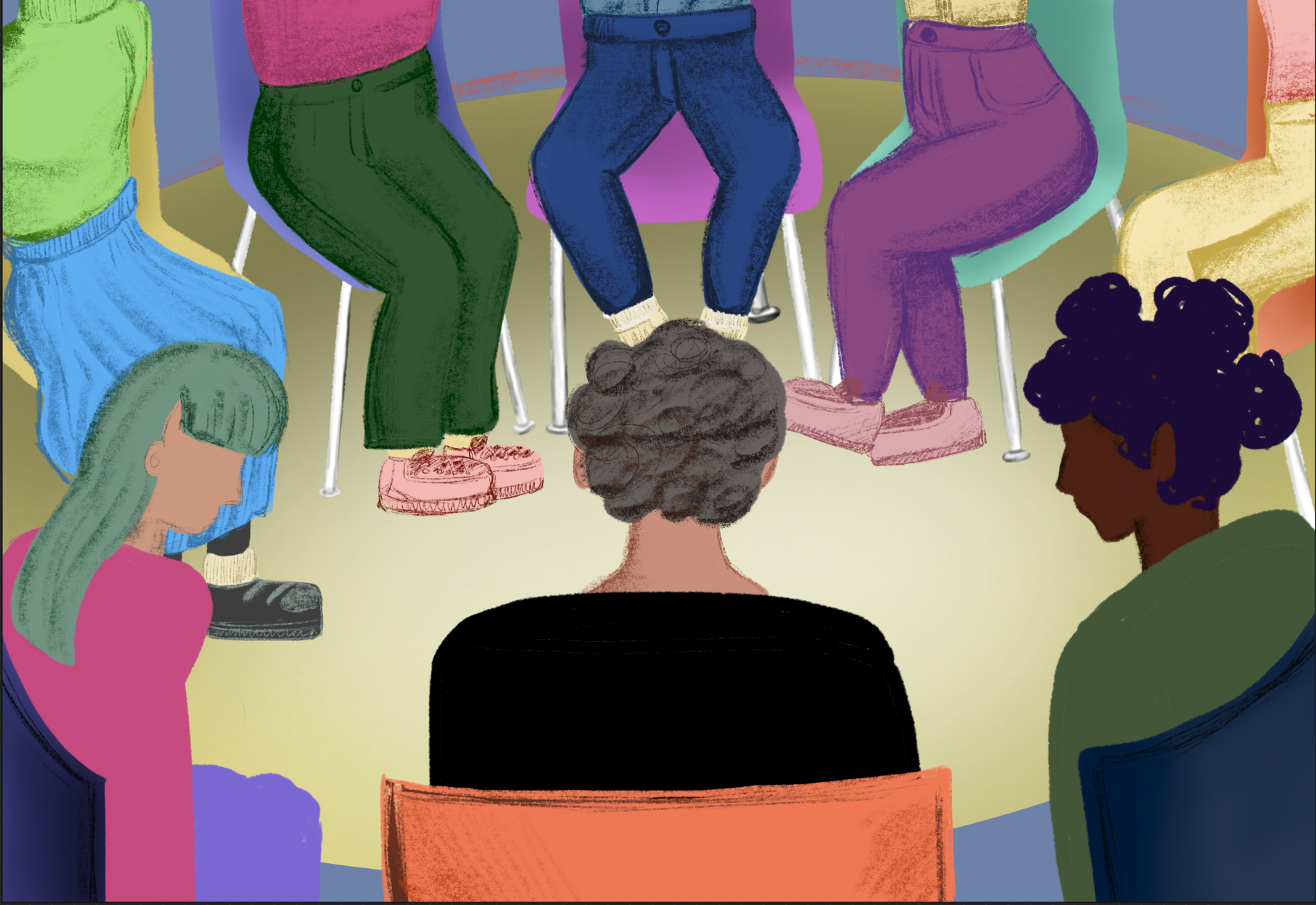 (Catherine Xie/Daily Bruin)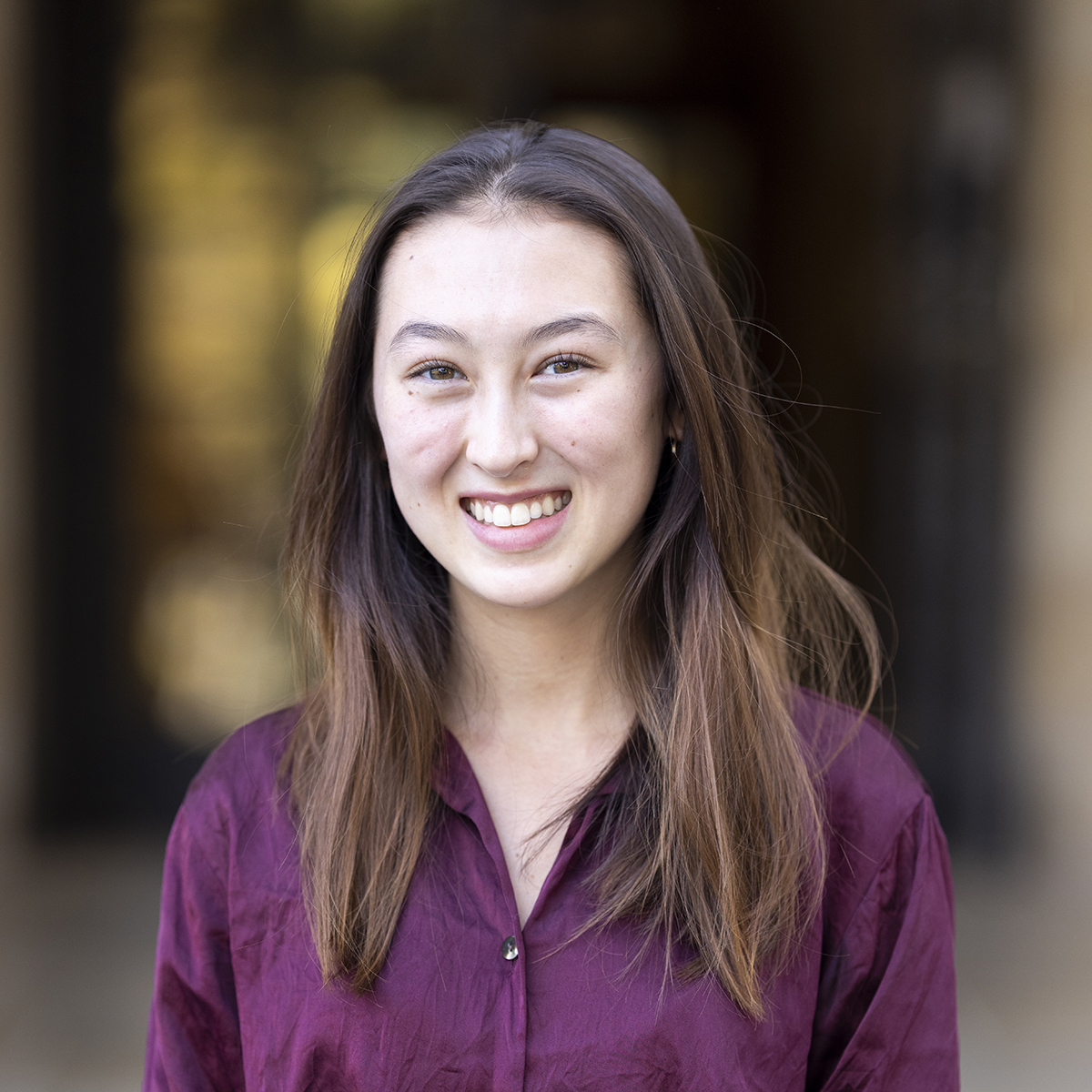 At a time of in-person mask mandates, a new app encourages users to unmask virtually, leaving identities at the door.
Unmasked, a peer support app focused on mental wellness, launched its UCLA chapter June 1, aiming to foster community through anonymity. Founder Sanat Mohapatra said the platform creates a moderated environment in which college students can share their emotions and receive support from peers. The notion of stripping users' identities at the door aims to create a safe space where they can share thoughts ranging from daily reflections to deep concerns, Mohapatra said.
He created the app after finding a community of support on Yik Yak during his freshman year at Dartmouth, realizing he could create a more streamlined approach for college students to share and seek solace on his own platform.
"Mental health isn't just 'I'm struggling.' It's everything. It's whatever you're feeling," Mohapatra said. "That idea is how I'm trying to make mental health more normal – it's just another thing that happened in your day."
The homepage of the app attempts to destigmatize mental health, he said. Instead of asking users what's bothering them or what they're battling, Unmasked opens with a simple prompt: "Share a thought." Once completed, this thought joins a host of other responses on a public, school-specific message board on which users are free to comment, react or reach out to others through direct messaging. Although sharing deep emotions with veiled strangers may appear daunting, Mohapatra also said the shielded identities of Unmasked's users are part of what makes the app so genuine.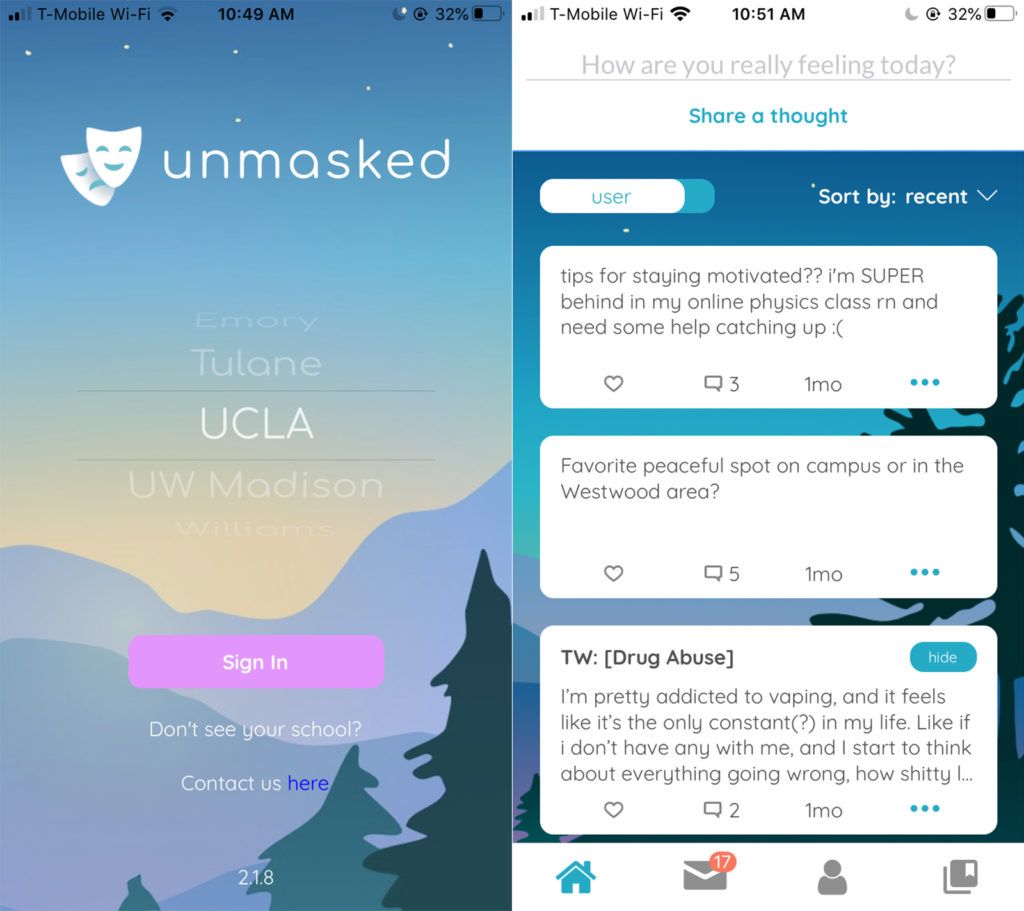 [Related: Student creates mobile app to help students better discuss mental health]
The authenticity created through anonymity can benefit users in all stages of their mental health journey, said Ben Zhang, a first-year business economics student and president of Unmasked's UCLA chapter. Zhang said he didn't fully understand the seriousness of mental health before starting at UCLA, but his first year of college and work with the Unmasked team has shed light on the benefits of jotting down emotions or venting frustrations to manage psychological well-being.
Although baring one's feelings in such a fashion in person may be hindered by an innate desire to avoid difficult discussions, Zhang said removing the variable of identity allows users to express themselves honestly.
"Being able to say something and know that people will respond in a nonjudgmental and constructive manner feels really comforting," Zhang said. "I think there's a lot of stuff that I've talked about on the app that I would not have done if it wasn't anonymous."
Unlike other mental health apps, Mohapatra said Unmasked focuses on peer support as opposed to coping mechanisms or one-on-one counseling. He said he equates Unmasked to the trunk of the mental health tree – it is an entry-level platform on which users are comfortable enough to start seeking support from peers, later branching out to seek therapy or other self-help services if desired.
[Related: UCLA student authors book covering themes of mental health and identity]
The absence of administrative post-filtering and removal of a quantitative likes system also sets Unmasked apart from other community-based pages, Mohapatra said. He emphasizes that the app's "quality over quantity" approach eliminates the anxiety that can stem from fixating on others' acceptance or approval – which could be heightened by displaying the number of likes or loves garnered.
Pragmatic elements aside, Zhang chalks the defining difference up to a matter of intent – Unmasked focuses on confiding what is felt.
If Zhang's interpretation is carried forward, assistant professor of psychology Jennifer Silvers said an app such as Unmasked carries the potential to lessen college students' increasing mental health burden. She said reflecting on emotions, if done properly, can be an effective way to lessen anxiety through gaining clarity and perspective. However, she also cautions that oversharing can be a double-edged sword with the potential of co-rumination – an extensive discussion and deepening of problems with others – being especially present in a community setting.
"If you talk with friends about how you're feeling and they help you feel supported, that's really beneficial," Silvers said. "But if it makes you more riled up, or if they are also struggling with the same thing, that could result in constantly repeating and getting stuck in how anxious you feel."
Fortunately, Unmasked has attempted to limit co-rumination by including trained moderators as part of its team. Student advocates for mental health can apply to this position and complete a mental health first aid module to then manage the app by placing trigger warnings on certain posts and combating trolls, Zhang said. On a platform void of monikers that hold people accountable, Mohapatra said this process is especially vital to maintain a safe sharing environment.
Despite the app's recent launch, Mohapatra said he already has hopes that the future of Unmasked holds expansion beyond the boundaries of college campuses, believing that people in every community and walk of life could benefit from "unmasking" in a safe and supportive space. However, he said that in an ideal world, in-person discussions of mental health would be met with openness and empathy, and the need for apps such as Unmasked would cease to exist entirely.
"The platform is very much a metaphor for how we can help people in a larger sense," Mohapatra said. "The point isn't who the people are, it's that they're struggling."
Finn is the 2021-2022 lifestyle editor. She was previously an Arts columnist and reporter from 2020-2021 and was a member of PRIME's first intern class. She is a third-year neuroscience student from San Francisco, California.
Finn is the 2021-2022 lifestyle editor. She was previously an Arts columnist and reporter from 2020-2021 and was a member of PRIME's first intern class. She is a third-year neuroscience student from San Francisco, California.