Q&A: Director of '76 Days' Hao Wu speaks on humanizing the statistics of COVID-19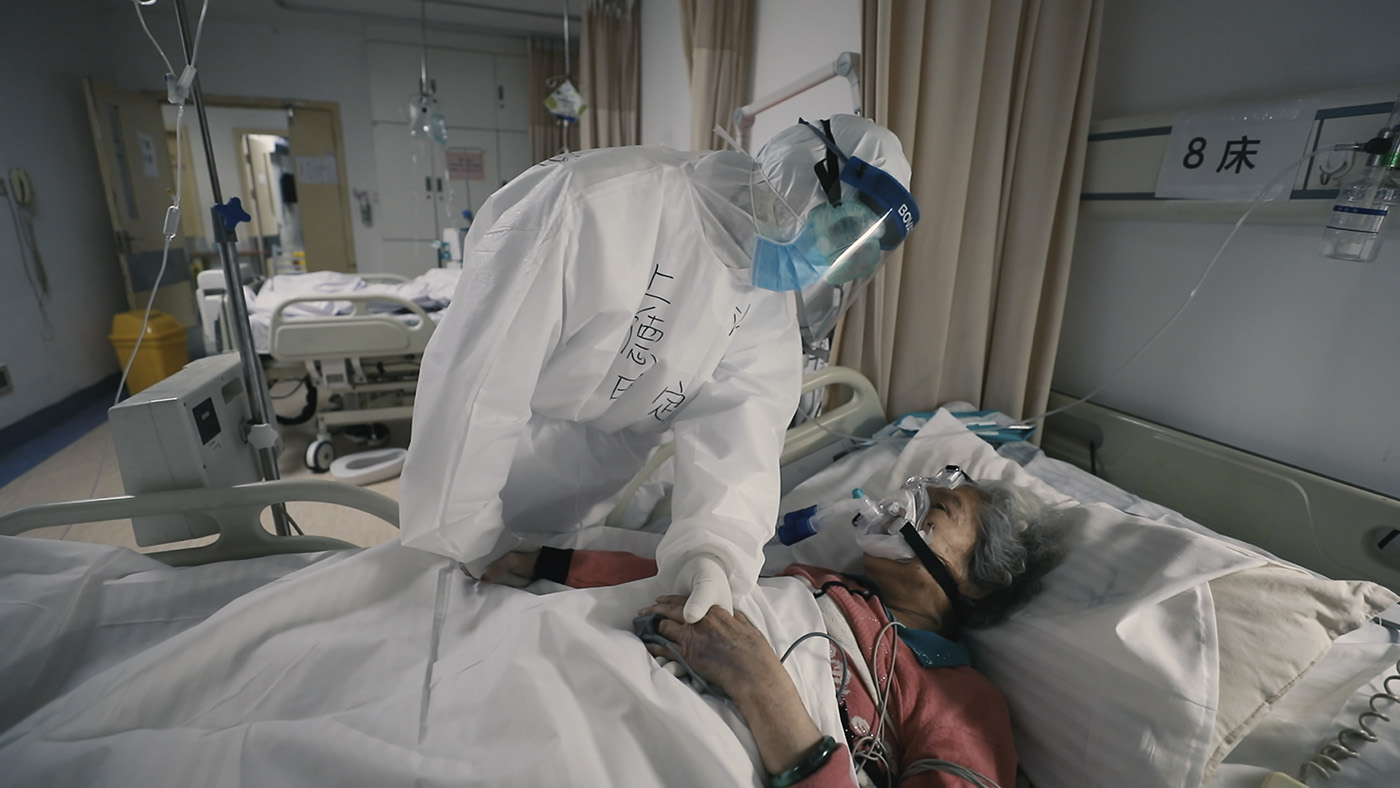 (Courtesy of MTV Documentary Films)
"76 Days"
Directed by Hao Wu
MTV Documentary Films
Dec. 4
After more than a year of COVID-19 worldwide, "76 Days" looks back at the selflessness and suffering in the early days of the pandemic.
Shortlisted for the documentary feature category in the 2021 Oscars, MTV Documentary Films' "76 Days" records the first three months of lockdown in Wuhan, China, during early 2020. Focusing on four hospitals in the region, the documentary showcases the real stories of health care professionals and patients at the frontlines and can be viewed now by buying a virtual movie ticket through the film's website.
Writer, director and editor Hao Wu spoke with the Daily Bruin's Rio Deniger about his personal connection to COVID-19, his experience making "76 Days" and why it is so important to humanize statistics through individual stories.
[Related: 'Tango Shalom' dances its way through cross-cultural tale of community]
Daily Bruin: What inspired you to make this film?
Hao Wu: I flew to Shanghai to spend Chinese New Year with my parents on Jan. 23, 2020 – the day Wuhan was put under lockdown. During the 10 days I was in Shanghai, it was a very eerie experience. Shanghai is China's largest city, and Chinese New Year is China's largest family holiday, but almost nobody was walking in the street.
For a while, I was wondering when I'll be able to see my parents again and whether my parents will be able to see their grandchildren again. On top of that, my grandpa passed away in early March (2020), and I wasn't able to go back and say goodbye to him because of travel restrictions. That made COVID-19 a really personal issue for me.
DB: Did making this film take an emotional toll on you?
HW: Almost every day when I sat down to edit, just looking at the scene would bring me to tears. It was a difficult film because the footage was all about human suffering. But in a strange way, it was also cathartic for me. I was worried about my family in China and not knowing when I would be able to see them. I (also) had guilt for not being able to say goodbye to my grandpa.
In the meantime, I was witnessing the utter failure of the United States' response to the pandemic here, and there were Black Lives Matter protests everywhere. It felt like the world was turning upside down all around me in America. So to be able to work on this film and cry – but also to witness the little details of people being kind to each other and being able to work collectively to beat back this virus – that gave me hope.
DB: Why do you think it is important to preserve this moment?
HW: I read about past pandemics when I was making this film … (and) the history books were in broad strokes about how many people died or how some countries or some important political figures made decisions to manage the response to the pandemic. But I was dying to see more photos to understand how individuals deal with that kind of uncertainty and fear. In particular, we didn't have much video as film evidence.
Even though (COVID-19) has created chaos in America, the reporters here haven't been able to go inside the ICU to tell stories from the frontline. It's important to preserve stories like those portrayed in "76 Days" as firsthand evidence of COVID-19.
[Related: UCLA-based production company to promote inclusivity in virtual New Works Festival]
DB: What did you learn from making this documentary?
HW: Before I finished the film, I was feeling really pessimistic about humanity. Based on the books I read, every time there's a pandemic, human beings have this tendency to become selfish to protect themselves and try to scapegoat other groups. But the stories in "76 Days" show that people have the capacity to be kind to each other and to help each other in times of crisis. And these stories are not unique to Wuhan.
DB: What do you hope the film will teach others?
HW: There are still so many people who deny COVID-19 is real (even) after 500,000 deaths (in the United States). A film like "76 Days" will show the horrors of COVID-19 and remind people to take this seriously. I also hope the film will alert people that the virus is the common enemy here and remind us to think about how we can work collectively – just as the medical workers and patients worked together to end the lockdown so quickly in Wuhan.
In today's environment where anti-Asian racism is growing everywhere, hopefully this film can show the humanity of the individuals in China so that people don't always associate Wuhan with the virus or think of China as this monolithic authoritarian machine. When we think about Asia, there are also individuals there who are full human beings just like people here. Let's not stereotype people. Let's not scapegoat an entire ethnicity or race. Let's be kind to each other.