Alumnae start podcast rooted in conversations about navigating post-grad life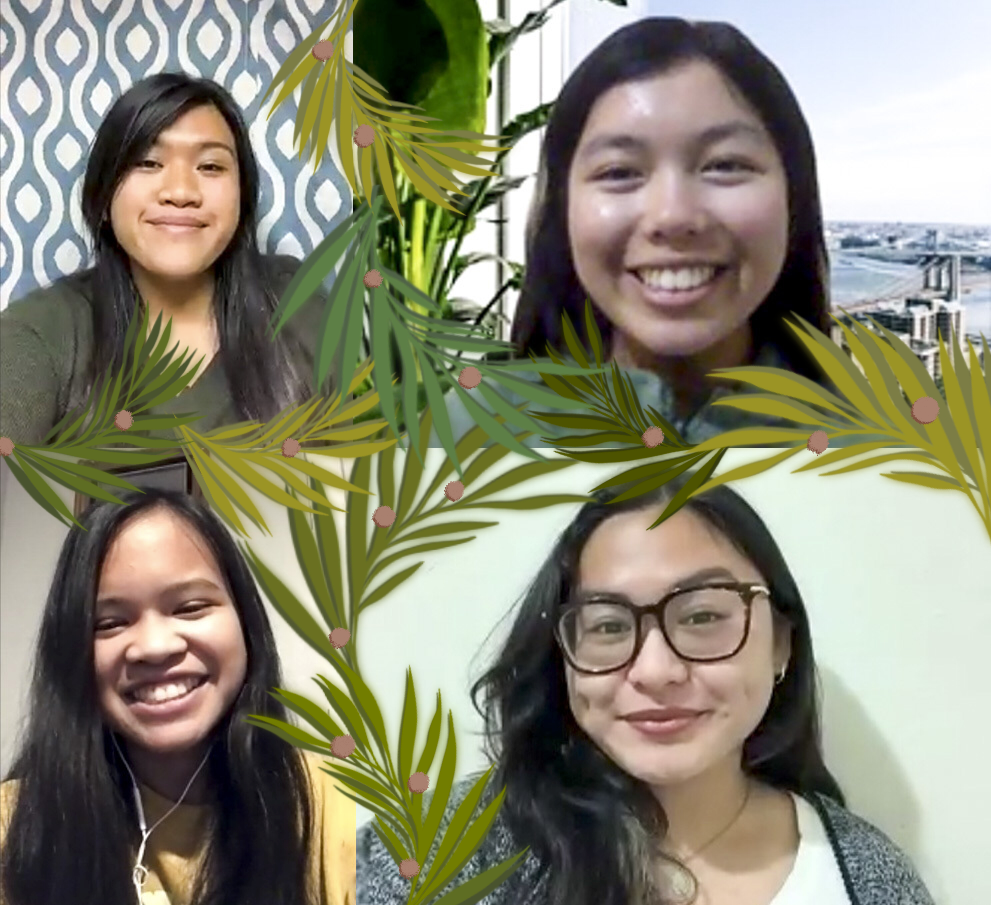 Launched by Andrea Manrique, Ashley Lanuza, Lilybeth Domingo and Gabriela Sarmiento, the "Growing with Fronds" podcast tackles the challenges of post-graduation life. (Photo by Ella Barnes/Daily Bruin, Photo illustration by Jaelyn Cruz/Daily Bruin)
Four alumnae who are learning how to tackle the challenges of post-graduation life are opening their circle to other "fronds" who may be encountering similar obstacles.
After months of regularly checking up on each other and having in-depth conversations about life in quarantine, UCLA alumna and co-founder of the "Growing with Fronds" podcast, Andrea Manrique, said she and her three friends thought their weekly conversations should be documented and shared with others who may be going through similar events – ultimately launching the "Growing with Fronds" podcast. Since Jan. 12, Manrique along with her fellow co-founders and UCLA alumnae Ashley Lanuza, Lilybeth Domingo and Gabriela Sarmiento host the podcast every other Tuesday to discuss prominent topics that are relevant to most young adults, such as career paths and cultural identity, Manrique said.
"Not everyone has access to those spaces where you're able to talk about really personal things," Manrique said. "Your 20s is such a chaotic period where having people relate to stories and conversations will allow others to learn with us."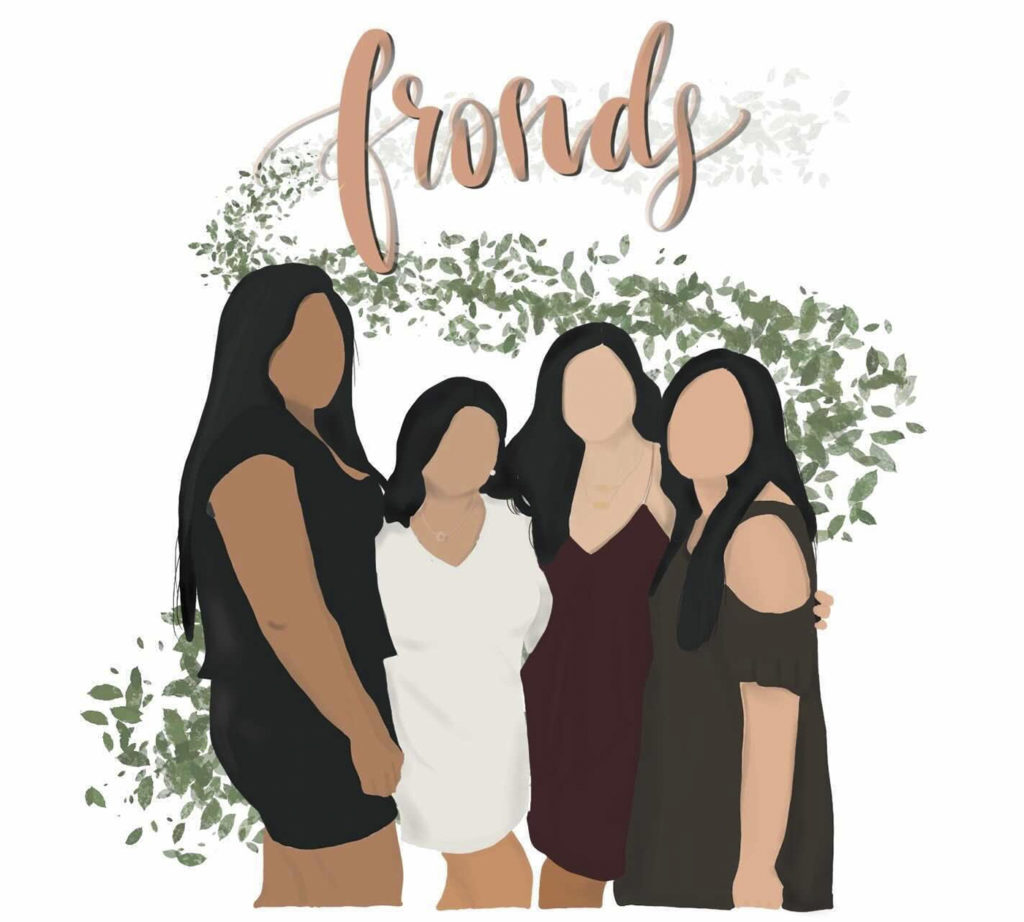 [Related: Alum's 'Finding Founders' podcast seeks to highlight, humanize business leaders]
Though the word "frond" refers to a plant, Lanuza said the word has a deeper meaning to her and her friends. During their second year at UCLA, Lanuza said she came up with "Fronds" as a nickname for their friend group.
"I just kind of play with words sometimes and instead of saying 'my friends,' I just said 'fronds,' and I didn't realize that's an actual word, but it was honestly just me trying to be silly and choosing a weird name for our friend group," Lanuza said.
The obscure word ultimately became the theme for their podcast as Domingo said the symbolism of a plant fits well with their message – the friends are all still growing, just like a plant, and are normalizing this phenomenon for others.
"I think we embody the whole plant theme because we really want to grow with each other," Domingo said. "We're not perfect, we're still figuring things out, and we're still trying to discover who we are and what our future might entail, but we're hoping that people come along for the ride and grow along right beside us."
Maintaining the nature aesthetic throughout their podcast, Lanuza said the hosts participate in a segment on each episode called "Seeds of the Week." She said they each set a goal for themselves, such as a workout plan, to be held accountable by their listeners and each other. Once they complete their goal, their seed has grown.
Aside from self-improvement tactics, Sarmiento said she particularly enjoyed recording the episode in which they shared the difficulties of navigating the job market as recent college graduates. After leaving UCLA, Sarmiento said she was overwhelmed and unprepared for the job search, so she said she felt it was important to share her experiences to guide their listeners entering the workforce.
"For me, one challenge was not knowing where to start because it was overwhelming," Sarmiento said. "I feel that college doesn't really prepare you for how to navigate the job market, but my advice is to seek other people's help in the process and just get your feet in the water."
The four recent college graduates have all found full-time jobs despite the competitive market, but Manrique said their careers pose the obstacle of finding time when they are all available to record and work on the podcast. However, the use of self-accountability tactics helps ensure the podcast remains a priority as well, she said.
"This is a side thing, so we still prioritize some other high priorities like our full-time jobs and family," Manrique said. "We still try to prioritize the podcast in lieu of all our other responsibilities by setting our own deadlines."
Scheduling is not the only issue the group has faced, as Manrique said they had no prior experience in recording and producing podcasts. She said they had to troubleshoot some technical kinks in the beginning and learn how to utilize social media to promote themselves. But doing so became a bonding experience for the group, as Manrique said they can laugh together and have an excuse to talk every week.
[Related: Student podcast creates safe space for listeners to reflect on mental health]
Currently, Lanuza said the podcast has about 40 listeners per episode. From asking questions to posting sound bites on Instagram, Sarmiento said they are using social media as a tool to reach their target audience as well as collaborate with other podcasters who have similar content.
However, Lanuza said garnering a massive audience is not their ultimate goal. The four friends founded the podcast to share their relatable conversations with others on similar journeys and ultimately hope their audience will listen and grow with them, she said.
"Going back to our fronds metaphor, you're not going to always be a giant plant because sometimes you're going to fall apart," Lanuza said. "But you're going to water yourself again because as a person you will always be growing, and it's going to be beautiful because plants are beautiful."