Santa Monica drive-in offers movie experience with COVID-19 safety measures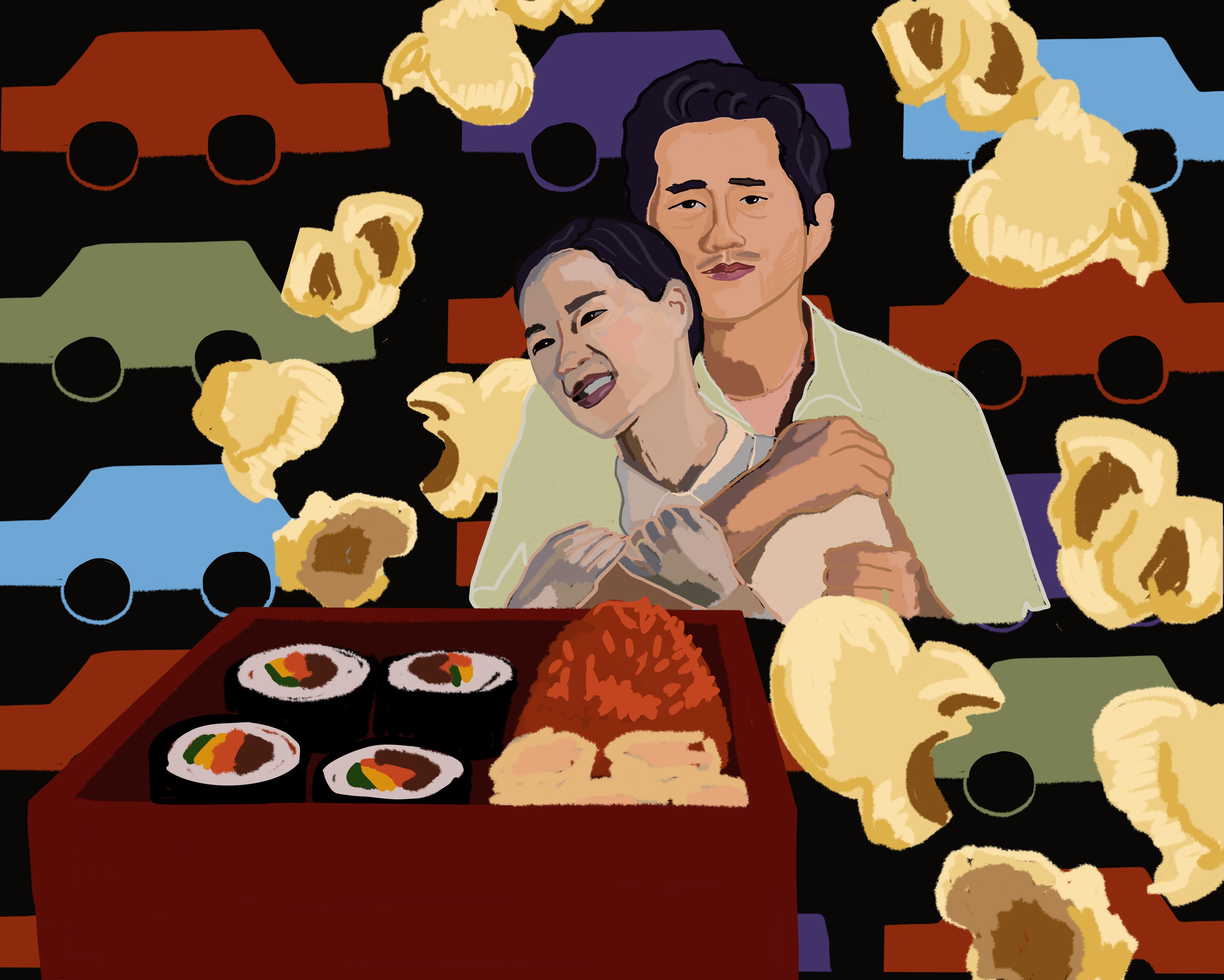 (Emily Dembinski/Illustrations director)
A classic dinner and a movie date – but make it COVID-19 safe.
In collaboration with local Santa Monica restaurants, WE Drive-Ins had its grand opening on Feb. 11 with a showing of the film "Minari," which will screen until Feb. 25. Offering various dining options, the drive-in allows guests to order meals from restaurants like Mendocino Farms, Tocaya Organica and Tiato Kitchen + Market, which are then delivered to their car. Guests can preorder menu items from any of the three restaurants rather than buying them at the drive-in, said CEO of WE Drive-Ins Ben Chou.
"Traditional drive-ins have these kind of pop-up type food trucks and or open grills, while with COVID, it's not really kosher to stand outside," Chou said. "By allowing you to preorder your food, as soon as you arrive, it's delivered to your car, … and we save you time."
With Mendocino Farms offering a variety of sandwiches and salads and Tocaya Organica serving modern Mexican dishes, guests have several options for more casual dining. And in celebration of Valentine's Day and Lunar New Year, WE Drive-Ins also partnered with Tiato Kitchen + Market, a local Asian fusion restaurant, to offer a four-course fine dining menu available until Feb. 25.
Understanding the struggle of small businesses during the COVID-19 pandemic, Chou said one of the drive-in's missions is to support the local community through its events. He said while Mendocino Farms and Tocaya Organica provide more casual and affordable menu items, the fine dining collaboration with Tiato Kitchen + Market allows for a safe but fancy date night out.
[Related: Movie review: 'Minari' delivers genuine portrayals of family, resilience]
As "Minari" tells the story of a Korean American immigrant family, Chou said he also found it fitting to partner with an Asian fusion restaurant like Tiato Kitchen + Market. He said when discussing the menu with the restaurant, he knew he wanted the centerpiece of the dinner to be their signature garlic noodles.
Although the garlic noodles were already a staple at the restaurant, the owner of Tiato Kitchen + Market, Catherine An, said she also created new recipes for the drive-in event. Wanting to incorporate traditional Korean dishes in the menu, she chose to make a kimbap roll with classic Korean ingredients like pickled radish and sauteed spinach. An said she also drew upon the film's theme of meshing cultures and decided to add Mongolian beef and truffle aioli to the kimbap for a fusion twist.
Along with the Korean American influence from the film, An said she also integrated Lunar New Year- and Valentine's Day-related items into the menu. With red being a very important color on Lunar New Year, the first course is served with red sticky rice that comes in a heart-shaped mold for a Valentine's Day flair. She also chose to serve the garlic noodles with sauteed prawns and ponzu chive sauce since both seafood and the green chives represent wealth.
[Related: Student uses YouTube channel to showcase her family's Korean recipes]
"It's very similar … to myself, just because my family immigrated from Vietnam," An said. "Over the years, we also assimilate and adjust, but we put in a bit of our culture, and we merge it with our new environment."
By featuring a premium restaurant that ties in with the themes of the film, Chou said he wanted to create a more luxurious entertainment experience compared to traditional drive-ins. He added that allowing guests to reserve parking spots ahead of time helps save them the hassle of competing for the best spots. And in order to ensure everyone had an optimal spot for viewing, Chou said they limited the number of spaces available to avoid overcrowding the lot.
The cars are also spaced two spots away from each other, which not only allows for safer viewing but also makes the experience feel more private for guests, said the producer of WE Drive-Ins Mark Chinapen. And in order to ensure the event was COVID-19 safe, he said they took many precautions such as using self-contained restrooms with sinks in the individual stalls, as well as making sure all employees wear both a face mask and shield.
"When we deliver the food to the clients, we actually have it on a cart, and we put it by their door and step away so they just grab their bags," Chinapen said.
Despite the closing of regular movie theaters amid the pandemic, Chou said drive-in theaters provide much more freedom for viewers. With options for guests to change the volume of the film through cut car radios, talk in private vehicles and eat any snack they like, he said attendees can enjoy having more control over their viewing experiences.
"I remember drive-ins from when I was a teenager, and I think Gen Z is missing the entire drive-in experience," Chou said. "We can help reinvent it."