Student-run initiative captures cross-cultural pandemic experiences through art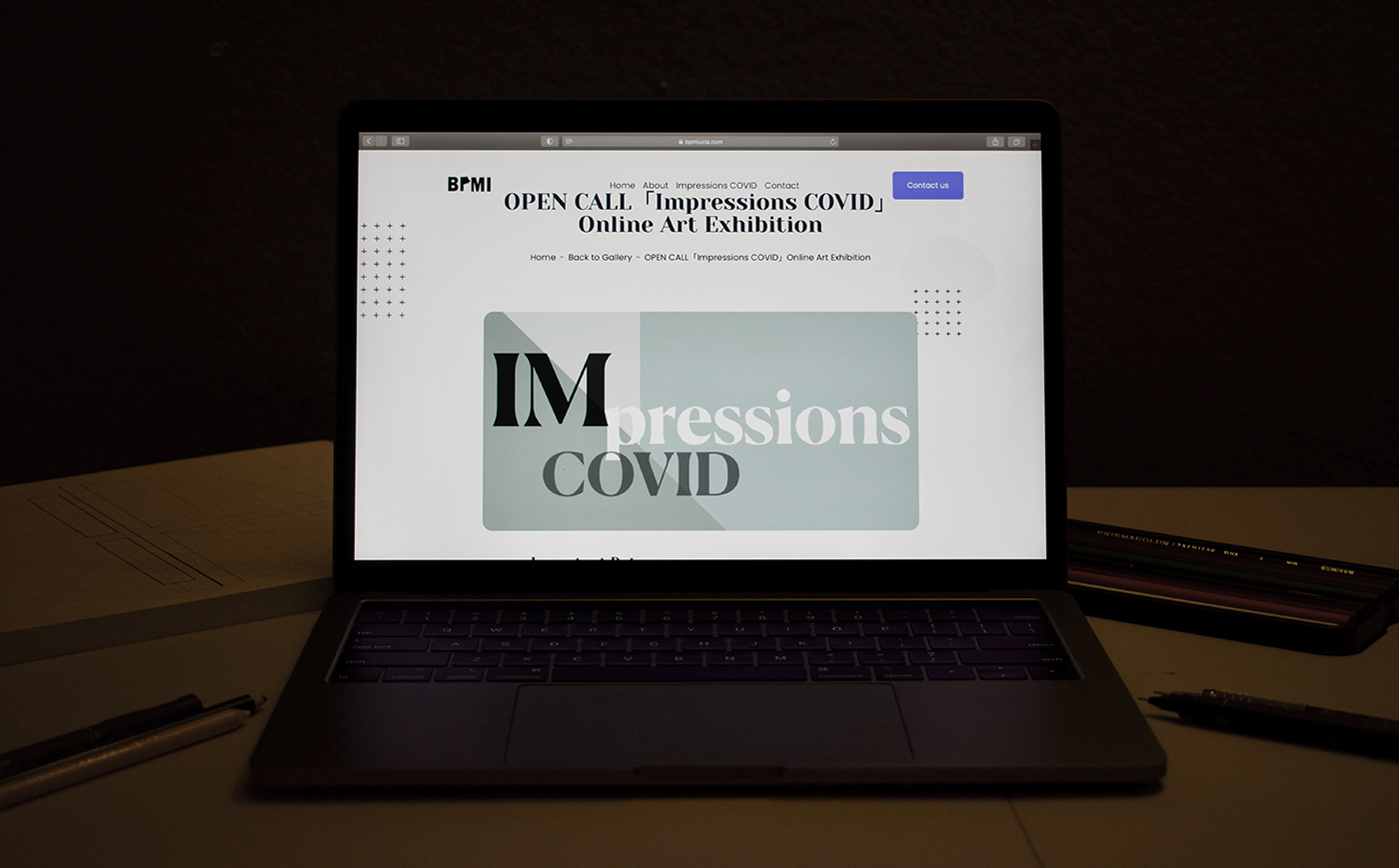 Student organization Bruin Project Management Initiatives launched its online art exhibit on Monday. The exhibit's theme is "Impressions" and encouraged participating artists to reflect on their experiences with the COVID-19 pandemic. (Marc-Anthony Rosas/Daily Bruin)
Bruin Project Management Initiatives is making impressions across campus and abroad.
Founded last spring, BPMI bridges on-campus organizations with professionals and international students. On Monday, the organization premiered its newest event, an online art exhibit titled "Impressions" featuring work by artists who responded to an open call. Third-year economics and mathematics student and BPMI member Cora Deng said the idea for an art exhibit came from the club's desire to be internationally inclusive.
"Art can connect us without any boundaries," Deng said. "Even though we (speak) different languages, we can connect through our artwork."
The exhibit intends to provide a space for artists both inside and outside the UCLA community to share their thoughts on the COVID-19 pandemic. BPMI co-founder and third-year French and statistics student Ophelia Dong said BPMI wanted to leave artists with the word "impressions" because they did not want to define whether the responses should be negative or positive – rather, it was up to the creators to interpret the theme.
"The idea started when the pandemic just broke out and I came back home, and I just felt really isolated," Dong said. "I saw a few online exhibits of student artwork so I thought … that we could try to pull up an art exhibit in a way to document these different thoughts in our community."
[Related: Student uses Hydro Flask bottles as canvases for her painting business]
Given the online medium, Dong said viewers can comment on the works and reach out to artists directly through the website the club has set up. Additionally, she said the exhibit was not limited to college students or artists based in the United States. She said she reached out to schools on the East Coast and international students from various countries including China, Korea and England for art submissions.
By expanding beyond the UCLA students, she said BPMI received a submission from an artist in his 40s who was concerned about providing for his family at the beginning of the pandemic. Dong said the artists' son recently graduated from college and was struggling to get a job, which caused him to worry about his own ability to provide for him. His story provided a perspective that Dong said she would not have heard from peers her age.
"We have artists from more than ten countries and various types of mediums," Dong said. "Our goal's not to make a very professional exhibit of professional artworks, but just to be a space for people to demonstrate their creative ideas."
Dong said BPMI has also partnered with three charities – Kids & Art Foundation, Free Arts and Children's Cancer Research Fund – for the event. She said the club intends to use its nonprofit platform to help promote charities that bring art to children with cancer and other diseases. In addition to reaching out to the charities, Dong said BPMI helped distribute drawing kits among the organizations.
"For a lot of the nonprofit charities, it's been pretty hard to recruit volunteers (to help) carry out their missions, so we reached out to three charities (that) use art as a healing source for children," Dong said.
[Related: Video game creates space to discuss mental health, Asian American experience]
However, Deng said the launch of the exhibit is not the end of the event. In the days following the exhibit, she said the marketing team will be reaching out to some of the artists to make videos on the backstories of their works. After two months, Dong said the team will also create a collection of the comment section for each piece of work to post on the website.
Since the club was only approved to operate at the beginning of the pandemic, fourth-year statistics student and BPMI co-founder Wenru Shi said the founders have faced some challenges in reaching a broader audience. Large networking events that small clubs once relied on were now canceled or moved online. Despite the obstacles, she said the idea for "Impressions" was born from COVID-19 circumstances, and the club learned that a virtual format still offers possibilities for outreach. The exhibit provides a means for the club to connect others remotely, she said.
For Shi, the main goal of the club right now is to build a portfolio and establish it as an organization. She hopes that the reputation of UCLA will help the club to reach people around the world and foster increased connectedness among artists around the world.
"Our goal is to relieve each other from emotional stress or mental stress," Dong said. "(We want viewers) to take a break and know that there are other people having similar feelings as (them)."