Video game creates space to discuss mental health, Asian American experience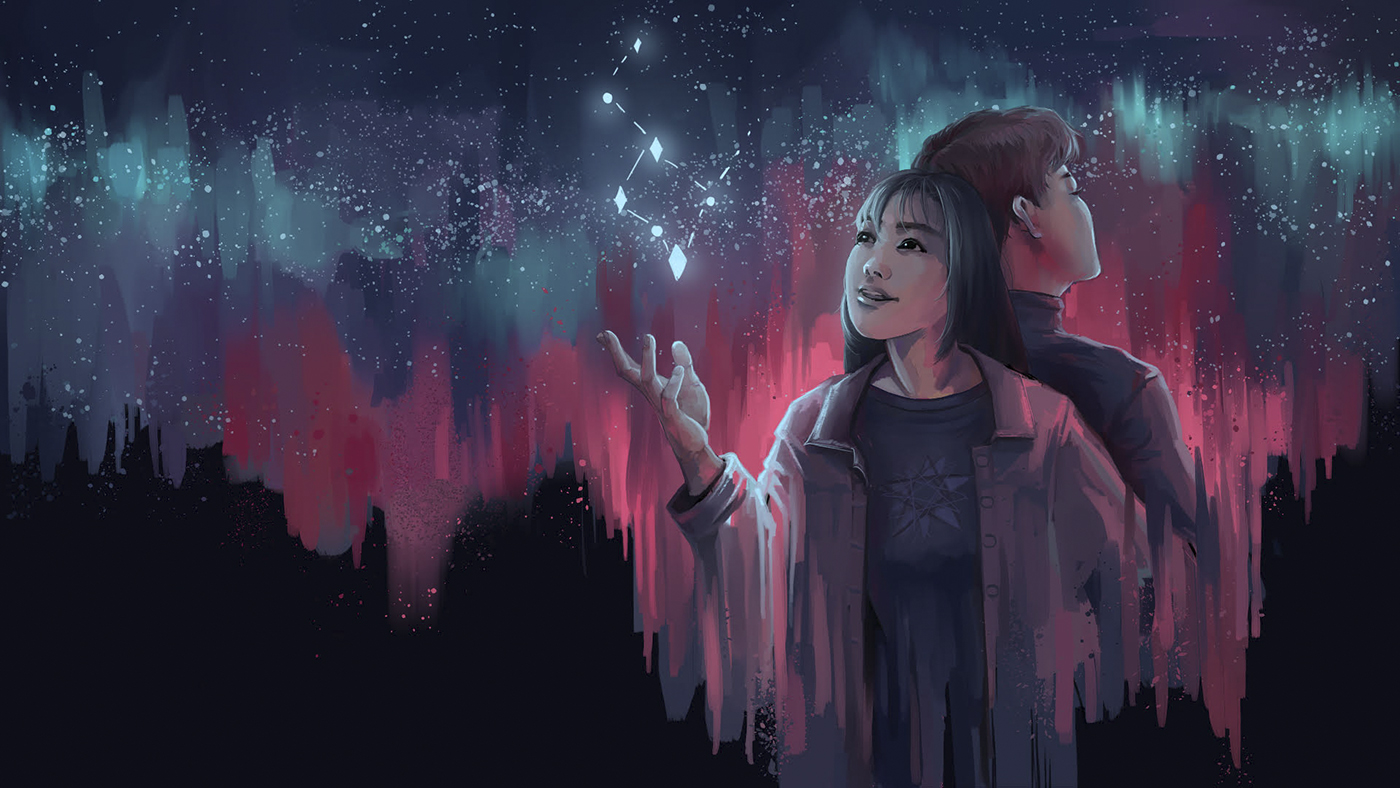 Emily Pitcher released her first indie video game, "The Space in Between," on Jan. 18. As an interactive fiction, the fourth-year English student said players explore themes of love, mental health and the Asian American experience by connecting constellations. (Courtesy of Elizabeth Han and Julia Lee)
Emily Pitcher connects love, mental health and the Asian American experience on a star-filled computer screen in "The Space in Between."
As a fourth-year English student, Pitcher said she knew creating video games seemed like an unconventional project for her field of study. Yet, the same qualities she enjoyed in writing poetry, creativity and storytelling, ended up drawing her to gaming. By her third year at UCLA, she joined ACM Game Studio – the game development subcommittee of the on-campus computer science organization, Association for Computing Machinery – and applied to lead a team and create her own video game. Released on Jan. 18, "The Space in Between" comes as her first indie game featuring the work of student artists, developers and marketers who worked alongside her.
"I was incredibly disappointed (when the pandemic hit) because I realized … how much joy I had for making games," Pitcher said. "So that summer I called … (my) team members with a couple (of) new people … and that's how I made 'The Space in Between.'"
The game centers on June and Miles, a college-aged couple, as they relive their memories while stargazing. Players connect constellations that prompt a story from either character, eventually creating a collage of their adolescence and relationship. As more constellations are completed, more are unlocked. With it being interactive fiction – a narrative genre in which players influence gameplay through their choices and one of Pitcher's primary interests in gaming – players can also choose what some constellations represent and lead what dialogue is said in certain cases. As a result, different narratives branch out, which is why Pitcher said she recommends two play-throughs to ensure no stories are missed.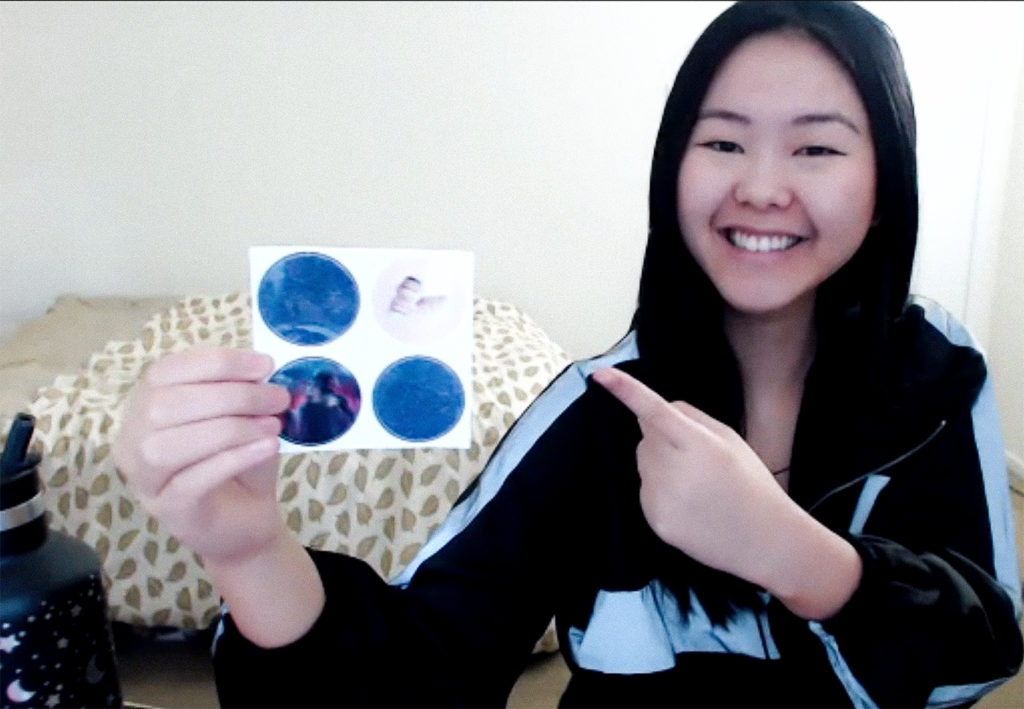 [Related: Design media arts student hopes to better represent mental health in new video game]
While presented as a work of fiction, Pitcher said "The Space in Between" is inspired by her own life. Themes within the narrative – like mental health and the validity of one's Asian identity – are reflections of Pitcher's personal experiences, she said. Specifically, she said the stargazing feature comes from her memories of watching the Perseid meteor shower on her birthday.
"I think the best stories are told with authenticity and some connection to the writer's life," Pitcher said. "So I decided to just go full throttle with it. This is my life."
Outside of writing and marketing, Pitcher said she left the remaining aspects of the game, such as the art and code, to her team. Alumna Elizabeth Han is one of the artists who worked on the stills for the game. During the game's production, Han said Pitcher would flesh out most of the story points and come up with a prompt for a corresponding frame for the artistic team to illustrate. From there, Han said the line art would be completed before the colors and shading were filled in. Other visual elements of the game, like the interface color and text font, were decided by the entire team on Discord, Han said.
On the programming side, third-year computer science and engineering student Richard Cheng incorporated the art, music and text into the program for the game, which he said was a simple process. Unity – a software program the team used to develop the game – has built-in features that make it easy to manipulate the volume of the sound effects and transition between images, he said. The game's wistful music and twinkling art are also what he said made the creation of "The Space in Between" stand out as a more well-rounded artistic project rather than one predominantly focused on code, he said.
"A lot of the other games (ACM Studio) often are almost all programmers, and they don't have a composer or an artist to actually work on the assets," Cheng said. "So I think it's really, really special that we got to have so many … non-programmers work together on a game like this."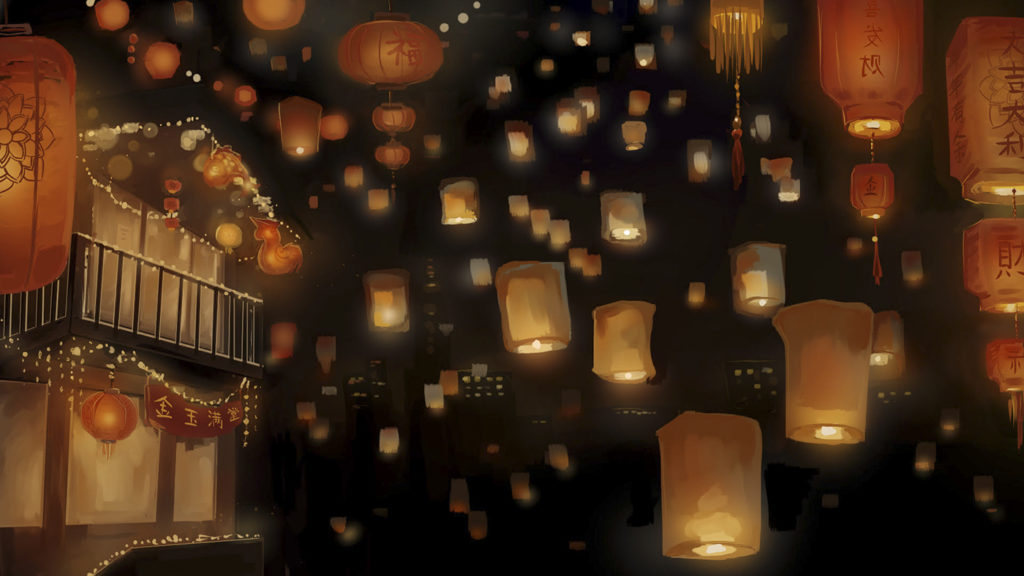 [Related: Video game preview: Winter releases provide players with escape to virtual worlds]
Another team member, fourth-year computer science and engineering student Alan Guan, said he also helped code the game, mainly focusing on the interface for creating constellations. At first, Guan said one of the problems was trying to generalize the code so that users could create any constellation. But the goal ended up being much simpler by limiting the players' point-of-view to only one orientation while connecting the stars. There were other difficulties managing the time needed to refine the code for a finished project, but Guan said Pitcher helped the team stay in line with the timeline through weekly meetings to ensure everyone was making progress.
"She keeps on top of things pretty well," Guan said. "She is really good at just keeping us on track and I think she works really hard, especially on the marketing side to try and push the publicity (for our) game."
Despite being somewhat autobiographical, Pitcher said "The Space in Between" ultimately functions to represent Asian Americans as a collective – from White Rabbit candy to lantern festivals. Some reviewers have mentioned how insightful the game is into the Asian American experience and how it pushes for more racial representation, but Pitcher said she hopes that the game will resonate with individuals outside the community as well.
"('The Space in Between') discusses Asian American issues," Pitcher said. "But it's just beautiful on its own, so anyone can enjoy it."