'WandaVision' season 1 recap – episode 4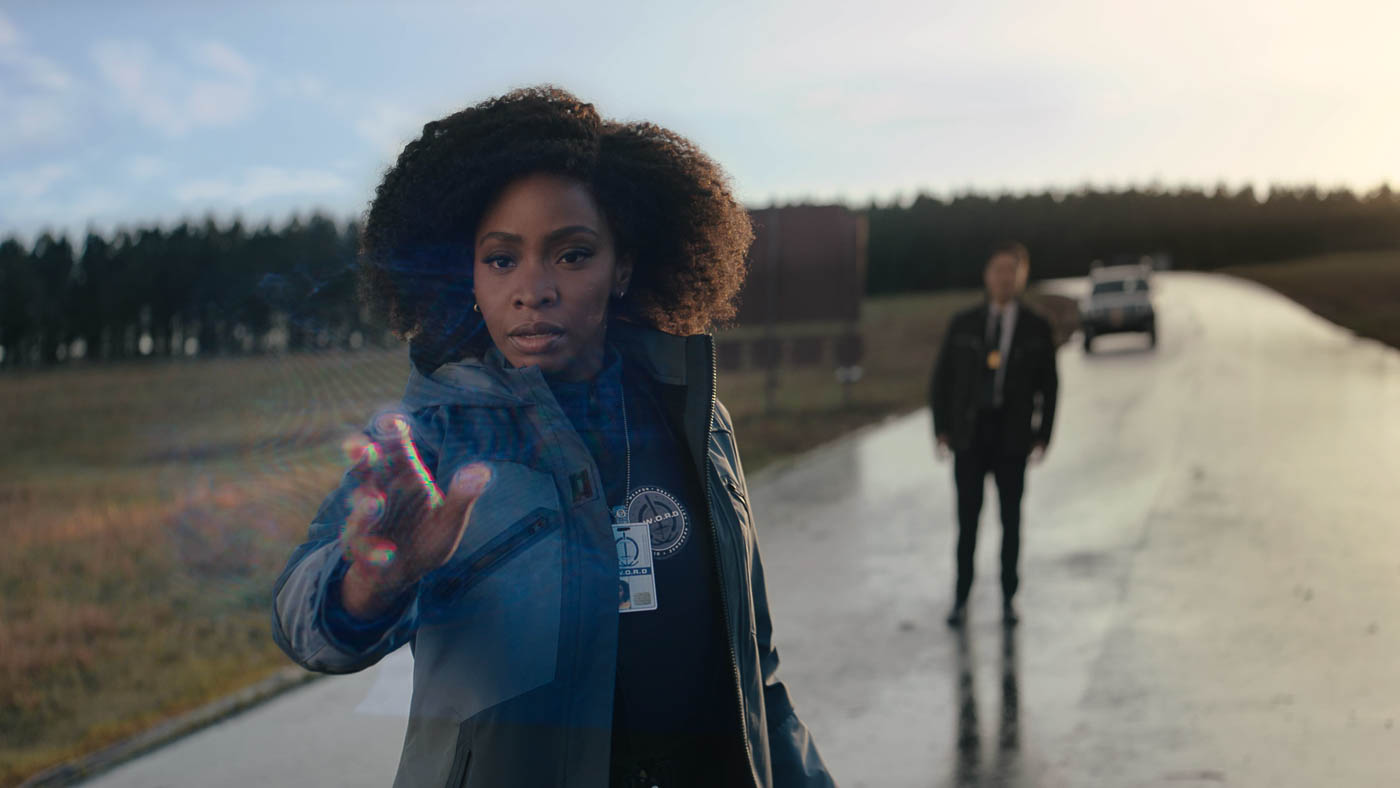 (Courtesy of Marvel Studios)
"We Interrupt This Program"
Directed by Matt Shakman
Disney+
Jan. 29
Warning: spoilers ahead.
Marvel fans aren't the only ones obsessively speculating about "WandaVision" – the show's characters have whiteboards chock full of theories as well.
Episode four retraces the story of Geraldine (Teyonah Parris), Wanda (Elizabeth Olsen) and Vision (Paul Bettany)'s supposed neighbor who is revealed to be Monica Rambeau (Teyonah Parris) – an agent of the intelligence agency S.W.O.R.D. While the mystery surrounding Westview has been slow to unravel, "We Interrupt This Program" aptly steps out of the sitcom world for the first time, recontextualizing the previous three episodes from S.W.O.R.D.'s perspective. The drastic change in scenery is a bold story move that demystifies some of the previous ambiguity, but carves an unpredictable path ahead.
[Related: 'WandaVision' season 1 recap – episode 3]
The opening scene sees Monica regenerating from dust after presumably being erased in the Thanos-induced Snap from "Avengers: Infinity War." Providing a glimpse of the Snap's reversal more intensely compared to prior films, the sequence effectively conveys the ensuing chaos in an overfilled hospital as half of all living beings return to existence. Another traumatic realization of Monica's five-year absence is the loss of her mother, Maria Rambeau – an ace pilot and founder of S.W.O.R.D. – who passed away from cancer two years after her daughter disappeared.
These character developments follow on the heels of 2019's "Captain Marvel," where Maria and a then-adolescent Monica mainly served as supporting characters to the titular Carol Danvers. But thanks to the interconnectivity of the Marvel Cinematic Universe, "WandaVision" lets Monica grow into a dynamic adult character, whose backstory becomes more meaningful as she's elevated to protagonist status.
Readjusting to the world, Monica is assigned to investigate an anomalous town in New Jersey called Westview, the peculiar namesake of Wanda and Vision's sitcom neighborhood. There, she meets FBI agent Jimmy Woo (Randall Park), another returning side character – this time from "Ant-Man and the Wasp" – who brings a dose of self-deprecating humor to the episode. But when Monica walks too close to the town's perimeter, she disappears into a supernatural force field, explaining how she ended up in the sitcom world under the alias Geraldine.
Cleverly bringing back minor MCU characters seems to be a hallmark of the episode, as S.W.O.R.D. recruits Darcy Lewis (Kat Dennings), who holds a doctorate in astrophysics and has come a long way since begrudgingly taking a research assistant gig for college credit in the first two "Thor" films. Deciphering a broadcast signal buried within the radiation emitting from Westview, she sets up a vintage TV set to watch the "WandaVision" sitcom – explaining the final shots of episode one.
[Related: 'WandaVision' season 1 recap – episodes 1 and 2]
From here, the episode continues to provide a laundry list of explanations for the anomalies Wanda observed in the first three episodes – most of them resulting from S.W.O.R.D.'s attempted interventions to reach her inside Westview, which alters objects that enter it, such as turning a drone into a toy helicopter. With Monica still wearing her '70s getup she had on as she reentered the real world last episode, the idea of permanent changes could also have major implications given such events as the birth of Wanda and Vision's twins.
Meanwhile, as Jimmy and Darcy interrogate the rules of the sitcom world, the dialogue becomes especially meta, sounding like the exact questions audiences had about the show so far. It's definitely relatable for viewers disoriented by the sitcom format, but hopefully such questions – like why it is specifically a sitcom – are later addressed in substantive ways rather than being reduced to one-off eyewinks that highlight the writers' self-awareness.
But in the sitcom world, the episode has one last reveal in store that's a bit more meaningful, showing a clearer glimpse of what happened to Monica in the censored scene from episode three. As Wanda slowly identifies Monica as an intruder in her idyllic reality, Olsen effectively channels an emotionally raw side of Wanda's psyche as she violently ejects her neighbor out of Westview using her telekinetic powers.
Things get even darker as Vision returns home, and a genuinely startling close-up of his pale, lacerated face insinuates that the Synthezoid is still deceased – a somber yet disturbing implication that Wanda may be reanimating his destroyed body like a puppet. Rather than some cosmic force antagonizing Wanda, the underlying horror of the scene also emphasizes that she is likely fabricating this facade of reality to cope with her burning grief. And with the discovery that most of the inhabitants of Westview are real-life people, "WandaVision" begins to complexly frame the Scarlet Witch as a partly antagonistic force, planting the seeds for a boiling conflict down the road.
If anything, episode four reminds viewers that "WandaVision" is ultimately a comic-book storyline, as it embodies the distinctly MCU tone of an interconnected universe that dips into several genres at once. Depending on how much one's been paying attention to the details, the episode may read as a revelatory reframing of events, or a season recap – confirming what was already implied in a less interesting, blatant way. The immersive and uncanny surrealness of the previous episodes will never quite have the same punch moving forward, but the transition to a more concrete story allows viewers to experience both the initial confusion and the deeper mystery without needless delay.
As more secrets are revealed, the show boils down to a race of who will crack the mystery first – S.W.O.R.D.'s team of elite scientists, or comic-book savvy fans and their plethora of internet theories.