Maker's Medium: Nico Young uses sculpture to find significance in life's mundanity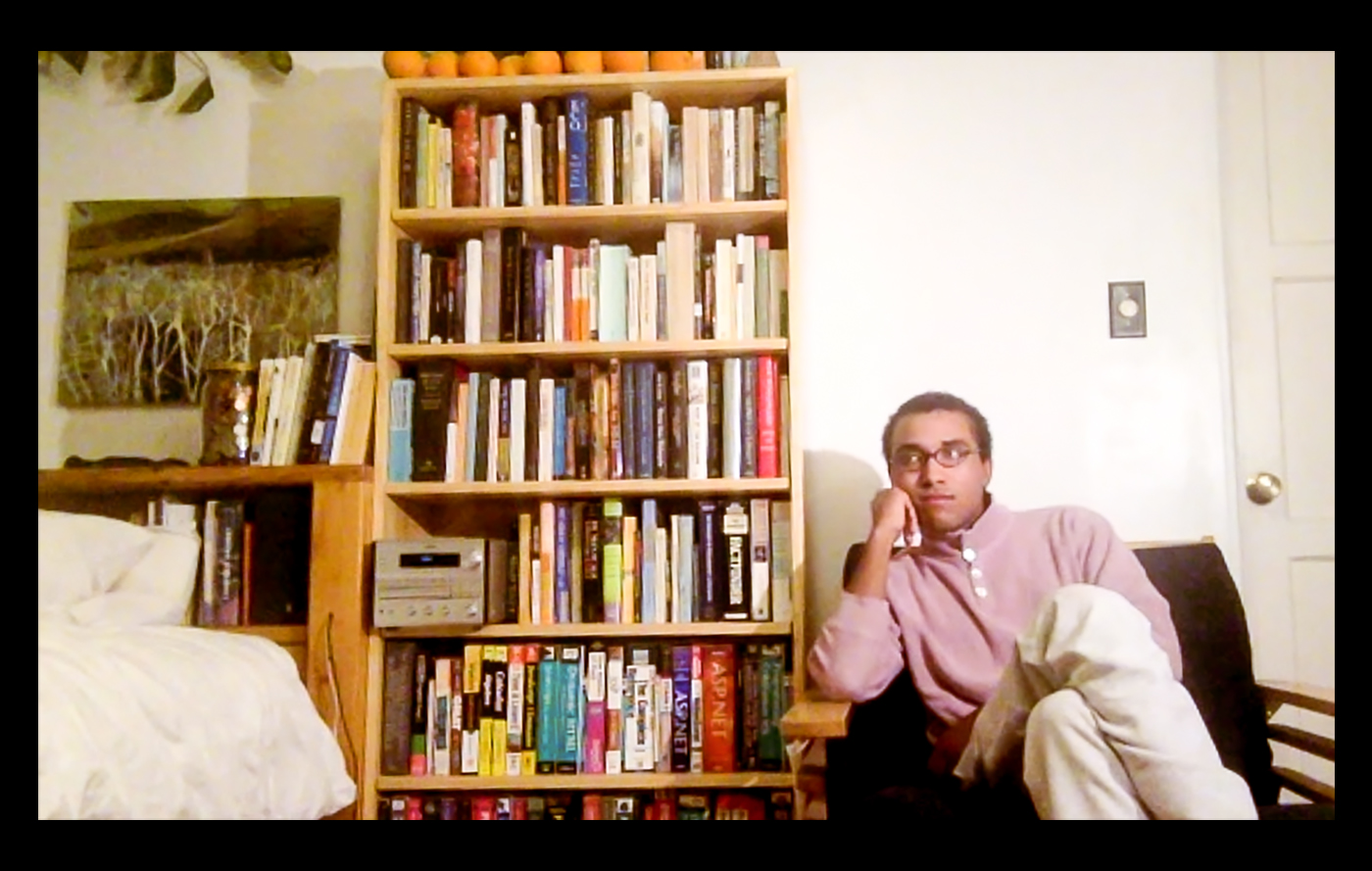 Fourth-year art student Nico Young looks into the ordinary to find artistic meaning. The artist frequently uses metaphors in his sculpture to make social commentary and brings his archiving interest into his work. (Lillie Yazdi/Daily Bruin)
The mastery of materials is fundamental to the artistic process and the career goal of any artist in their chosen medium. Every method requires a different skill set and can evoke different reactions in viewers. Follow columnist David Egan in "Maker's Medium" as he highlights the mediums of the fine arts by profiling a different undergraduate art student each week.

Nico Young looks to find meaning in the mundane.
With an initial interest in photojournalism, Young has ventured into sculpture and said he practices documentation, storytelling and metaphor in his art. Young began making art in high school, with early work including a photo project with The New York Times Magazine. Currently a fourth-year art student, Young also minors in geography as inspired by his interest in trade and urbanism. His study of urbanism manifests in "Yellow Railroad Buffer Stop (2020)," a sculpture Young said he made in January 2020 while studying railroad infrastructure. A buffer stop is a safety measure in place to stop a train if it cannot be stopped any other way, a reminder that all systems – no matter how rigorously engineered – remain fragile, he said.
"It became so much more interesting a few months later when the quarantine happened," Young said. "It's funny how I was thinking about (how) systems that we trust so much are liable to failure, and the pandemic … became the most clear example of that."
Sculpture as a medium is a broad category, describing three-dimensional objects made by humans and designated as artworks. People have been making sculptures for as long as they have had access to natural mediums like clay and stone, with fire allowing for pottery and other possibilities with the medium. From Stonehenge to the sphinxes of Egypt, artists through history, as with today, shape materials into their desired forms through sculpture.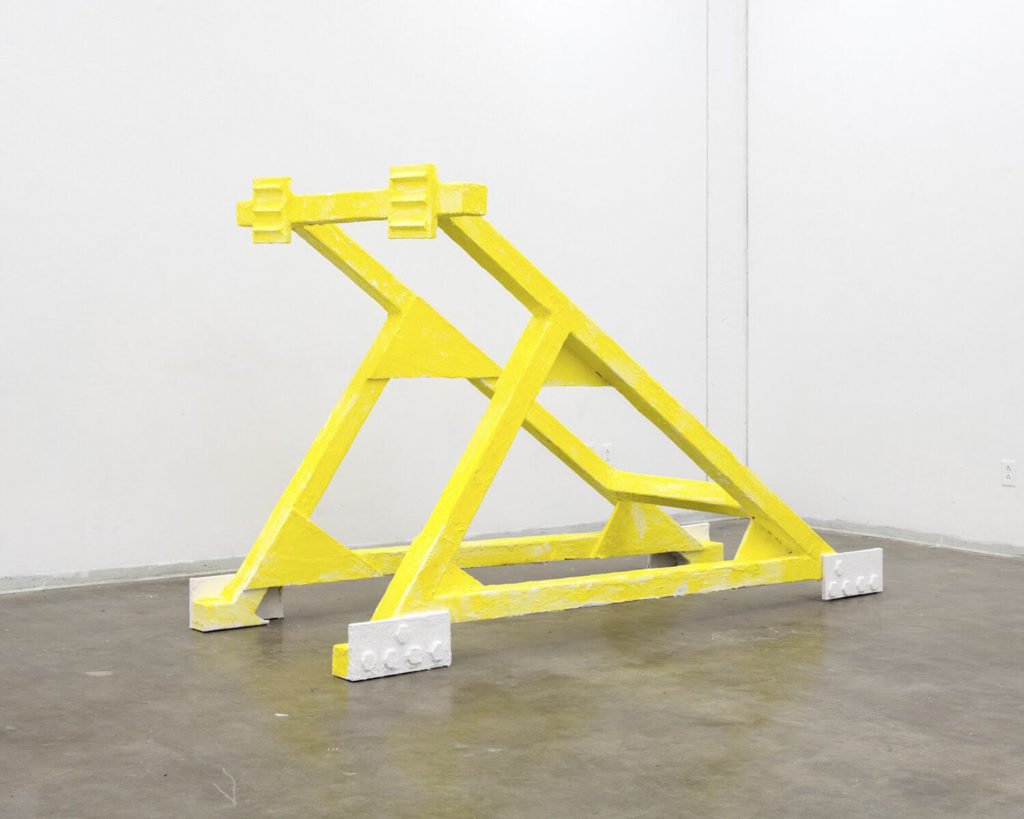 Exemplifying a transmutation of materials, Young used acrylic paint on plaster and a wooden frame to make "Yellow Railroad Buffer Stop (2020)." In recreating the buffer stop, a mass-produced object, and mirroring welding techniques for joints, bracing and angle iron, visiting sculpture lecturer David Roy said Young moves beyond the confines of the wood and plaster to accurately reference the object. Young's use of metaphor and symbolism in the buffer stop is also present in "Untitled (2017)," a ceramic sculpture of a pregnant belly with six-pack abs, containing a fetus inside that also has six-pack abs.
"('Untitled (2017)') is a joke about inheritance," Young said. "It's anatomically impossible that a pregnant belly has a six pack and the baby has a six pack too. But there are other things that are passed down from the mother to the baby that are less visible."
This detachment from reality comes across in the dark black and brown hues of the sculpture, which Roy said gives the piece an appearance of solidity and smallness. The work remains down to earth in its use of ceramic, a medium Roy said is populist and accessible with a domestic quality. Sculpture professor Hirsch Perlman, who taught Young in a senior studio class, said the pregnant belly strikes him first as funny and second as slightly perverse. For Young, it is perverse to imagine the body with such a loose association to truth or real-world possibility.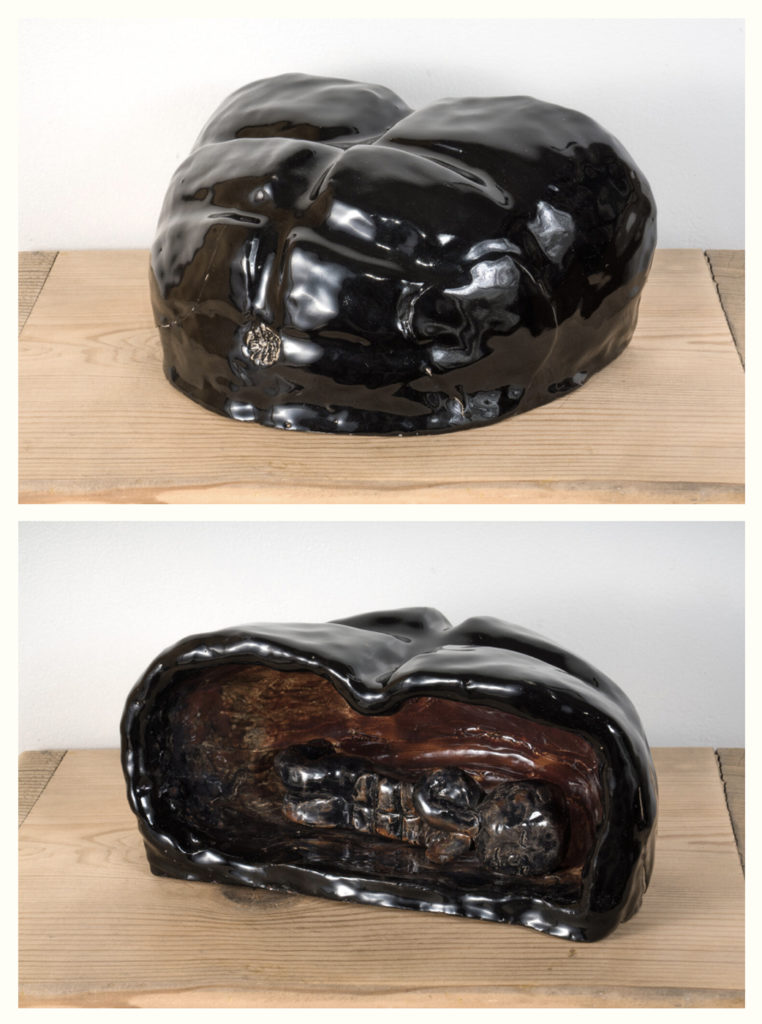 [Related: Maker's Medium: Piecing together new meanings from existing works with collage]
As with "Untitled (2017)," Young also used metaphor in a 2020 piece titled "Blair's Books," a sculpture made to hold the books of a recently deceased family friend. For this work, Young said he was inspired in part by reliquaries, which are containers or shrines that hold the relics of a saint or other important figure. Roy said the bookcase, which evokes the work of sculptor Cameron Rowland, is a conceptual project that makes the viewer consider what happens to the objects they leave behind. Young said he worked in reverse – instead of storing books in an already existing bookshelf, he built a bookshelf to specifically fit Blair's collection.
"(A reliquary for books) would be the exact dimensions of this specific collection," Young said. "There's something sweet and funny about this to me. … (It) will eventually just be used as a bookcase, … but it will still be imprinted with and hold someone's legacy."
Young said he cataloged the notes, bookmarks and various objects found in the pages of Blair's books into what he calls "Blair's Ephemera." By going through each book and pulling out every ephemeron he could find, he said he was able to examine how a person's life can be read through objects. Young said he is interested in archiving, a component of documentary work that he picked up working at the library for two years.
[Related: Maker's Medium: Art student explores precision, permanence through printmaking]
As with Young's unorthodox approach to storytelling with objects, Perlman said he grants his senior studio students the freedom to explore their medium with no restrictions. In senior studio, Young created a project called "Rock Talk," in which he documented and presented stories about rocks, garnered from his cross-country trip to rural Maine. Researching something as mundane as the stone pattern on a road sign or a local wilderness attraction, "Rock Talk" exemplifies Young's practice of finding meaning in the mundane.
Young's methods of archiving and documenting are processes of seeking meaning in everyday life, he said. Given the interdisciplinary nature of UCLA's art program, Young has been able to explore outside his initial interest in photography, expanding his practice into the medium of sculpture with a focus on storytelling.
"Finding meaning in everything, … that's what art is all about for me," Young said. "I think the world becomes activated when you're searching for these objects that are mundane and quotidian (but) mean something different from their function."