Life and Hip-Hop: No longer just writing on the wall, graffiti rises as a legitimate art form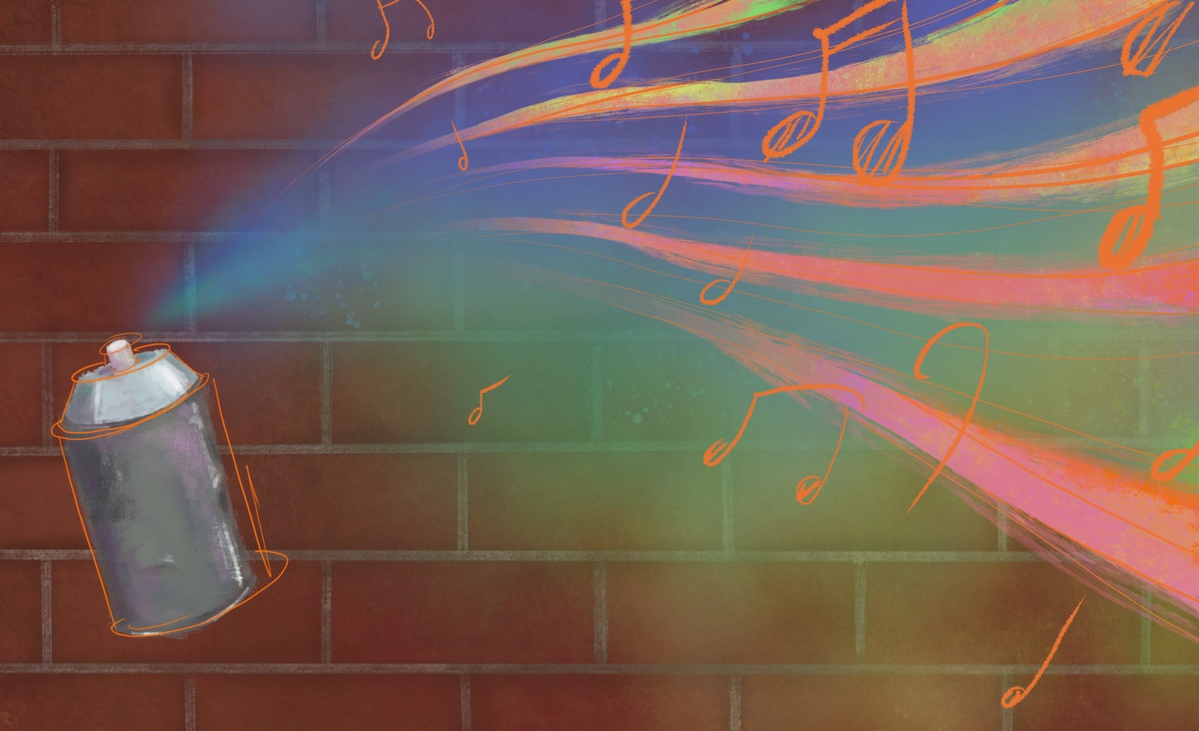 (Cat Nordstrom/Daily Bruin)
The impact of music extends far beyond the play and pause buttons. Formed in the 1970s as an underground movement, hip-hop has expanded into various art forms and musical sub-genres – with rap specifically being one of the most popular musical styles among today's youth. In "Life and Hip-Hop," columnists Natalie Brown and EJ Panaligan explore and analyze how hip-hop intersects with and influences everyday aspects of life.

In hip-hop, visibility is everything.
Born in historically marginalized communities, hip-hop has always been rooted in messages of identity and empowerment. With the popularization of '90s hip-hop, several other art forms blossomed, each striving to achieve this united goal of visibility – with graffiti at the forefront. UCLA alumnus and author of "Going All City" Stefano Bloch said that through the 1970s, graffiti was a key component of hip-hop culture and its block parties.
Though graffiti can take on many forms, it is simply defined as any writing that is artistically displayed on a surface. Along with the other pillars of hip-hop such as breakdancing, MC'ing and DJ'ing, Bloch said there was virtually no hip-hop demonstration or display that didn't feature graffiti as a backdrop. Whether graffiti was seen covering the DJ booths, on a canvas or in between buildings, Bloch said it created a stylized aesthetic environment.
Since then, however, hip-hop's relationship with graffiti has certainly transformed. Bloch said that while there are still people within each facet of hip-hop culture who embrace each other, the graffiti and hip-hop communities matured over time and have split off into diverging paths.
"(Graffiti artists' and hip-hop musicians') repertoires became more expanded and more inclusive," Bloch said. "The hip-hop repertoire (today) doesn't just lend itself to graffiti, and the graffiti repertoire and aesthetic (today) doesn't just use hip-hop as its audio environment."
[Related: Life and Hip-Hop: Examining the complex relationship between music and politics]
With different forms of public art emerging today, it is important to note the distinct art form of graffiti and how it differs from street art, with only the former relating to hip-hop subculture. UCLA alumna and author of "The City Beneath: A Century of Los Angeles Graffiti" Susan Phillips said while graffiti is produced for a community audience of insiders – like those at one point within hip-hop culture – street art seeks to engage a broader public audience.
Today's graffiti branches out into many different avenues and is predominantly used to carve out an identity of belonging or communicate a political message. The production of political graffiti in the United States has increased in conjunction with the Black Lives Matter movement, Donald Trump's presidency and the rise of white supremacy as a means to carry on conversations about societal issues, she said.
"Protests are ephemeral," Phillips said. "Maybe you get a social media presence but a lot of the time images that are captured include graffiti that will outlast the people at the protests."
What makes graffiti so attractive is its accessibility as an art form, Phillips said. Graffiti is a simple, cost-efficient way for artists and communities alike to put their names out there – without having to meet the financial requirements to use more conventionally legitimate spaces like billboards, Phillips said. The only materials required are paint and a wall, costing next to nothing.
Hence, this accessibility allows for historically marginalized groups alienated from mainstream culture to shape and communicate their own identities – akin to the original purpose of hip-hop music. Phillips said these groups are not limited to race and include homeless people, migrants, prisoners, gay men and laborers as well.
[Related: Life and Hip-Hop: Nipsey Hussle's legacy of resisting gentrification in birthplaces of music]
While there are many different styles of graffiti, each city has its own differentiating regional take on graffiti styles to obtain hypervisibility, she said. These differences are seen in the space artists choose to write on in each area. In Los Angeles, graffiti can be seen adorning high-up freeway signs or buildings adjacent to the freeway in order to reach mass quantities of people. In comparison, New York City witnesses a more common phenomenon of practicing graffiti on subway cars so artists' creations can be seen all over the city, Phillips said.
Though graffiti artists' work has achieved visibility, it is only recently that they have been positively recognized by the art world and greater society alike, she said. Originally written off as an insignificant art form and an act of vandalism, a large stigma surrounded those who practiced graffiti. Today, however, the form can be seen both in commissioned pieces on the streets and in art museums – with the Museum of Contemporary Art dedicating a show to the style. Furthermore, Phillips said graffiti can be considered a tool for gentrification now because certain clientele may desire to live in neighborhoods decorated with it.
African American studies and communication professor Paul Von Blum said he sees the beauty in being surrounded by this exciting visual development and understands that graffiti adds a certain aesthetic to urban living. Since it provides accessible avenues of visibility for outcasted members of society, he said graffiti directly aligns with the intentions and messaging of hip-hop. Though both have drifted apart over time, together they can help progress society in the right direction.
"(Like hip-hop music, graffiti) can be very provocative," Von Blum said. "The world and America, in particular, has needed (this) provocation."