Life and Hip-Hop: Nipsey Hussle's legacy of resisting gentrification in birthplaces of music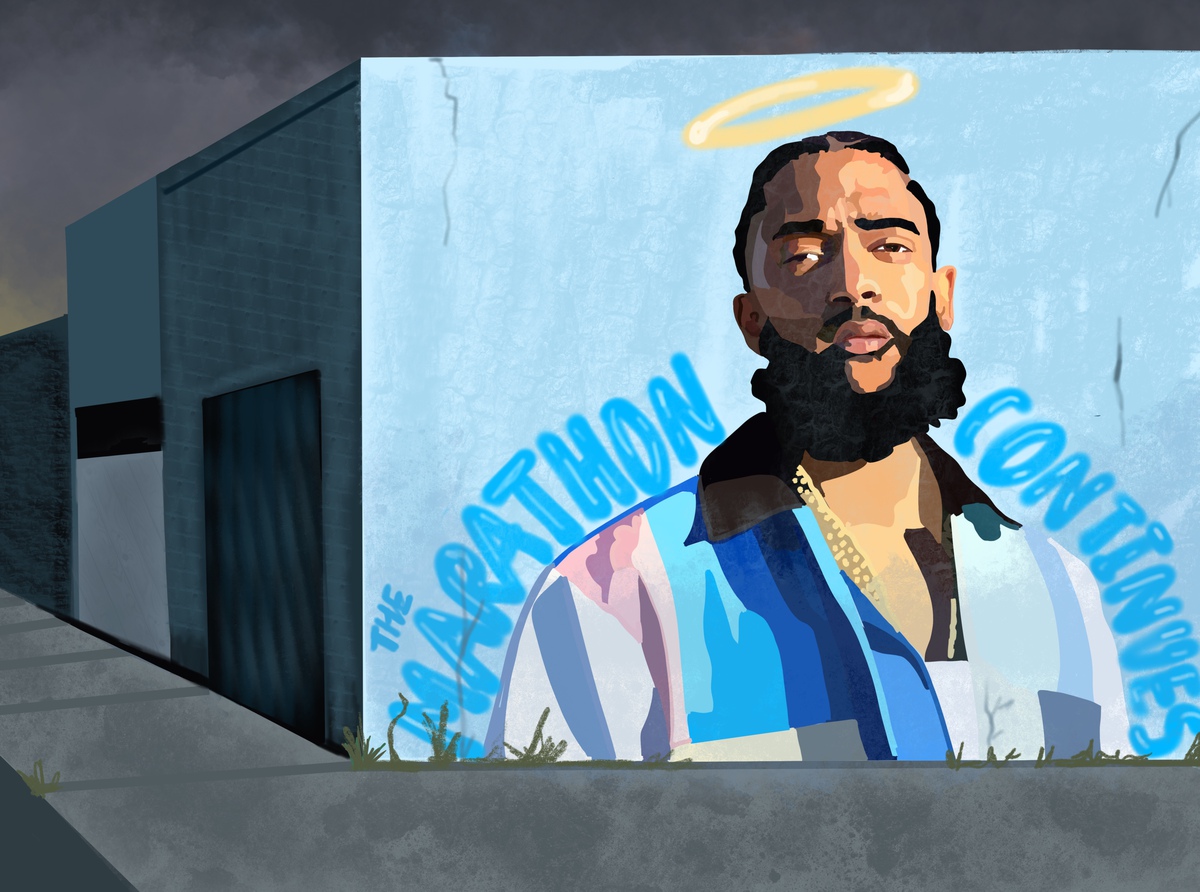 (Emily Dembinski/Illustrations Director)
This post was updated Oct. 18 at 7:31 p.m.
The impact of music extends far beyond the play and pause buttons. Formed in the 1970s as an underground movement, hip-hop has expanded into various art forms and musical sub-genres – with rap specifically being one of the most popular musical styles among today's youth. In "Life and Hip-Hop," columnists Natalie Brown and EJ Panaligan explore and analyze how hip-hop intersects with and influences everyday aspects of life.

Preserving community and culture in a disadvantaged neighborhood is like playing a game of Monopoly.
Alluding to this popular children's game in his song, "Last Time That I Checc'd," the late Nipsey Hussle describes his fight against the government and developers from obtaining complete ownership of his Crenshaw neighborhood. As with many other areas in South Central Los Angeles, the pressures of gentrification and its effects run deep, making rappers like Hussle, who use music as a mode of activism, so essential. Gentrification is not a new problem, however, and has been occurring in disadvantaged neighborhoods across America for decades.
Urban planning professor Anastasia Loukaitou-Sideris said gentrification occurs when a slew of people and investments come into a neighborhood in an attempt to renovate or "improve" that neighborhood. She said these incoming residents often have higher incomes and sometimes belong to different racial or ethnic groups than the long-standing residents. This process eventually leads to a turnaround of the demographic and character within a community.
"You may not recognize your neighborhood that used to be there 10 years ago because of the influx of so many new people, restaurants and businesses," Loukaitou-Sideris said. "It would look completely different and wouldn't have much of the culture that you knew."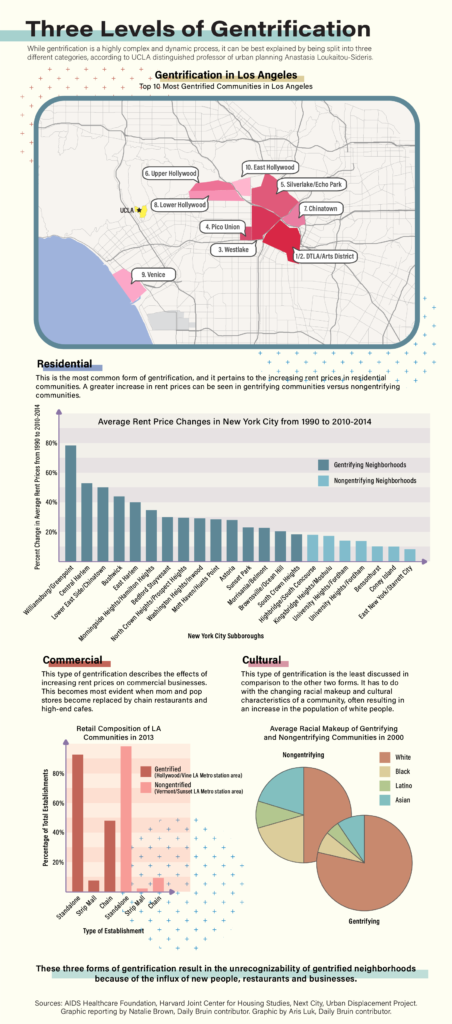 Renters are among the most at risk of being pushed out, as they face increased rent rates because of the rising overall wealth of the neighborhood, she said. Eventually, these increasing rent rates can lead to the mass displacement of people, said fellow urban planning and public policy professor Michael Lens.
"These gentrifying places have been long under invested in and traditionally (have) high concentrations of minority groups, and people in poverty have clustered there," Lens said. "Of course, hip-hop got its birth in exactly those kinds of places."
[Related: Life and Hip-Hop: Artists draw inspiration from lived experiences and hometowns]
Activist and author Kevin Powell said hip-hop was created by poor Black Americans, West Indians and Latino people who nurtured this genre in both New York City and Los Angeles. But now in the 21st century, the very neighborhoods that created this genre of music are the same neighborhoods undergoing gentrification, he said.
The communities that created hip-hop can no longer afford to live in areas where their culture developed, Powell said. In Los Angeles, for example, because west side properties are historically unaffordable, it is typically the more affordable east side areas that become gentrified, he said. South Central LA is one the most infamous historically gentrified communities, as well as the birthplace of rappers like Hussle, Dr. Dre, and Ice Cube. Hussle in particular played a large role in educating his community and other Americans about the effects of gentrification and how to combat them.
In his songs "Last Time That I Checc'd" and "Hussle & Motivate," Hussle outlines his strategies of buying local businesses before outside developers and empowering others to do the same. From forming strategic partnerships with those outside of his community to gradually acquiring more properties within his community, Powell said Hussle was a role model for those in South Central LA and beyond. Following Hussle's murder in 2019, Powell said it was a monumental loss for Hussle's community and all communities facing the same pressures of gentrification.
"(Hussle's) greatest contribution to society wasn't even his music – though people love his music," Powell said. "It was actually his vision for the community and the fact that he invested in his community."
[Related: Q&A: DUCKWRTH stresses authenticity, magical storytelling in new album 'SuperGood']
However, Powell said there are still rappers who carry on the fight to eradicate the unfair displacement that goes along with gentrification, including Atlanta rapper, Killer Mike. Like Hussle, Killer Mike is working toward combatting the effects of gentrification by opening a bank for Black and Latino communities as well as buying properties in the Atlanta metropolitan area.
While many rappers own businesses and properties, Powell said not all have invested back in their own communities to the level that Hussle and Killer Mike have. Though visionaries like Hussle and Killer Mike are few and far between, Loukaitou-Sideris said there are several alternatives to gentrification – and the strategy is threefold. More affordable housing needs to be produced, the existing affordable housing needs to be preserved with things like rent control and tenants with loans should be protected and represented when they are brought to court by their landlords, she said.
"There are a number of strategies that politicians, policy makers and planners can follow depending on the situation," Loukaitou-Sideris said.
These techniques, combined with Hussle's strategies of ownership and entrepreneurship, can empower communities that have been integral in the creation of hip-hop. By "taking off the pieces on the Monopoly board" and preventing outside buyers from invading underprivileged communities, Hussle reaffirmed his stance in taking ownership of his community.
But it's up to the next generation of rappers to uplift his legacy and keep playing.