'Cobra Kai' sparks conversation about Asian American representation in media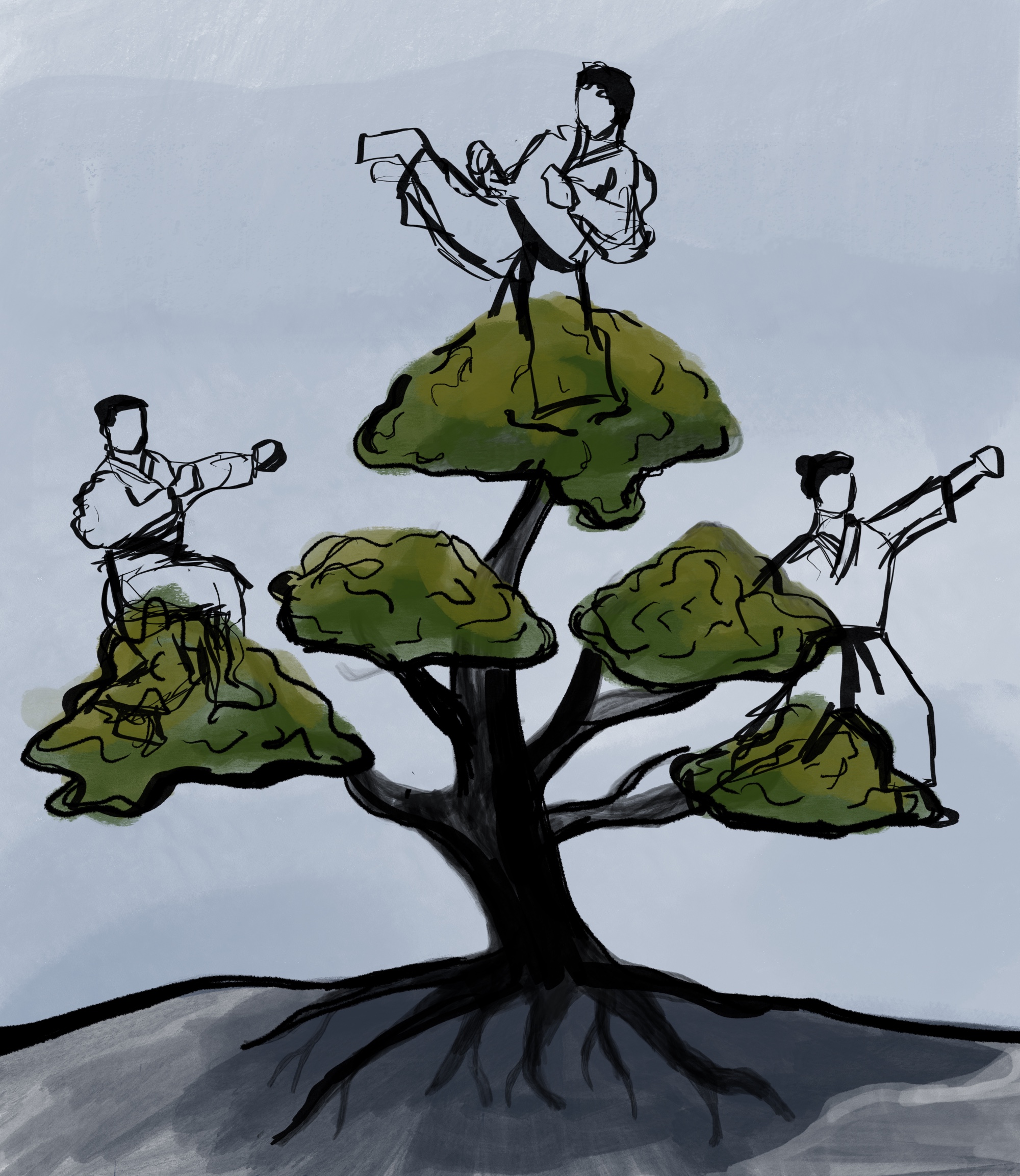 (Emily Dembinski/Illustrations director)
"Cobra Kai" shows no mercy when it comes to streaming numbers, but a conversation on the show's cultural influence strikes hard amid such success.
Continuing the story of "The Karate Kid" films more than 20 years later, "Cobra Kai" finds Daniel LaRusso (Ralph Macchio) and Johnny Lawrence (William Zabka) resurrecting their respective karate dojos and getting just about everyone in their lives entrenched in their morally gray rivalry. The show premiered on YouTube Red – now YouTube Premium – in 2018, but the series found a new home last year on Netflix, where it debuted as the No. 1 show on the platform. Speaking on its popularity, recent graduate and former president of UCLA Kung Fu Hayden Parsley said he resonated with the show's depiction of what it means to be part of a martial arts community.
"I was pretty nerdy in high school, and I think a lot of us were," Parsley said. "I don't really know why that is, but ("Cobra Kai") nailed this demographic of people who end up doing martial arts and the agency over yourself and body that it can really give you."
[Related: 'MigrAsians' podcast explores influence of Asian identities on art and politics]
While dojo wars and highly choreographed school brawls add to the show's campy appeal, he said the characters ultimately learn karate to conquer their insecurities, reflecting a common pathway into martial arts – including his own. With a variety of styles across cultures, Chuan Chen, a fourth-year computer science student and previous co-president of UCLA Wushu said the universality of martial arts is likewise reflected in the inclusion of traditional Okinawan Goju-ryu karate and the established American karate system in "Cobra Kai."
Yet despite rave reviews, the show's cultural elements have also been put under a more critical lens. LA Times writer Jen Yamato highlighted the lack of diversity within the main cast of characters – namely, the absence of an Asian lead in a show centered around karate and rooted in Eastern tradition.
Todd Kushigemachi, a lecturer at the School of Theater, Film and Television, said the critique arises from increased demand for more Asian representation across the media landscape, which has a history of exacerbating erasure and otherness. But when it comes to martial arts cinema, he said the inclusion of Asian characters can also feel like a double bind between authentic representation and worn-out tropes.
"On one hand, you're borrowing from Japanese or Asian cultures, (and) it's good to see Asian faces in those stories," Kushigemachi said. "But at the same time, to include Asians is to perpetuate the stereotype of Asians knowing martial arts."
The conversation around the cultural elements of "Cobra Kai" also speaks to the franchise's history of helping advance Asian representation. Kushigemachi said Pat Morita's Academy Award nomination for playing Daniel's sensei, Mr. Miyagi, in 1984's "The Karate Kid" was especially significant for Asian American visibility – coming just one year after Linda Hunt's win for a cross-dressing yellowface performance in "The Year of Living Dangerously." On a personal level, he said the original trilogy was a family staple for him growing up, as they were among the few mainstream films with visible Japanese elements.
But with the passing of Pat Morita in 2005, "Cobra Kai" is bereft of Daniel's father figure who was a central presence for all three original films, resulting in the show being framed around the remaining canonical characters. And while "Cobra Kai" honors the enduring spirit of Mr. Miyagi, Kushigemachi said the show speaks to Hollywood's trend of relying on preexisting properties for their nostalgia, which can potentially perpetuate old models of racial representation despite recent progress.
[Related: 'Lumpia: With a Vengeance' gives loyal fans sequel almost two decades later]
For example, "The Karate Kid Part II" is fondly remembered for its setting in Okinawa, Japan, and a prominent supporting cast of Japanese actors. But despite the notable diversity, Kushigemachi said the film also reflects a larger pattern of Asians being depicted solely as foreigners – in this case, requiring a trip overseas to see several Asian faces on screen.
"Very few films are perfect, but it becomes especially difficult when there are so few films with predominantly Asian or Asian American casts that exist," Kuchigemachi said. "So they tend to (take on) that burden of representation."
Recently, the third season of "Cobra Kai" made strides to revisit Okinawa and explore the roots of Miyagi-Do karate. Reprising the role of Daniel's former paramour Kumiko 34 years later, Tamlyn Tomita said she didn't yet have the voice to push for more authentic cultural representation when she made her acting debut in "The Karate Kid Part II" during her third year at UCLA. After going extra lengths to showcase accurate Okinawan artifacts and dialectic translations in "Cobra Kai," she said she was grateful for the writers' openness to receive her input, but also feels that such a burden shouldn't be laden on all actors of color who come from diverse backgrounds and immigrant generations.
Welcoming critiques of the show, Tomita said it behooves those behind the scenes to bring new voices into the storytelling process, which can enrich the narrative with an increased variety of perspectives. With "Cobra Kai" being filmed in Atlanta, the show has faced casting limitations in reflecting the ethnic diversity of the show's San Fernando Valley setting. Nonetheless, Tomita said she has faith in the creators, who are conscious of the critiques moving forward.
As the series opens the door to more representation, Tomita said she's reminded how Okinawan karate master Mr. Miyagi also embodied a quintessentially Asian American experience, speaking to the diaspora of stories that can continue to be told.
"(As) Asian Americans, it's about really championing those stories that we … planted and rooted here in America," Tomita said. "I think that 'The Karate Kid' is part of that story because Mr. Miyagi came from (Okinawa) but lived here … and that's just a little seed of the bonsai tree that is a part of America's story."