Week four: Lifted stay-at-home order, plans for no-cost COVID-19 vaccine for students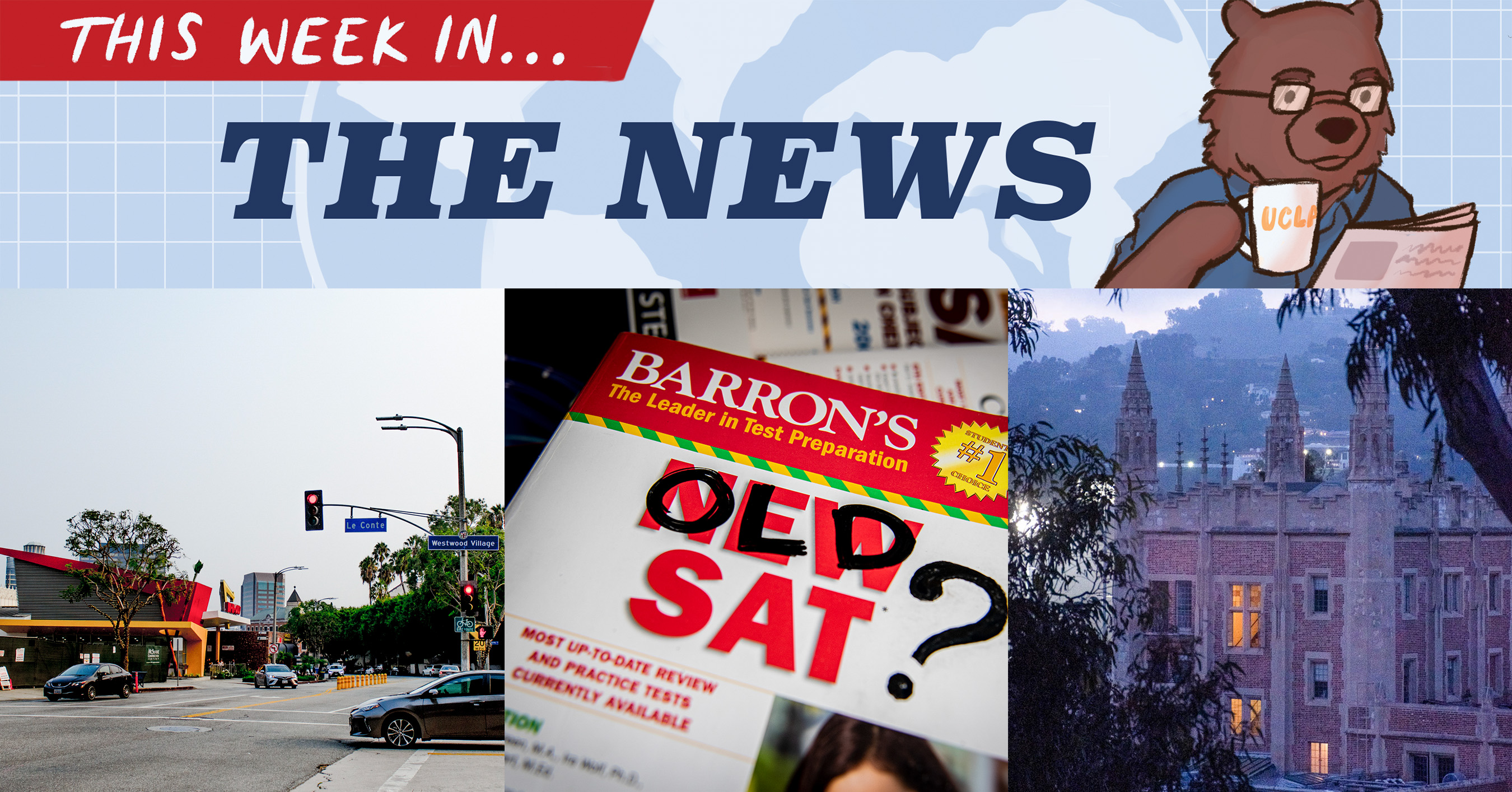 (Left to right: Kanishka Mehra/Photo editor, Jason Zhu/Daily Bruin staff, Lauren Man/Assistant Photo editor)
This Week in the News serves as The Quad's space for reflection on current events at and around UCLA. Every week, Daily Bruin staffers will analyze some of the most significant stories to keep readers up to speed.
Los Angeles County, UCLA and the University of California all witnessed changes this week. From loosening COVID-19 guidelines to college admission requirements, here are the top stories from week four.
The week started with California Gov. Gavin Newsom lifting the state's regional stay-at-home order Monday.
LA County is expected to reopen outdoor dining and salons by Friday, said Barbara Ferrer, the LA County Department of Public Health director. The mandated 10 p.m. to 5 a.m. curfew will also be rescinded.
LA County was placed on a self-mandated lockdown in November amid a surge of COVID-19 cases.
Despite the 0% ICU capacity in Southern California, the state will return to the previous tier-based system in combating the COVID-19 virus.
Ferrer said that efforts will be made in order to slow COVID-19's spread as outdoor dining is reintroduced. Such measures include occupancy limits and the evaluation of restaurant employees' personal protective equipment.
Newsom held a state press conference Monday in which he said Southern California will most likely reach 33.3% ICU capacity by Feb. 21.
The UC Student Association is lobbying for the federal government to double the Pell Grant, a federal financial aid award given to lower-income students.
For the 2020-2021 school year, Pell Grant recipients can be issued up to a maximum payment of $6,345 for the academic year. In meeting with federal representatives and nonprofit leaders, UCSA's campaign plans to double that amount, said UCSA government relations chair and UC Berkeley student Joshua Lewis.
UCSA organizers are communicating with Capitol Hill representatives. Already, 11 members of Congress have met with UCLA students working for this cause, said Aidan Arasasingham, UCSA President and fourth-year global studies student at UCLA.
Arassingham and the presidents of five West Coast student body governments also wrote a letter urging President Joe Biden to fulfill his campaign promise of doubling the Pell Grant, preferably within his first 100 days in office.
Lewis said efforts to raise Pell Grant funding can no longer be ignored.
"Every day that goes by that the immediate action isn't taken on the Pell Grant is a day that another student loses access to the UC," Lewis said.
Shortly after UCLA announced plans to reopen in fall, UCLA administrators hosted a virtual town hall Monday providing students with updates on COVID-19 vaccinations.
Though a timeline on vaccine rollout for students remains unknown, UCLA does plan on administering COVID-19 vaccinations to students on campus at no cost.
Students who have the UC Student Health Insurance Plan expecting to receive a vaccine off-campus are to contact the Ashe Center to receive a referral to cover the vaccine's administrative cost, said John Bollard, the co-executive director of the Arthur Ashe Student Health and Wellness Center.
Students who plan to graduate in June are also given this option through the beginning of fall quarter, Bollard said in the town hall.
Since the vaccines were given emergency authorization for distribution by the FDA, the university cannot mandate that staff receive the vaccine, said William Dunne, the administrative director for energy preparedness, safety and security services at UCLA Health.
Dunne added that international and out-of-state students should receive the vaccine in their home country or state if they are able.
Annabelle De St. Maurice, the co-chief infection prevention officer for UCLA Health, said even students who previously had COVID-19 should receive a vaccination.
The University of California planned to create a standardized test option to replace the SAT and ACT requirement for applicants by 2025. However, this deadline may not be viable, according to the Feasibility Study Steering Committee and Feasibility Study Work Group.
Mary Gauvain, the chair of the UC Academic Senate and co-chair of the FSSC, and Michael Brown, provost and executive vice president for academic affairs, said it could take nine years to create a University of California-specific standardized test at a meeting with UC Board of Regents on Thursday.
For now, UC admissions will not be considering SAT or ACT scores in applications because of student difficulties in accessing the exam during the COVID-19 pandemic.
The Undergraduate Students Association Council recently passed a bylaw that will allot time reserved to the Congressional Advisory Board.
The board's member organizations include those specifically meant to represent students from marginalized communities, such as the Disabled Student Union and the Asian Pacific Coalition.
Prior to the rule's introduction, CAB's participation was heavily limited in USAC meetings as their only options were the Public Comment Session or through the USAC Seat at the Table Initiative.