Video game preview: Winter releases provide players with escape to virtual worlds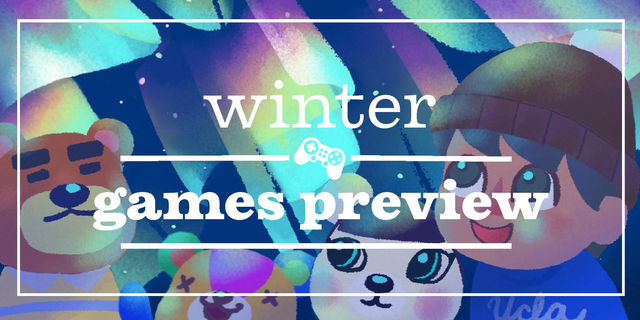 (Dani Nalangan/Daily Bruin)
Whether retreating to the wholesome islands of "Animal Crossing: New Horizons" or strumming guitar tunes in "The Last of Us Part II," gaming provided an escape from the woes of 2020. A change in seasons also brings potential for players to continue finding solace via virtual worlds in 2021 – which promises a healthy mix of familiar franchises and next-gen experiments across all platforms.

Keep reading for the Daily Bruin's gaming picks to look out for this winter season.
"Riders Republic" (Ubisoft Annecy)
A swarm of mascot-dressed bikers bolting down the rocky slopes of Bryce Canyon is just an average day in "Riders Republic."
As the spiritual successor to developer Ubisoft Annecy's 2016 winter-sports-themed title "Steep," the upcoming game expands on the genre with five main activities – mountain biking, skiing, snowboarding, wingsuit flying and rocket wingsuiting. The game's main draw is it's massively multiplayer online lobbies where over 50 players can compete in death-defying player vs. player events across the game's vast sandbox. The open world map meshes seven real-life U.S. national parks like Yosemite Valley and Grand Teton to create an extreme sports enthusiast's fantasy – although acrophobes beware.
The game releases Feb. 25 for PlayStation 4, Stadia and Xbox One, but it was designed with PlayStation 5, Xbox Series X/S and beefy gaming PCs in mind. Taking advantage of next-generation hardware, gameplay footage showcases photorealistic textures and lighting that can be experienced at 4K and 60 frames per second on the next-gen consoles.
Despite the frozen chill of winter, defying the laws of gravity in nature's most picturesque vistas is sure to get players' blood pumping.
[Related: Book Preview: Winter 2021 novels will explore new horizons, revisit classic stories]
"LEGO Star Wars: The Skywalker Saga" (TT Games)
The "Star Wars" saga is being retold brick by brick.
After a series of delays, the family-friendly franchise returns in 2021 with "Lego Star Wars: The Skywalker Saga" for PC, Nintendo Switch, PlayStation 4, PlayStation 5, Xbox One and Xbox Series X/S. For the first time, players can start their journey with any of the nine episodic "Star Wars" films – such as the newly added Episodes VIII and IX – which are zanily reimagined across 45 story missions.
While the smash, build and studs collecting formula has been the franchise's addictive mainstay, TT Games has incorporated deeper gameplay mechanics such as lightsaber combos and an over-the-shoulder camera perspective for blaster characters. The anticipated game will also boast an unprecedented number of planetary hub worlds and nearly 500 characters – from obvious picks like Princess Leia to the most obscure of background extras like Yaddle. Ergo, achieving 100% completion in the game is sure to be a Death Star-sized task.
Movie tie-in games are typically mediocre fare, but the Force may be stronger with this one.
"Super Mario 3D World + Bowser's Fury" (Nintendo)
Mario and 3D platforming are a bread and butter combo.
A re-release of a 2013 Wii U game, "Super Mario 3D World + Bowser's Fury" ground pounds onto the Nintendo Switch as part of the company's ongoing Super Mario Bros. 35th anniversary celebration. As the poorly marketed Wii U is one of Nintendo's lowest selling consoles, many gamers will be getting a taste of the critically-lauded platformer for the first time Feb. 12. Up to four players traverse eight main worlds, picking from a roster of distinctly powered characters like the magically floating Peach, while power-ups like the Super Bell's cat form further amp up movement options.
Nintendo has remained quiet on gameplay additions for the port, but fans have already deduced subtle changes including an apparent increase to character run speed and a new jump-dive ability. As for the game's titular expansion entitled "Bowser's Fury," the trailer mysteriously teases a stormy island world that may reflect a new set of challenging levels and unlockables. But most importantly, Nintendo has confirmed the long-overdue inclusion of online cooperative play, arriving at a fortuitous time for gamers stuck at home.
Though most can't play together in-person right now, Mario – and the internet – are helping bring couch parties back to the living room.
"The Medium" (Bloober Team)
The only thing scarier than one horror game is playing two at the same time.
With past titles like "Layers of Fear" and "Blair Witch," developer Bloober Team's penchant for the macabre continues with "The Medium" – a psychological horror game releasing Jan. 28 for PC and the Xbox Series S/X. Players control the psychically gifted Marianne, who perceives the unsettling spirit world in addition to our own reality – conveyed by splitting the screen in half to show her in both settings simultaneously. This innovative mechanic was achieved through the latest Xbox's background streaming technology and enables players to solve puzzles by observing how actions in one reality affect the other.
The game's fixed camera perspective is another departure from the modern horror genre as developers attempt a more cinematic experience compared to typical first-person jump scares. Meanwhile, the sinister atmosphere of the spirit world – inspired by the dystopian surrealism of Polish artist Zdzisław Beksiński – is populated by a porcelain-faced little girl, among other eerie entities.
Life is scary as it is, but if you're hungry for more frights, Bloober Team's latest title offers a not-so-happy medium.
[Related: Video game review: New 'Immortals Fenyx Rising' incorporates humor in thoughtful quests, visuals]
"Kena: Bridge of Spirits" (Ember Lab)
One could easily mistake the "Kena: Bridge of Spirits" trailer for that of an upcoming Pixar flick.
The action-adventure game is the freshman effort of independent studio Ember Lab – previously known for its 3D animation work in commercials, phone applications and a viral "Legend of Zelda" fan-film. As the game's art style is inspired by real-life locations in Bali, Ember Lab composed the game's score alongside Balinese music ensemble Gamelan Çudamani, who oversaw that the culture's traditional sounds would be represented appropriately for a western video game.
Players inhabit the protagonist Kena, a magically-powered spirit guide who helps rehabilitate the trapped souls of an abandoned village. In third-person combat, Kena fends off foes using her enchanted staff which can transform into a bow or a bubble-shaped energy shield. The player will also collect fuzzy, wide-eyed puffball creatures known as the Rot, and up to 100 of them can support Kena in gameplay by distracting enemies, mending broken bridges and performing other endearing feats.
A timed console exclusive set for release by March, the game aims to prop up the currently meager selection of PlayStation 5 titles but will also release on PC. While the newly released system has been notoriously low in supply, the game is also being released on PlayStation 4, and players will be able to upgrade to the PlayStation 5 version in the future for free.
After the stresses of 2020, Kena's story of restoration and regrowth may be the perfect parable for 2021.