Editorial: New stop sign shows value of community contributions to local government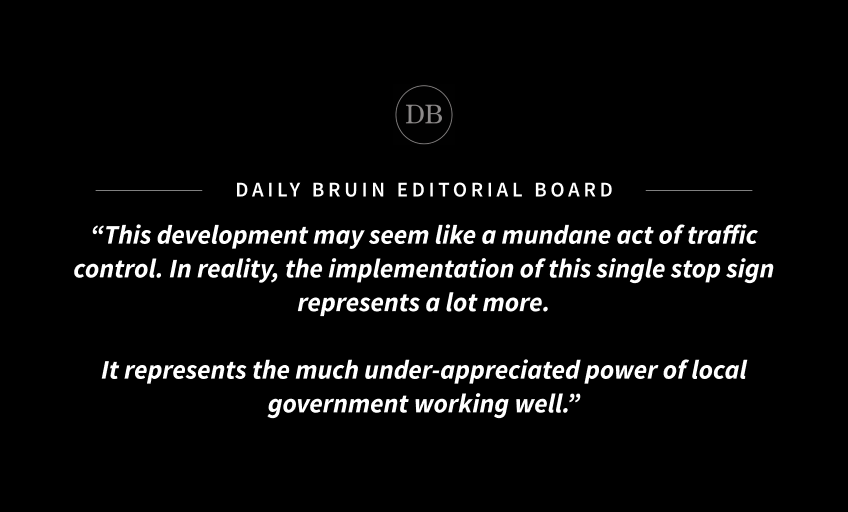 It started with a text.
In a familiar story to most Westwood residents, two student pedestrians were nearly hit by a car at the intersection of Kelton Avenue and Ophir Drive. In an unfamiliar twist, the students reached out to their local government representatives to do something about it. Things only got better from there.
After a few months and some heavy bureaucratic lifting from the North Westwood Neighborhood Council, particularly councilmember Furkan Yalcin, there was a new four-way stop sign at the Kelton Avenue and Ophir Drive intersection.
This development may seem like a mundane act of traffic control. In reality, the implementation of this single stop sign represents a lot more.
It represents the much underappreciated power of local government working well.
First, it's worth acknowledging fourth-year gender studies and musicology student Korina Moriarty and fourth-year geography student Alize Magana. Plenty of students have joked about the dangerous intersection – "pay my tuition" – but it was these students who went above and beyond to engage with their too-often overlooked local officials.
When the students brought their complaint, it is to the NWWNC's credit that it did not go unnoticed. Anyone who's spent time in Westwood knows how dangerous poor visibility and consistent traffic renders the intersection at Kelton and Ophir. As locals themselves, the NWWNC council members knew this complaint should be taken seriously.
More impressively, they actually followed through.
Following a unanimous NWWNC vote in December, this complaint was escalated to councilmember Paul Koretz and the Department of Transportation. With the stop sign now in place, it is clear that Yalcin and other council members saw this issue through to the end.
In a moment where public trust in the federal government is exceedingly low, this moment is a cheerful reminder that there are people working at all levels of government to protect the health and safety of their neighbors.
Some may seek to rain on the NWWNC's parade – so much time and effort went into a single stop sign when there are bigger issues at hand.
Though we can and should acknowledge the cumbersome delays of bureaucracy, we should also take a moment to appreciate those who are willing to navigate it on our behalf.
Students created the NWWNC. Students and alumni hold seats on the NWWNC. Through visible actions like the new stop sign, but also through unseen consistent efforts, our peers show us that participation can make a difference.
So get involved. It can be as easy as sending a text.