NWWNC votes in support of four-way stop sign in Westwood to improve safety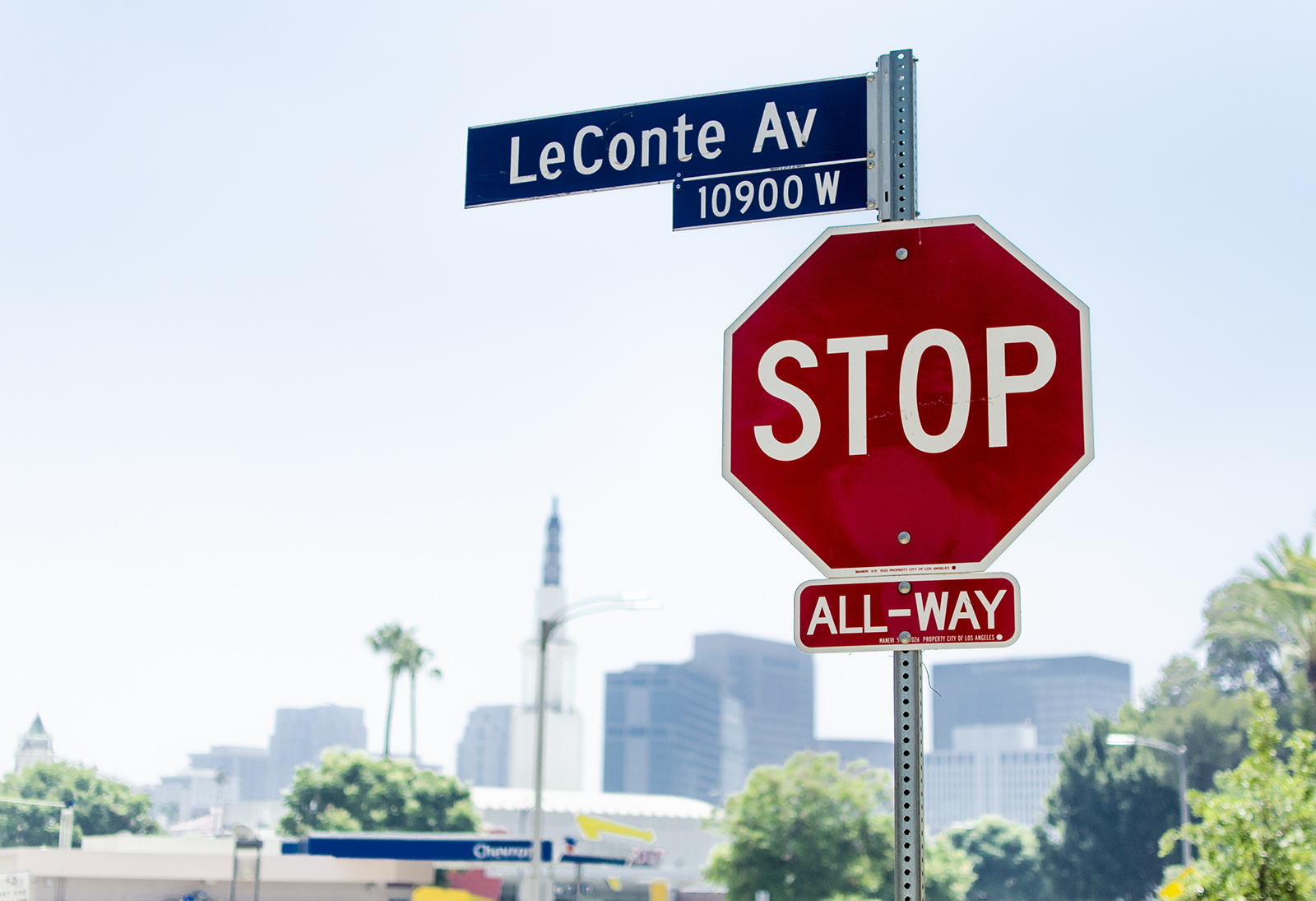 A local neighborhood council voted Dec. 2 in support of implementing a new stop sign at the intersection of Kelton Avenue and Ophir Drive in Westwood. (Kanishka Mehra/Photo editor)
A local neighborhood council voted in favor of a new stop sign in Westwood at a monthly meeting Dec. 2.
The North Westwood Neighborhood Council's Transportation and Safety Committee unanimously voted in favor of implementing a four-way stop sign at the intersection of Kelton Avenue and Ophir Drive at its Dec. 2 meeting.
The motion will be sent to the office of 5th District City Councilmember Paul Koretz. Alison Simard, director of communications for Councilmember Koretz, said her office will forward the request to the Los Angeles Department of Transportation.
"A transportation engineer will come out and investigate that corner and make a determination about whether a four-way stop sign is appropriate," Simard said.
Grayson Peters, an NWWNC member and a fourth-year political science and French language and culture student, said the committee hopes the four-way traffic stop will improve local pedestrian safety and encourage students to feel comfortable walking around campus.
"I hope that when we finally do get a four-way stop there, it will make the community safer, it will make it less dangerous to be a pedestrian and less confusing to be a driver on those streets," Peters said.
Sheehan Parker, a committee member and a UCLA student affairs advisor, said this stop sign will have an immediate impact on students' lives.
"I know that that intersection is well-trafficked by students walking to campus. It's the route I used to take, and I think a four-way stop sign will improve safety conditions for all the community members using the intersection," Parker said.
At the Dec. 2 meeting, the committee heard from its own members about their personal experiences with the intersection and invited several community members to share their grievances with the committee.
Andrew Lewis, a council member and a UCLA alumnus, said he believes the lack of a four-way stop sign can create a potential safety hazard for community members, especially UCLA students who live in the apartment district.
"We have different points in Westwood that are very walkable but at the same time are highly trafficked," Lewis said. "There is a lot of fast-moving traffic that goes through this intersection."
The intersection currently has only two stop signs on Kelton, making it the only intersection in the area without a four-way stop, said NWWNC Councilmember Furkan Yalcin.
The NWWNC also voted at the meeting to recommend the passage of file 20-1354, a motion initiated by LA City Council President Nury Martinez asking the LA Department of Water and Power to develop a plan that would help prepare the city for its transition to the sale of zero-emissions vehicles by 2035, as ordered by Gov. Gavin Newsom.
"We endorsed this with the caveat that we would like the city's energy source for zero-emissions vehicles to also be zero-emissions, because it's not particularly helpful if you have a fleet of green electric cars that are being powered by coal energy," Peters said.
Lewis said that while he supports the executive order's environmental goals, he worries about the feasibility issues of the initiative.
"Economically and feasibly, a lot of the details haven't been filled in," Lewis said. "As a council member for this area, most of my constituents are students, a lot of whom come from middle- to lower-income backgrounds. So how would they afford this and make it work?"
Lewis added the implementation of the four-way stop sign on Kelton is of utmost importance because it impacts students' day-to-day safety.
"These are things that we just don't consider because they are not top of mind, but they are things that are of top importance when it comes to pedestrian safety in Westwood," Lewis said.