Department of Transportation installs four-way stop sign after student advocacy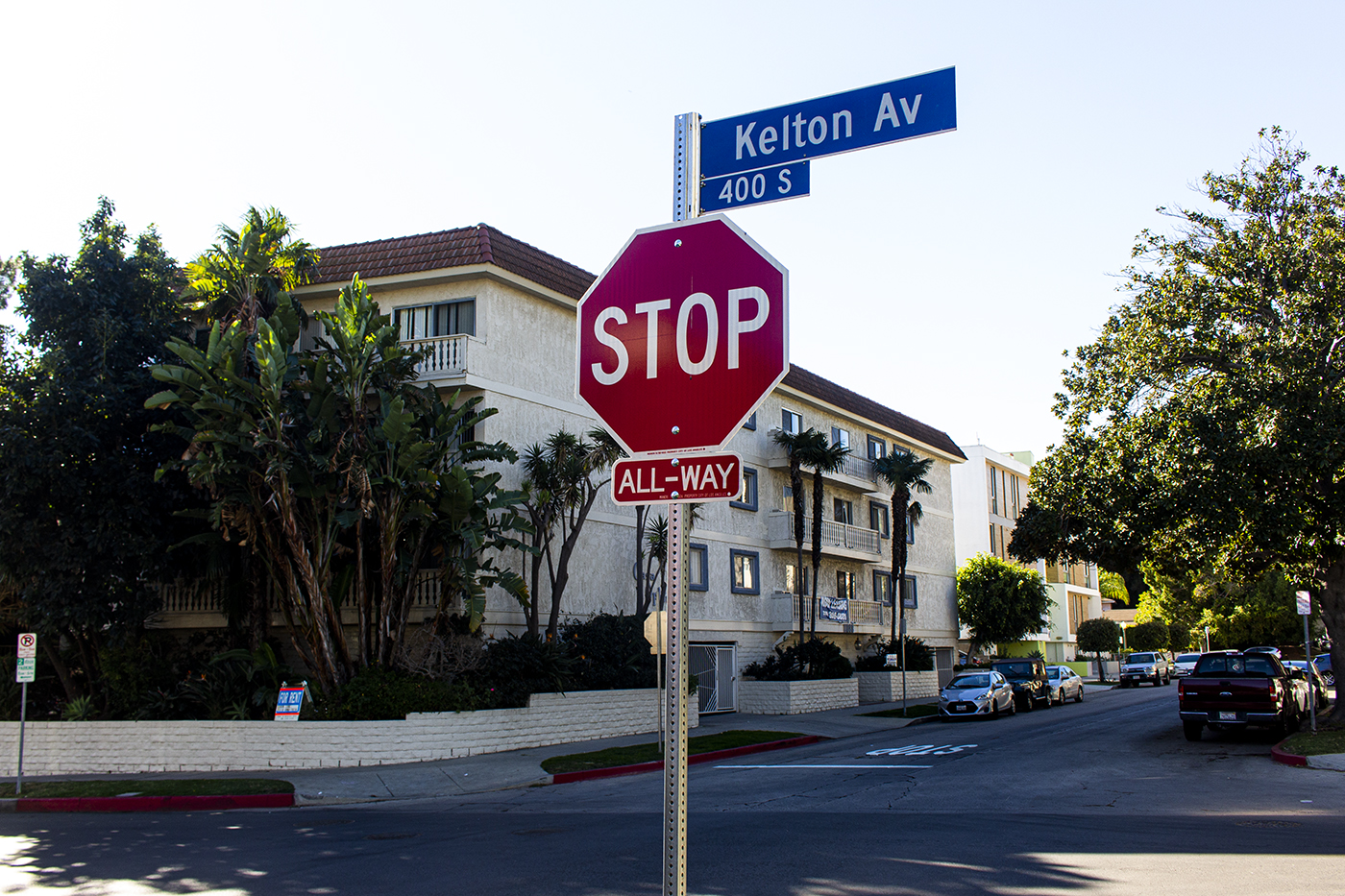 A four-way stop sign was installed on Kelton Avenue and Ophir Drive to promote safer traffic flow at the intersection. (Kristian Sabatino/Daily Bruin)
The intersection of Kelton Avenue and Ophir Drive now has a four-way stop sign.
The North Westwood Neighborhood Council unanimously voted in December to support setting up a four-way stop sign after a student living on Kelton Avenue expressed concern about the intersection's lack of a stop sign. The stop sign was installed Jan. 8.
Korina Moriarty, a fourth-year gender studies and musicology student, said she always joked she would write a strongly worded letter about the absence of a four-way stop sign at the intersection of Kelton Avenue and Ophir Drive. That is, until Moriarty and her roommate Alize Magana almost got into a car accident in the intersection.
"I never really thought about it until my roommate … and I had a pretty close call together in the car, where we really thought we were going to be hit for a second," Moriarty said.
After the close call, Magana, a fourth-year geography student, brought up her concerns to Furkan Yalcin, a NWWNC council member, who then brought it to the council for discussion.
Yalcin said he was excited at the time, knowing it was only a matter of time before the four-way stop sign would go up.
The NWWNC's motion was taken to councilmember Paul Koretz, who directed the motion to the Los Angeles Department of Transportation.
The Department of Transportation concluded that the intersection had restricted visibility and decided to install the stop sign to promote safety, according to a Dec. 14 report by the department.
"It is really surprising and impressive how quickly action was taken, because with our experience of dealing with the city and the city bureaucracy, it takes months and months for any action to be considered," said Grayson Peters, the NWWNC's transportation and safety committee chair.
Emma Sher, a fourth-year world arts and culture student and Magana and Moriarty's roommate, messaged Yalcin on Jan. 9 that the Department of Transportation had installed the four-way stop sign.
"My roommates and I were just joking about how the stop sign was the best thing that happened to us this year," Sher said.
Moriarty said she was pleased to have contributed to Westwood's safety.
"I was really excited … that it came together in only a couple of weeks," Moriarty said. "It feels cool to leave a little mark on Westwood in the couple years that I lived here, and that's going to stay here forever."