Editorial: Vaccine can't reach max success at UCLA without clear communication from school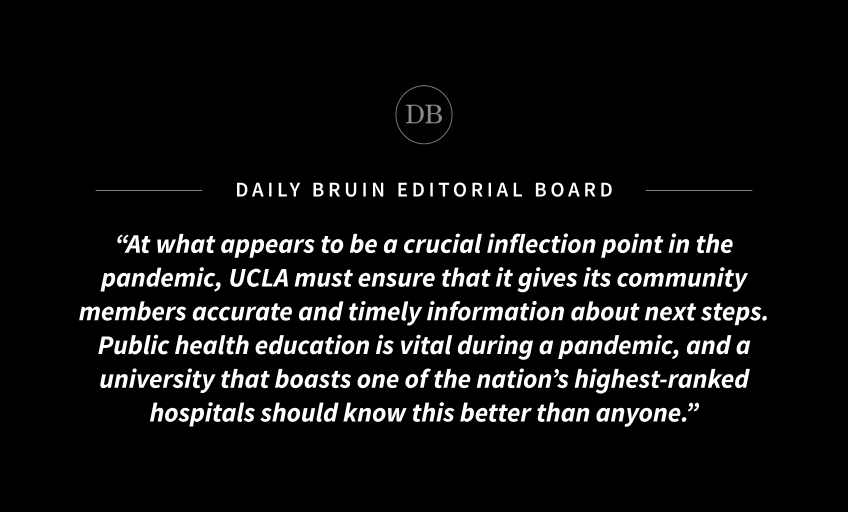 Almost nine months after the COVID-19 pandemic prompted UCLA to shut down most operations on campus, students are starting to see glimmers of hope.
Candidate vaccines from Moderna and from Pfizer and BioNTech have proven effective in late-stage clinical trials. With these companies pushing for emergency use authorization from the Food and Drug Administration, a vaccine may well be on its way by the end of the year and ready for the general public between spring and summer.
At what appears to be a crucial inflection point in the pandemic, UCLA must ensure that it gives its community members accurate and timely information about next steps. Public health education is vital during a pandemic, and a university that boasts one of the nation's highest-ranked hospitals should know this better than anyone.
It's not enough to hope – the university needs to proactively communicate its distribution plans to get ahead of potential confusion and harm, especially with the added challenges of a two-dose vaccine. All the distribution plans in the world cannot be conducted smoothly if effective messaging is an afterthought.
Despite promising early results, we are a long way from the finish line. Early communication can go a long way in dispelling the notion that a vaccine is a blank check for students to ignore social distancing and mask regulations, especially during initial rollouts.
Without a coherent communication strategy, this board fears UCLA may be doomed to repeat past mistakes.
As COVID-19 ravaged through California this summer, UCLA failed to provide free testing for its students until after classes started in October.
Worse still, the UCLA School of Dentistry provided its residents and faculty outdated N95 masks and dismissed concerns about the spread of the coronavirus at its clinic. Fearing retaliation from the university, students and faculty members were only able to voice their worries anonymously.
In November, UCLA Health nurses voiced concerns over experiencing a shortage of testing and contact tracing.
When it comes to the distribution of a life-saving vaccine, the stakes are too high for such flagrant missteps. UCLA needs to do everything it can to ensure students understand the importance of getting a vaccine and, more importantly, when they can expect to receive one.
With one of the most influential institutional brands on the planet, there's plenty of work that UCLA's communications teams can get to work on now. Developing the timelines, centralized hubs for updates and boilerplate graphics will be a crucial part of an effective public health campaign that can extend well past the confines of the immediate campus community.
Not to mention, there's always more work to be done in building relationships with student leaders who can take the reach of vaccine information even further.
Vaccines offer a chance at a return to some semblance of normalcy, but UCLA must keep the public accurately informed throughout every step of the way there.