UCLA School of Dentistry fails to implement many COVID-19-mitigating practices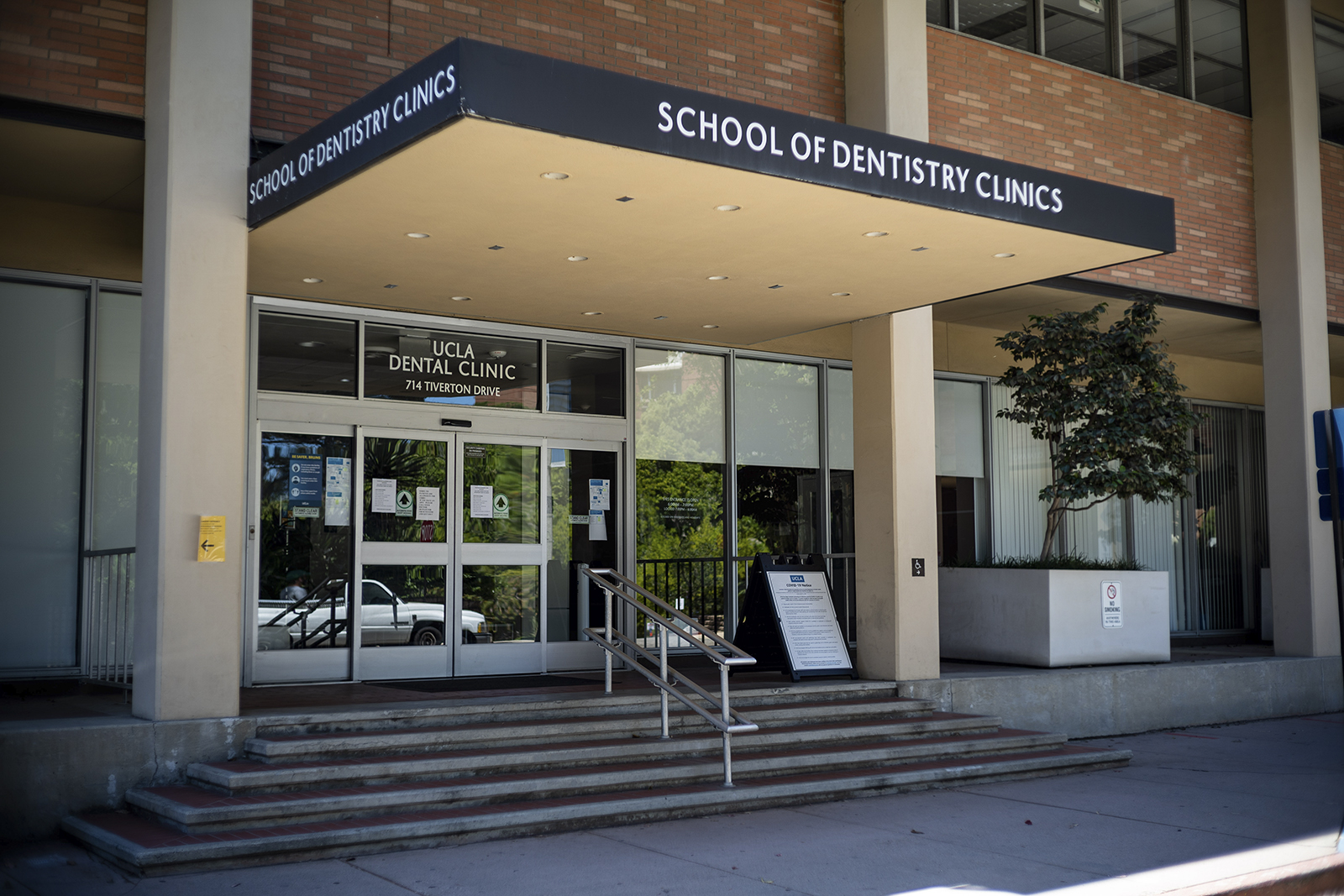 The School of Dentistry did not provide residents or faculty proper protective equipment, multiple residents and faculty said. (Jintak Han/Daily Bruin senior staff)
Correction: The original version of this article incorrectly stated the School of Dentistry fired Professors Won Moon and Jin Hee Kwak. In fact, the School of Dentistry sent the professors notices of intent to dismiss.
This post was updated July 5 at 10:46 p.m.
The UCLA School of Dentistry failed to provide its faculty and residents sufficient protection against COVID-19 by violating established safety protocols and guidelines, residents and faculty said.
For weeks, the School of Dentistry went against guidelines from the Centers for Disease Control and Prevention and did not provide N95 respirators for all procedures – and provided expired ones when they did. When the school replaced the expired respirators with new ones, the school went against federal regulations by attempting to bypass mandatory fit tests.
More than a dozen faculty members and residents from at least four different sections of the dental school also criticized the school leadership's response to the pandemic as lacking and described a breakdown in communication as the school clinics prepared to reopen in July. Most spoke under the condition of anonymity because they said they feared retaliation and will be referred to as faculty member A and residents B, C, D, E and F.
Outdated Masks
N95 respirators are government-approved disposable masks designed to ensure that users breathe clean air. They filter out 95% of most airborne particles, including droplets that can contain the coronavirus.
Industrial manufacturer 3M notified distributors in 2013 that it will discontinue the model 9210 N95 respirators in October 2014. Model 9210 respirators have a five-year shelf life, and all of them expired by the time the World Health Organization declared the COVID-19 outbreak a pandemic in March 2020.
The School of Dentistry discovered that its supply of model 9210 N95 respirators expired, said Associate Dean Paulo Camargo in an email sent to dentistry residents, program directors and section chairs June 12 – more than six years after 3M's notice. The school will immediately replace the expired respirators with newer model 8210 respirators, Camargo added.
School of Dentistry staff had used the expired respirator to treat patients suspected of having COVID-19 at least a month before Camargo's announcement.
The CDC and the Food and Drug Administration approved both N95 respirator models for temporary use in clinical settings, but neither models are approved by the FDA as "surgical N95 respirators" commonly used in health care environments.
All N95 respirators require an annual fit test to ensure that the respirator forms a tight seal with the face. Fit tests, which take 15 to 20 minutes, are more rigorous than user seal checks that usually take less than a minute and are performed every time a person puts a respirator on.
Practicing faculty and residents needed fit tests for the new model 8210 respirators because the school had not used them before. Instead, Camargo directed them to see patients after a user seal check only – a violation of CDC guidelines, which state seal checks cannot substitute fit testing.
"As the dental school providers are not fit-tested for 8210 N95 masks, the user should perform a (self) seal check test," Camargo said in the email. "If the seal check fails for any of the users, the patient should not be treated and referred to the Emergency Room."
Faculty and residents voiced concern to school leadership about the new directive, faculty member A said. The school started to fit test the 8210 N95 respirators, Camargo said in a June 15 email.
Concern in the Air
Practicing faculty and residents also expressed concern about the transmission of the coronavirus through aerosols produced during treatment.
Dental procedures often involve drilling, grinding and polishing teeth using air- or water-powered dental drills, which generates a large amount of aerosolized particles that can carry the coronavirus for hours, according to the CDC.
As such, N95 respirators and air filtration are pandemic necessities for dental clinics, according to the CDC and other health agencies. This is especially true for some clinics, including some at UCLA, which have an open-plan layout that does not fully isolate treatment areas.
During the ongoing worldwide shortage of N95 and equivalent respirators since January, School of Dentistry Dean Paul Krebsbach and the school's pandemic task force released a procedural guideline March 24 which directed practicing faculty and residents to wear N95 respirators only while performing aerosol-producing procedures on patients suspected of having COVID-19.
The March guideline directed dentists to wear surgical masks, eye protection and a gown for all other procedures, even on patients who tested positive for COVID-19. Surgical masks protect wearers from bodily fluids and large droplets but are ineffective against smaller aerosol particles.
By April 29, the school revised the protocol to recommend the use of N95 respirators in all treatment areas. But by June 10 the school updated the protocol and mandated N95 respirators only during procedures that generate "moderate to heavy" amounts of aerosol, following the California Dental Association's recommendations.
However, a broader CDC guideline states that all health care providers should use N95 respirators or government-approved alternatives when within six feet of unmasked patients and only resort to surgical masks when N95 respirators are not available.
Residents C and E said the CDA guideline should serve as a starting point for protocols more in line with the stricter CDC guideline.
"I feel like they just want to do the minimum required," resident C said. "I honestly don't know why."
At least three faculty and residents said they bought their own respirators, both for use at the school and in private practice. Faculty member A bought a powered air-purifying respirator, a reusable battery-powered system that provides a higher level of protection than single-use N95 respirators.
"At this moment… we don't care (about reimbursement)," A said. "Money is not an issue. We want to be safe. We're not asking for money."
Communication Issues
Many faculty members and residents did not receive emails from their supervisors and found out about updated guidelines from peers who shared the email with them, faculty member A and residents B and C said.
They said the school's communication hierarchy often fails for unknown reasons.
"Sometimes the higher people, they communicate (with) the residents only, and they exclude the faculty," faculty member A said. "The school told the resident one thing and (told) the faculty a different story."
Krebsbach said in a March 20 email that he limited schoolwide messages since all personnel should get information from their respective section or division chairs and "campus leaders."
Residents and faculty criticized Krebsbach's decision to limit communication.
Resident B said Krebsbach should have been more active in communicating with the rest of the school.
"You're a leader though, you're expected to fill our inboxes," B said. "I didn't get the sense that they were really trying too hard to help us or, you know, to try to figure out how to get through things."
Krebsbach referred inquiries to Brianna Aldrich, the director of communications for the School of Dentistry – Krebsbach was not available for an interview, Aldrich said. Aldrich did not answer a request for comment about the school's email protocol.
Lack of Action
The School of Dentistry first announced steps to combat the COVID-19 pandemic March 2, when Krebsbach announced the formation of a coronavirus task force in a schoolwide email. Krebsbach said that the task force is working with UCLA Health and Los Angeles County Department of Public Health officials to develop virus containment protocols.
A week later on March 9, the School of Dentistry began to triage and screen patients. A week after that, the school's faculty and resident clinics limited in-person care to returning patients who required "essential and/or urgent procedures," while predoctoral students transitioned to remote learning.
Residents, however, were often left out of the conversation – some did not know who sits on the School of Dentistry's COVID-19 task force or how to contact them.
D, a resident, said that a staff member suggested the task force – composed exclusively of faculty and administrative staff – should have one or two resident representatives in it.
"But the dean just ignored the suggestion," D said.
The CDC published its first COVID-19 guidance specifically for dental settings March 27. Most dental clinics are not prepared for the pandemic, the CDC said.
"(Most) dental settings do not have airborne infection isolation rooms or single-patient rooms, do not have a respiratory protection program, and do not routinely stock N95 respirators," the CDC guidelines said.
A respiratory protection program is a set of procedures, including fit testing, designed to maintain respiratory safety at the workplace.
UCLA is better equipped than most dental clinics, with respiratory protection programs and 13 isolation rooms in place.
However, many residents and faculty said the School of Dentistry's protocols fall behind precautions that similar dental schools have taken.
While not required by the CDC, dental clinics at UC San Francisco require all patients to submit a COVID-19 test result up to seven days before aerosol-generating procedures, said UCSF Assistant Vice Chancellor Jennifer O'Brien. USC requires patients to submit a COVID-19 test result up to 24 hours before such procedures, said Joyce Galligan, associate professor of clinical dentistry at USC.
UCSF clinics installed physical barriers between each clinic area, while USC clinics use portable air filter units with high-efficiency particulate air filters in conjunction with the building's heating, ventilation and air conditioning system – the CDC recommends both practices in its dental setting guidelines.
UCLA does not have similar measures in place and Krebsbach dismissed requests to consider implementing them, residents and faculty members said.
Resident F said that during a June 17 staff town hall meeting, Krebsbach said that the school ventilation system filters enough particles and that HEPA filter units are unnecessary.
However, CDC recommendations state otherwise.
"Rather than just relying on the building's HVAC system capacity, use a HEPA air filtration unit," said the latest CDC guidelines updated June 17.
Fear of Retaliation
Although the school held several meetings and town halls since March to address these concerns, the school leadership failed to act and even threatened to punish some who spoke out against them, many faculty and residents said.
"At the town hall meeting, a lot of people had the same concerns (as me), and they were getting the same kind of nonchalant response from the dean," resident C said.
Another resident claimed in an anonymous internal survey of residents in June that a program director pressured residents to follow the school's protocol despite safety concerns.
"Our director has asked us multiple times for our opinions and concerns on going back, and every time she has refused any of our suggestions and disregarded our concerns," the resident said in the survey. "She actually copy and pasted our responsibilities into an email and basically threatened us with (the) loss of (our) certificate, even though she said multiple times we would not be forced to do anything we were not comfortable with."
Faculty and residents also said that staffing changes and a recent discrimination lawsuit unrelated to the pandemic were evidence that the school might punish them for speaking out.
The School of Dentistry in mid-June sent notices of intent to dismiss two orthodontics professors, Won Moon and Jin Hee Kwak, raising suspicion among staff over whether the school punished Moon and Kwak for criticizing the school's coronavirus protocol.
"(The) Dean failed to provide adequate protections against COVID-19 for our staff and residents, in spite of many good suggestions offered by Dr. Ting and myself," Moon said in an email to colleagues. "Yet, they wanted to reopen the clinic without a plan that would allow dental students, residents and staff to feel safe."
Moon's lawyers said the primary reason behind Moon's notice of intent to dismiss predated the pandemic by a year, but said Moon's criticism of the school's COVID-19 protocols could be another motivating factor.
"The COVID issue is probably yet one more thing that they didn't like and was probably additional motivation for more aggressively pushing the termination," said Barry Appell, an attorney for Appell Shapiro representing Moon.
Appell, whose firm also represents Kwak, said details about the notices of intent to dismiss remain confidential. The School of Dentistry did not respond to requests for comment about Moon and Kwak.
The School of Dentistry will push forward with a gradual reopening according to LADPH and CDA guidelines.
"The health and safety of our entire dentistry community has been, and continues to be, our number one priority at all times," Aldrich said in an emailed statement for the School of Dentistry.
Jintak Han
|
Former senior staff photojournalist and news reporter
Jintak Han is a former senior staff photojournalist and news reporter who graduated in 2020. He served as an Assistant Photo editor from 2016 to 2017. Working at the Bruin through his entire undergraduate career since 2014, Han has won national recognition and numerous awards for his photojournalism. He is also known for his investigative reporting for the City & Crime beat. Han currently works as a freelance photojournalist and reporter for multiple news organizations.
Jintak Han is a former senior staff photojournalist and news reporter who graduated in 2020. He served as an Assistant Photo editor from 2016 to 2017. Working at the Bruin through his entire undergraduate career since 2014, Han has won national recognition and numerous awards for his photojournalism. He is also known for his investigative reporting for the City & Crime beat. Han currently works as a freelance photojournalist and reporter for multiple news organizations.