UCLA nurses hold vigil to protest working conditions, highlight safety concerns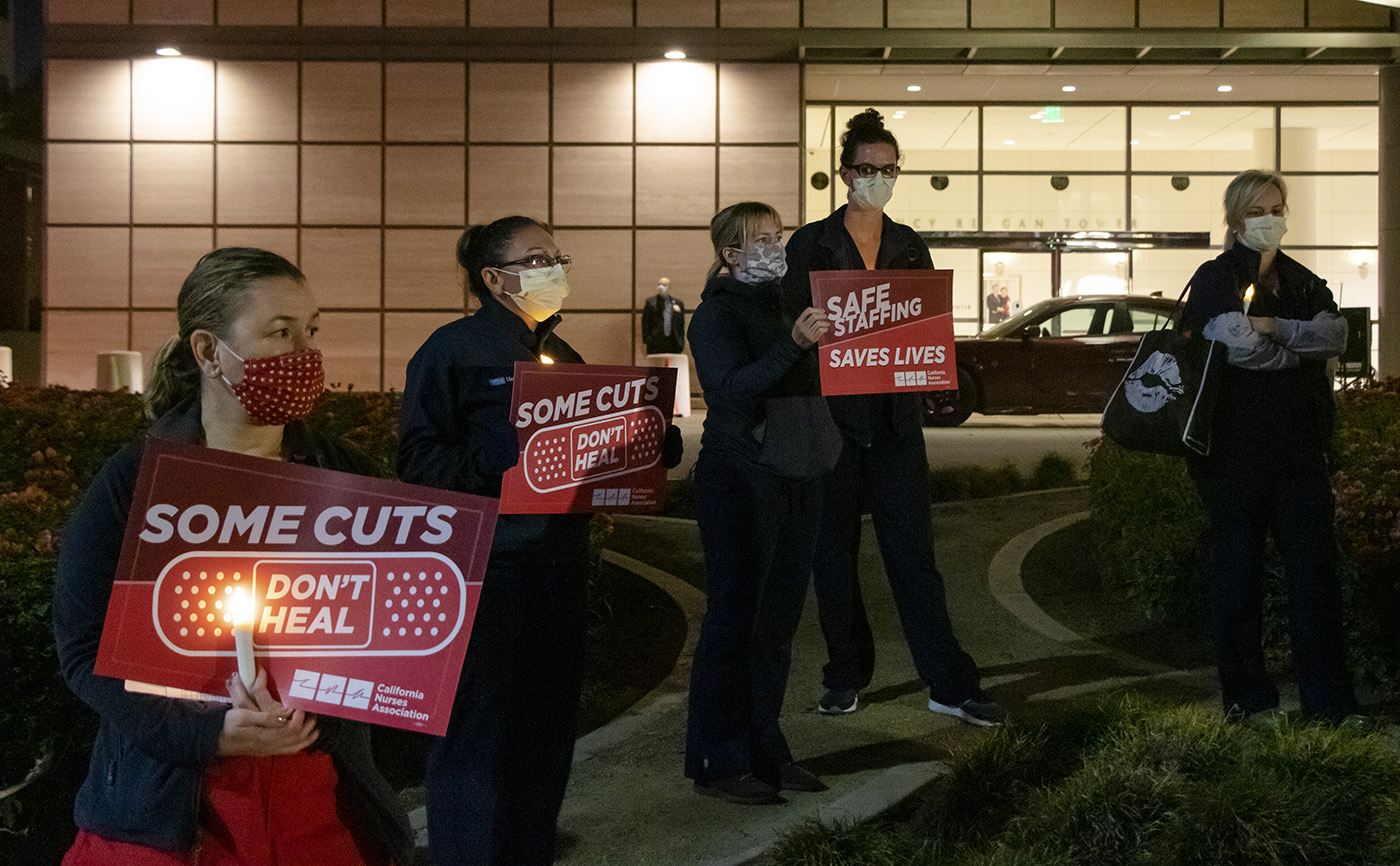 Dozens of nurses gathered outside a UCLA hospital to protest their working conditions and urge the public to be safe over the Thanksgiving holiday. (Finn LeeAnne Chitwood/Daily Bruin)
Dozens of UCLA Health nurses gathered outside a UCLA hospital Monday evening at a vigil to protest their working conditions during the COVID-19 pandemic.
The nurses held signs and candles outside the main entrance of the Ronald Reagan UCLA Medical Center. The vigil, organized by the California Nurses Association, aimed to draw attention to short staffing, a lack of COVID-19 testing and a lack of contact tracing available for UCLA Health employees.
Nurses from the hospital took turns reading names and ages of people who died because of COVID-19. Many victims were younger than 40 years old.
Jennifer Adams, a pretreatment unit registered nurse and National Nurses United representative, said employees need to meet certain symptom criteria getting clearance from upper management to be tested.
Fong Chuu, the medical center's chief nurse representative, said symptomatic employees are allowed to return to work two to three days after their fever has subsided after they test positive.
Adams also called on UCLA to improve access to testing for its medical staff.
"While I applaud the university testing athletes and campus staff on a regular basis it is also critically important that medical staff who have been directly exposed also get regular testing," Adams said.
Adams added there is no official contact tracing procedure in the hospital, and contact tracing is usually done by employees through word of mouth.
"Coworkers have called in to the unit and said, 'Hey let everybody know, I just got a positive test,'" Adams said. "And so we're doing our own contact tracing, which is not effective."
UCLA Health did not respond in time for a request for comment.
Adams said nurses rely on public testing outside the hospital. One of her colleagues was symptomatic after a negative test and had to request additional testing from her primary care physician after UCLA Health refused her a second test, Adams said.
"She let her coworkers know," Adams said. "No one from the administration let us know. We're exhausted."
Iris Mayoral, a geriatric unit nurse at UCLA, said at the vigil she is concerned that straining the relatively few nurses the hospital has could jeopardize the standard of care.
"Safe staffing saves lives," Mayoral said.
Los Angeles County and California have experienced a spike of COVID-19 cases in late November, leading the county to put a curfew on nonessential businesses and the state to put a curfew on gatherings with multiple households. California public health officials have recommended that people quarantine for 14 days after traveling over the Thanksgiving holiday.
Marcia Santini, a UCLA Health registered nurse, closed the night with a warning to the city.
"We saw what the beginning of the (COVID-19) pandemic did to our population," Santini said at the vigil. "This may be the scariest winter in history. We can all celebrate at another time. Let's end 2020 on a better note."