Graduate theater project fosters connection despite challenges of virtual format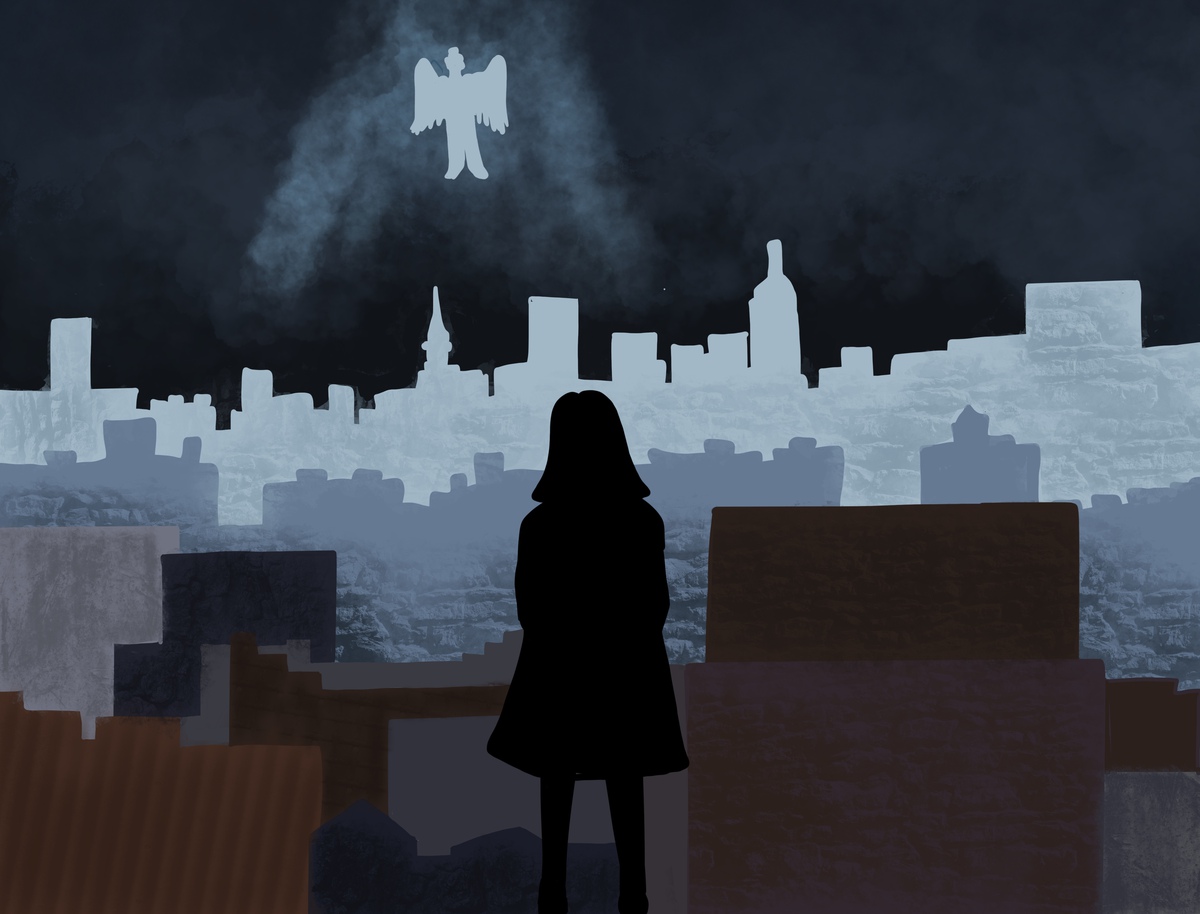 (Emily Dembinski/Illustrations director)
Traditional theater practices have taken an intermission this fall as UCLA's graduate program in theater adapts to the virtual stage.
One of this year's MFA acting projects is an online production of an excerpt from José Rivera's play, "Marisol," which premiered live through YouTube on Nov. 21 and is currently available for streaming. Guest directed by Fidel Gomez, the virtual performance centers around Marisol's surreal journey through a crumbling New York City after her guardian angel leaves her side. Gomez said audiences can still feel engaged with the core message of Marisol's story despite its untraditional format.
"The storytelling aspect is kind of this visceral need that we have, and I feel like with Zoom or whatever (software) that you're using, you can still tap into that somehow," Gomez said. "There's still a listener and teller. And if you have that, then you can still tell a story."
Although these aspects of surrealism may seem challenging to execute without the physicality of live theater, Gomez said he began the virtual directing process of "Marisol" by focusing on the similarities between physical stage blocking and the structuring of each actor's position within the digital landscape. Obstacles aside, he said directing his play virtually has illuminated the theater's main purpose of bringing people together. The relationship between the director and cast is essential to any theater production, as they work to communicate and motivate one another, Gomez said.
[Related: Virtual theater series turns tables on traditional Shakespearean performances]
While such collaboration is typically an in-person process, Gomez said he and the cast of "Marisol" have adapted to the virtual format and taken advantage of these changes. One example of the benefits includes the greater level of intimacy that he formed with the actors when there is less pressure to create sweeping theatrical moments.
In addition to the closer relationships made with the performers in a virtual format, Gomez said he has developed a universal perspective on maintaining these connections across screens. Through directing "Marisol," Gomez was able to reach cast members from different parts of the country, mirroring theater's storytelling presence on a wider scale.
"I think about how one person is in Texas, one person is in Idaho and one person is in New York, and they're all coming together to try to create this piece of art," Gomez said. "That kind of commitment from the artists – the hunger – for me has really been the biggest life lesson I've learned because people really want to do this. People really want to see this."
Likewise, Cynthia Alvarez, a graduate student in acting, said she committed to the role of Marisol by rehearsing her scenes and working with Gomez in front of a camera rather than in a traditional theater rehearsal. The online format has taught her the importance of personalizing scenes that require nuanced dialogue and movement, she said. And such attention to the script involves finding the most efficient ways to move in front of the camera and considering how every gesture is translated on screen, she said.
[Related: Virtual theater collective produces audio dramas using artificial intelligence]
"(The virtual setup) does restrict movement, but it also made me realize how much I rely on my body," Alvarez said. "It boils down to efficiency and movement like, 'How much do I actually need and how much is just added dressing on the performance?'"
Tiara Thompson, a graduate student in acting, has also found that her role as June required a deep understanding and reflection of movements and facial expressions. The high-stakes scenes in "Marisol" necessitate intense emotions, which she said are often difficult given the unorthodox exchange of energy in a digital format.
"I'm waiting virtually to receive that energy, or just receive that voice, and then play off of that," Thompson said. "So I think that's been the challenging part for me as a performer – I don't know or don't feel that I'm actually receiving the energy that I normally have in the past."
Despite this setback, Thompson said the smaller cast of "Marisol" adapted easier to an online environment compared to larger theatrical productions. She also said a more intimate cast creates more opportunities to collaborate individually with the director, which helps to portray meaningful connections in a virtual setting. For Gomez, the enduring motivation to inspire the audience and actors through "Marisol" was his main takeaway from this directing experience, he said.
"This is bigger than just the audience," Gomez said. "There's a communion in theater, and so with all art – like painting and music. That thing is never going to go away. I feel that the biggest lesson I've taken away is that the technology will change, but the desire for that kind of connection is not going to change."