Sisters spark joy with family-inspired online candle business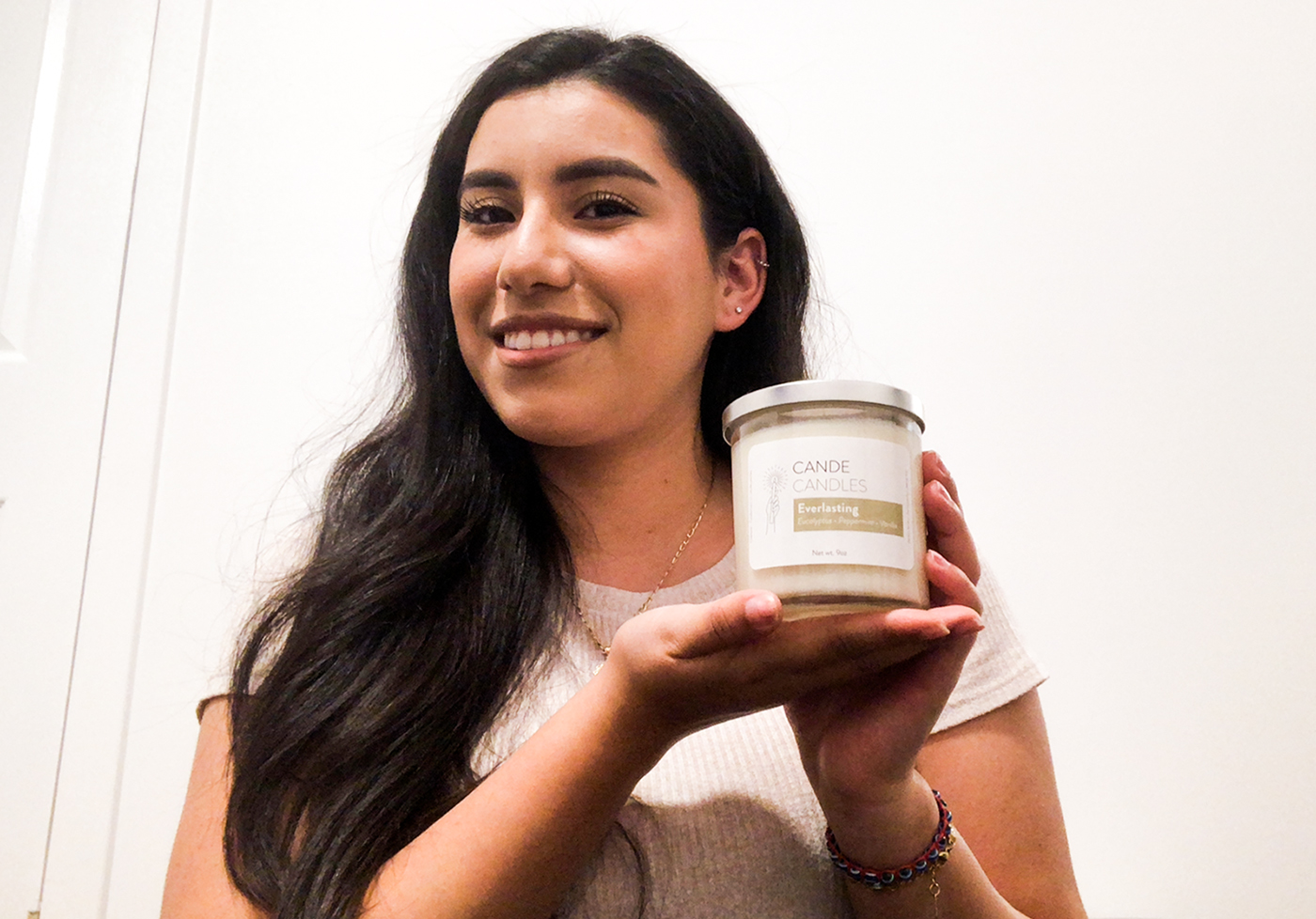 Fourth-year biology student Odalys Cuevas co-founded the Instagram-based candle business, CANDE Candles, with her sister Yarely Cuevas in July. She said their connection to their family has manifested in multiple aspects of the brand, including its logo, various scent combinations and its name. (Anika Chakrabarti/Daily Bruin staff)
This post was updated Nov. 21 at 11:18 a.m.
Odalys and Yarely Cuevas are hand-pouring fragrance oils and familial meaning into each CANDE candle.
Odalys Cuevas, a fourth-year biology student, and her younger sister Yarely Cuevas, a second-year pre-nursing student at UCSD, created the Instagram-based candle company @candecandles in July. With scents ranging from eucalyptus to vanilla, Odalys said they hope to make candles with meanings their customers can relate to.
"When you're feeling a certain type of way, you want to light up a candle and chill around your room," Odalys said. "So when choosing the candle scents we think, 'What would make us want to light this candle right now? … What would we think about?'"
The production process is similar when they develop the meanings behind each candle. Odalys said they wanted to incorporate their family into several of their 10 scents. According to their Instagram, the Má candle – a mix of lavender, chamomile and sage oils – represents their parents' love, as their father would often come home with a bouquet of lavender for their mother. While this relationship with the aroma is specific to their family, Odalys said they love it when customers can draw their own connections to the candle scents as well.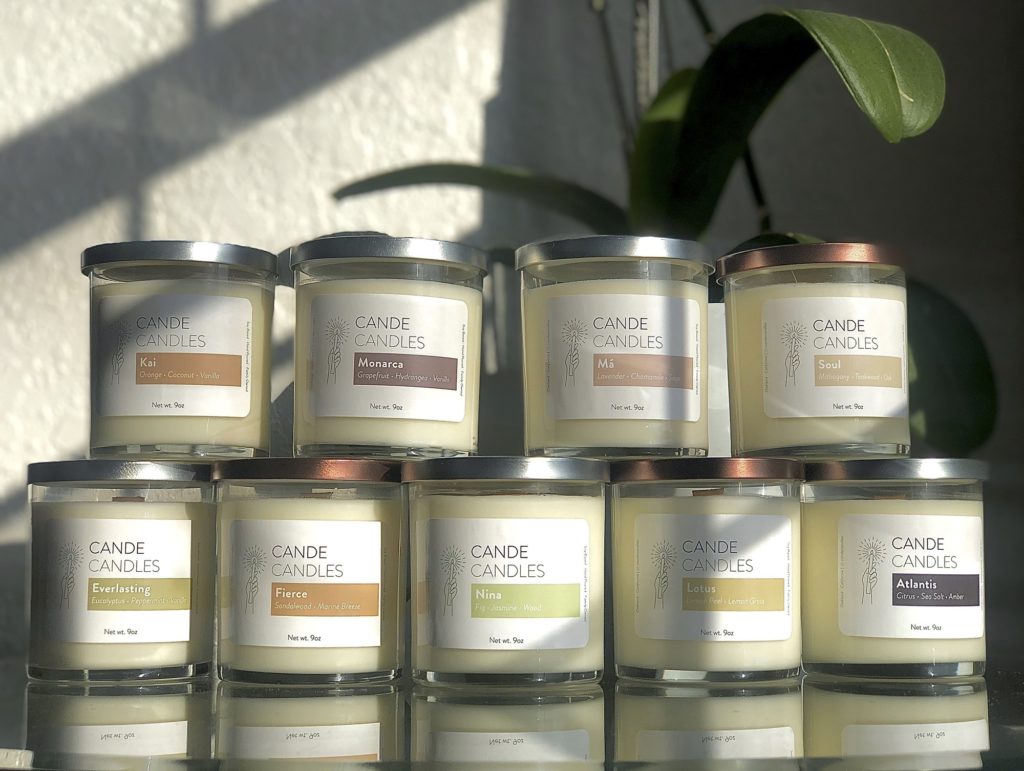 [Related: Student starts jewelry, body care business inspired by memories of her grandmothers]
Not only are several of the fragrances inspired by their family, but the name of the company was also derived from their grandfather, Candelario. Their brother Isaias Cuevas, an entrepreneur as well, said the pair had consulted with each member of their family on various aspects of the company and collectively they decided to honor their late grandfather.
"We wanted to pay an homage to his name and the legacy he left behind," Isaias said.
Though the sister duo had no prior experience making candles, Odalys said they were eager to learn and differentiate their products from similar companies. The sisters scoured YouTube and craft websites to learn the complex candle-making process and later developed various scent combinations. After their research, Odalys said they worked with their mother in a kitchen-turned-assembly-line to make each candle. As their mother glues the wicks onto the bottom of each jar, Odalys melts the wax on the stove and Yarely pours the wax into the jars with caution and precision. Yarely said her and Odalys would gossip and laugh as they worked, strengthening their bond as sisters while growing their company.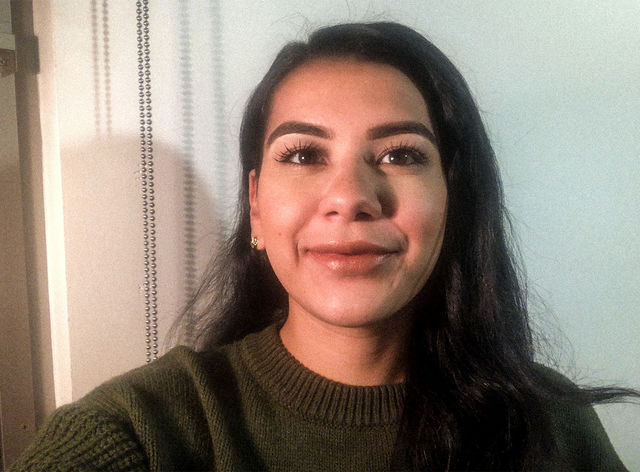 Odalys said they wanted to reflect their family in every aspect of CANDE Candles – including the logo. Their brother Francisco Cuevas, a graphic design and photography student at Santa Barbara City College, said he drew inspiration from the family, their Catholic religion and social issues in America while designing the logo.
Francisco said he was initially inspired by the Catholic saint their grandfather is named after, Our Lady of Candelaria. In images of the saint, she holds a baby in one hand and a candle in her other, which became the base of Francisco's logo. The second layer to Francisco's design came from the Black Lives Matter movement and its logo, a raised fist, and his desire to show their solidarity in a simple way that still related to the family and the candles his sisters were creating.
[Related: Student's craft business offers personalized necklaces, custom LED acrylic lights]
He also said the slightly crooked index finger on the hand is a Cuevas family trait passed down from their father. Though the small detail may not be noticeable, it personalized the logo even more, which is exactly what Francisco said he and his sisters wanted. In the end, he produced a design of a raised hand holding a candle for the brand.
"I think there's beauty in simplicity," Francisco said. "I wanted it to have a sense of gentleness but still a sense of 'I am here, I am present and I'll shine the way towards something better.'"
After selling out of their original 10 scents and putting their candle-making operations on hold – as the sisters are now living in different cities – Odalys said they are planning to resume selling candles once they are reunited. In preparation, they have developed a holiday collection with new scents, including Mistletoe, Nochebuena – the Spanish word for Christmas Eve – and Posada, to remind customers of the love and warmth that fills the winter season even while many might have to spend the holidays apart this year. Yarely said the pair was inspired by their family's holiday traditions and activities, including going to church together or celebrating in their home.
It was out of boredom that Yarley suggested the two start making candles for themselves, later deciding to sell them, which became the genesis of CANDE Candles. With a business to her name, Odalys said she is simply happy to have found a balance between school and other, more stressful aspects of her life.
"The company was a really good thing that happened to me," Odalys said. "It was just something fun. … I had something to look forward to each night."