Student starts jewelry, body care business inspired by memories of her grandmothers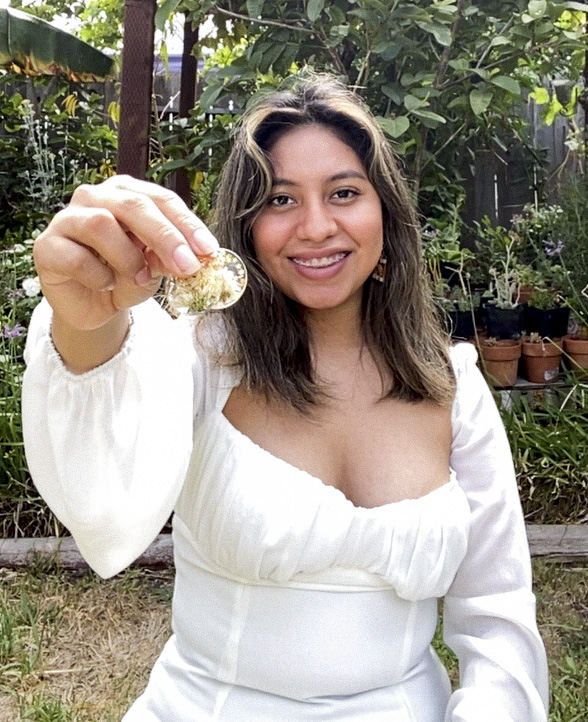 Maritza Lopez said she wanted to make the most out of her free time during quarantine and decided to start hew own jewelry and body care business, Hija Mia. She currently sells natural, homemade body butter and handmade resin earrings. (Ashley Kenney/Assistant Photo editor)
In a time of shut downs, Maritza Lopez is launching her own small business.
Amid the COVID-19 pandemic, the third-year pre-international development studies student said she wanted to make the most out of her free time and decided to start a jewelry and body care business in the comfort and safety of her own home.
She founded Hija Mia, which directly translates to "my daughter" from Spanish. Lopez said it was important for her to incorporate this phrase into her business because it ties her to her grandmothers who call her "mija," a term of endearment that Mexican and Latinx families widely use to address their daughters or younger women.
"In the process of finding the meaning behind (Hija Mia), my grandmothers popped into my mind, and this is my way of thanking them," Lopez said. "I was trying to focus on creating earrings because my grandmothers would always wear gold earrings, which inspired me to do the same."
[Related: Student seeks to spread aloha spirit in Hawaiian-inspired line of wire jewelry]
Growing up, Lopez said she learned to create body care products in natural ways from her maternal grandmother. She currently sells homemade body butter made with ingredients like peppermint oil, rosehip oil and ivory shea butter. Alongside her lotions, Lopez's main products are handmade resin earrings that take up most of the Hija Mia Instagram page. The earrings are made using resin pours and molds – a technique she said she learned from tutorials on YouTube. After some practice, she said creating one pair of resin earrings takes about one hour.
The process of placing an order begins when a customer sends Lopez a direct message through the brand's Instagram account. If a customer requests a custom earring, Lopez said she sends them photos of the decals and flowers that she has in stock.
"What I love about working with clients on custom orders is allowing the customer to have a voice to express themselves and their creativity," Lopez said. "When you know you had a voice in making (these earrings), I think it transforms it into you carrying a part of yourself in the earrings."
Lopez said she has multiple sizes and shapes for her resin molds – including rectangles, ovals and circles. Once the design and shape are chosen, Lopez pours resin into the mold and uses tweezers to place flower petals onto it. Another layer of resin is applied on top, and the earrings are placed under a UV light to cure them. Lopez said after she removes the earrings from the mold, she lets them sit out for a couple of days to dry before attaching earring hoops to the finished product.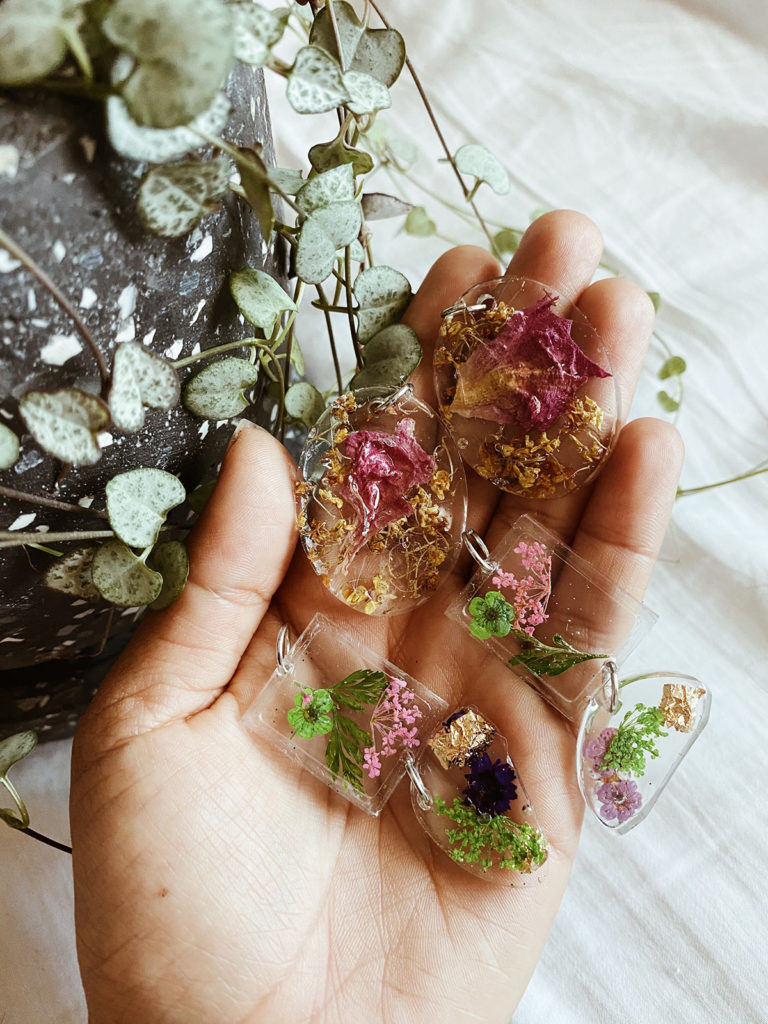 Although Lopez's business was founded recently, UC Santa Barbara student Shiela Valerio purchased three resin earrings from Hija Mia. When picking up her order, Valerio said she and Lopez took all the necessary social distancing precautions, including wearing gloves, masks and having the products sanitized beforehand. Valerio said she admires the brand because of the ancestral meaning behind its name – as her knowledge of Mexican and Latinx culture allows her to relate to its familial affection.
"With this pandemic, foot traffic and customers are on the low," Valerio said. "That's why I think that it's really crucial to support our local businesses right now."
[Related: Student reaches for stars while supporting family with personal business]
When tapping into new design ideas, Lopez said she gets inspiration for her jewelry and body care from many social media outlets, but said she also finds comfort in asking her peers for input on designs. Susie Hernandez, a third-year history student, has supported the business from its founding and even offers Lopez her personal opinions on ways to expand Hija Mia. Hernandez said she encouraged Lopez to add new jewelry to her business such as anklets and pendant necklaces.
"(Lopez) usually comes to me for creative ideas," Hernandez said. "When planning her future collection, she comes to me for advice by sending me pictures of things she sees online."
Lopez also finds inspiration from mundane moments of her life, depending on the environment she is in when creating her products. She said there are times when she creates based on what she sees and hears, such as music, her botanical garden and even her own room. However, Lopez said she frequently draws on her childhood memories living with her grandmother in Oaxaca, Mexico.
Although the pandemic served as the initial push for Lopez's small business, she still hopes to expand her product range in the future. Lopez said she wants to add jewelry made out of clay and beads to her collection. Apart from new products, Lopez wants to continue to be transparent with her work because she thinks it creates more meaningful purchases. She said the process of posting her finished productions will remain her favorite step as she is able to promote the inspiration behind each pair of earrings, furthering her connection with her clients.
"I think I will continue to expand this shop because … it's good for my mental and emotional health, … and I've gained so much support from my community," Lopez said.