Digital art exhibit uses shared screens to share themes of humanity, isolation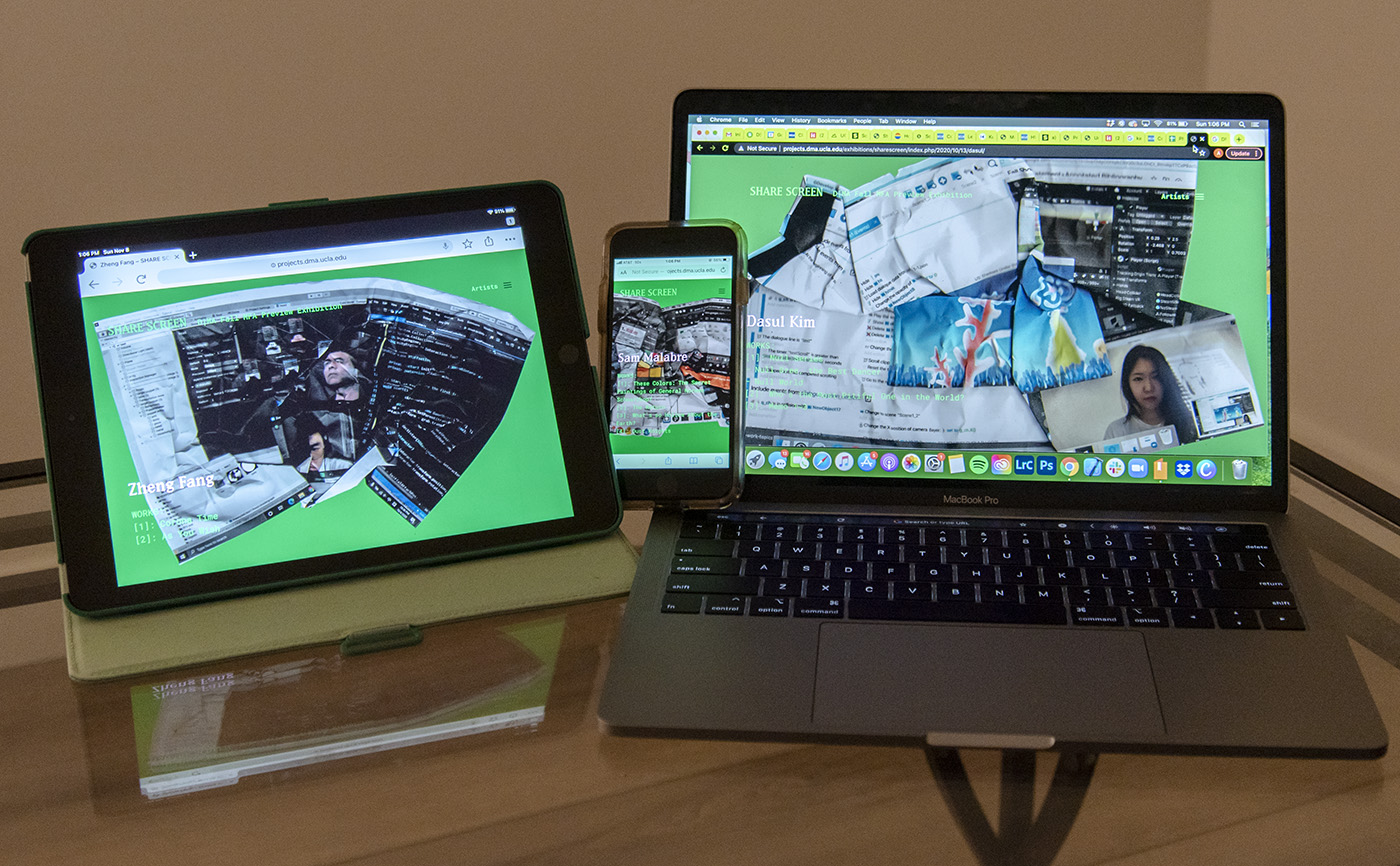 With the theme of "Share Screen," the 2020 fall exhibition for UCLA's design media arts graduate program is going online. It contains eleven artworks compiled from graduate students like Zheng Fang, Sam Malabre and Dasul Kim. (Anika Chakrabarti/Daily Bruin staff)
Art students are sharing more than just their screens in a new virtual gallery.
This year, UCLA's design media arts graduate program took its fall exhibition online with the theme "Share Screen." From Oct. 29 to Nov. 25, the exhibit features eleven artworks and contains interactive media, virtual reality and video essays. Each piece offers insight into the students' depiction of life online and all the emotions that come with it, including feelings of isolation, connection, violence and love, said design media arts graduate student Zheng Fang.The exhibition illuminates the realities that many are experiencing while bringing individual stories to light.
"Before (COVID-19), your screen was a very private place," Fang said. "Since Zoom meetings and the pandemic this year, your screen is not that private – it's kind of a public space. Especially for our department where we basically make computer-based projects, your screen is like an open studio."
When deciding what to name their exhibit, Fang said the graduate students would often meet on Zoom to discuss and share ideas by sharing their screens to open up tabs with their brainstorm lists. Eventually, he said they settled on the name of the very tool that allowed them to present their work to each other.
Fang, an international student from China, presents two personal works, "Corona Time" and "As You Wish," for the fall exhibit. "Corona Time" utilizes photogrammetry – the process of taking images and converting them into 3D models – to create a video game where players are trapped in the confines of their apartment. The concept of the game was initially created out of longing to be with friends and family, he said.
"I made this in April or March during the hardest time of the virus," Fang said. "I tried to buy a ticket to fly back to China, but it kept getting canceled, and I couldn't visit any of my friends or my family. I asked my friends who are all over the world to take photos of (their apartments, and) I built this environment where I can walk around in (them)."
[Related: 'Made In L.A. 2020: a version' to feature work by local artists in 2 LA exhibits]
Fang's other piece, "As You Wish" was born from his personal identity dilemma. In a world experiencing conflict and chaos, he said he wanted to create a virtual reality that symbolized this atmosphere of unpredictability. In the simulation, players are constantly confronted with random objects falling out of the sky and can choose whether to interact with the objects in a friendly manner or with violence. Through both of his projects, Fang said he hopes that anyone feeling isolated or lost in the country's tumultuous time can relate to and find solace in his work.
Fang's classmate, digital media graduate student Sam Malabre, created four works centering around the concept of American imperialism. Their video series on General Norman Schwarzkopf – an American general who led during the Gulf War – as well as their video game "The Return" intends to illuminate the topic of militarism, one that they said is not discussed enough in modern media and politics.
Through playing video games such as Halo and Call of Duty, Malabre said they believe that propaganda regarding U.S. imperialism is perpetuated in modern times, aiding in the belief in U.S. supremacy. Halo's recent renewal inspired them to create their own vintage, timeless video game depicting the horrors of U.S. imperialism. Malabre said their goal for the project "The Return," a game where players enter an interactive world as first-person shooters, was to embrace the medium they were in and create a work that was intended for the screen – not a physical gallery space.
"I like to think about (this medium) as a bigger space for art and social life that wasn't apparent six months ago," Malabre said.
Similarly, digital media graduate student Dasul Kim created three pieces for her fall exhibit to embrace the versatile theme of "Share Screen." Her first piece, "Null Series" is an interactive floating simulator series focusing on a virtual baby, while her second piece "Who's the Most Pitiful One in the World?" gives players a sense of never-ending despair. Kim ends her exhibit with a webpage link "Memo 1~3," which she said contains a chilling interaction between humanity and artificial intelligence.
[Related: Artists to present speeches in creative reimagining of FDR's fireside chats]
When brainstorming for her projects, she said she recalled a moment when she was mindlessly tapping on a screen while playing a game on her phone and inspiration struck for the character Bree in her first piece. "Null Bree: the Best Dancer" was founded on the idea that the virtual beings embedded in video games, phones and computers have their own thoughts and struggles. From there, she said she unloaded all of her thoughts regarding the virtual world in a piece of writing and extracted concepts for game ideas.
"(My pieces) were not reproduced in the digital world, but they were really born in the virtual world and needed to be shown in the digital world," Kim said.
With all of her pieces, Kim said she hopes audiences of all ages and backgrounds can feel something towards these seemingly quiescent objects. Despite the change in exhibition medium, Kim said she and her peers who are presenting their technological artwork through screens are still sharing their words and stories for people to engage with and learn from.
"The pandemic accelerates our digital life and but can also connect people to social issues," Kim said. "We have the ability to share our words and the experiences of others through our screens."