Town hall covers UCLA's plans for continued virtual learning, pandemic response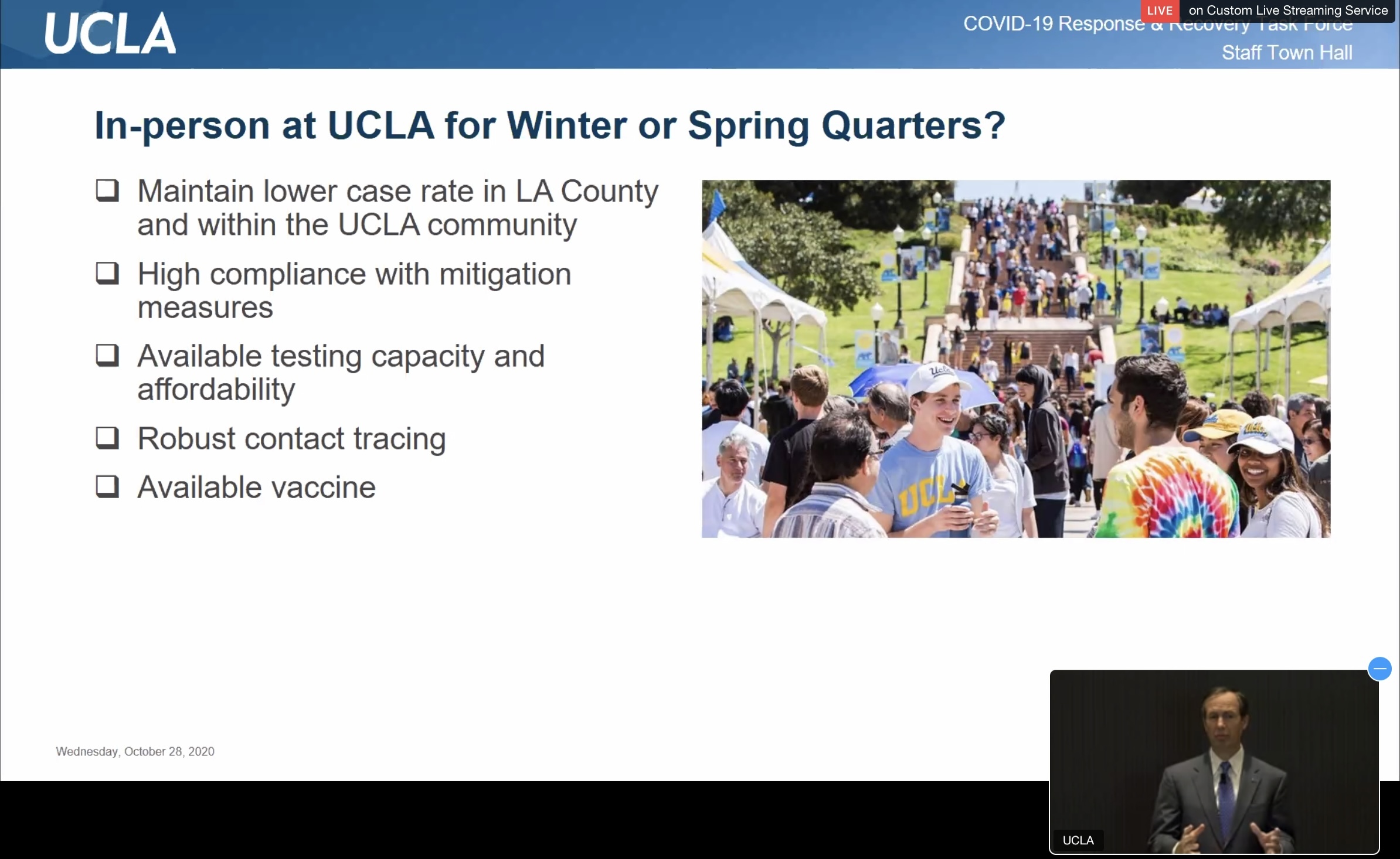 UCLA will introduce new technology to improve online learning, contact tracing and testing, said administrators on the university's COVID-19 task force. (Screen capture by Noah Danesh/Daily Bruin)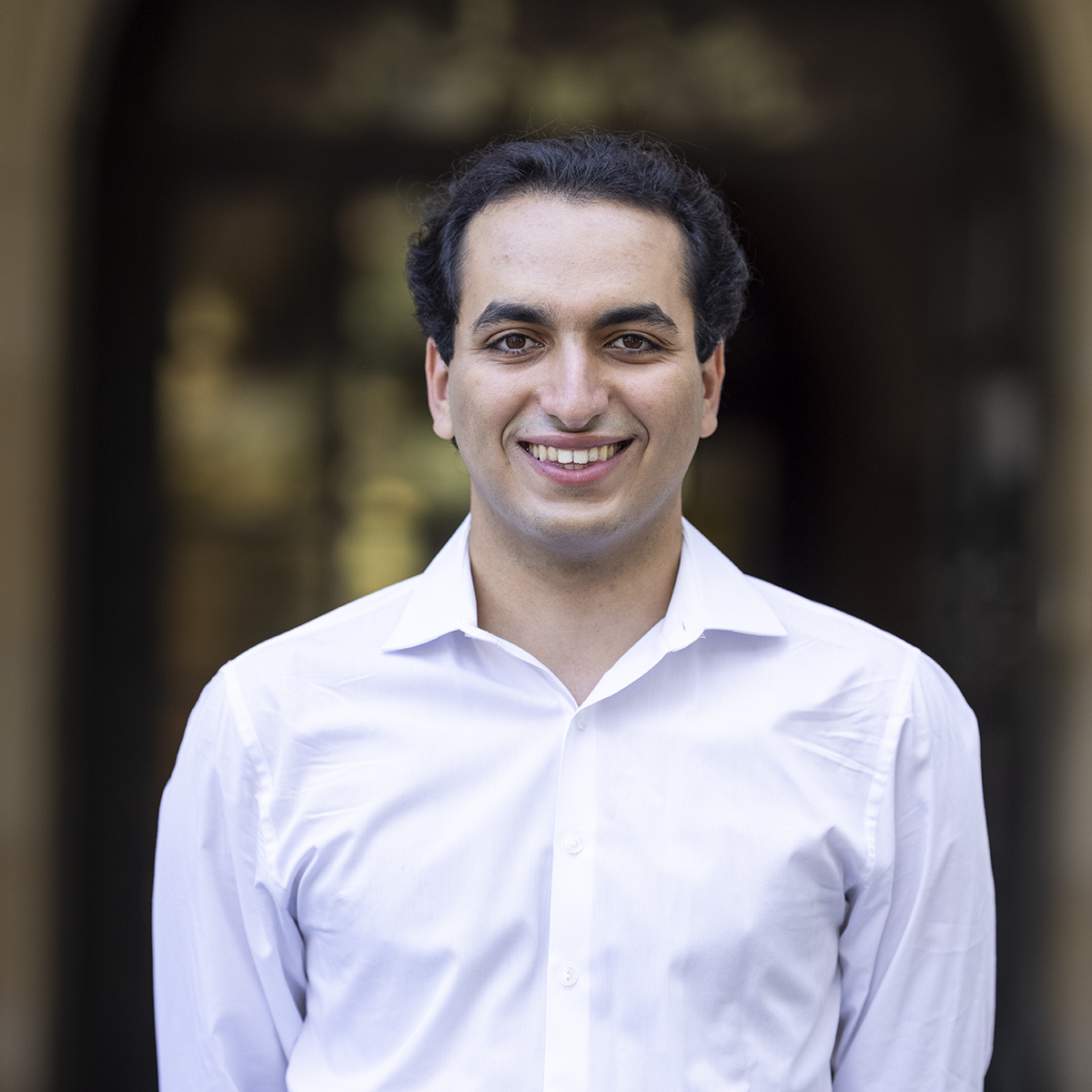 UCLA plans to give students access to additional learning software and contact tracing tools, university administrators said at a virtual event Wednesday.
A large-scale return to campus will not be possible until a COVID-19 vaccine is available and widely deployed, said Administrative Vice Chancellor Michael Beck at the COVID-19 Response & Recovery Task Force Staff Town Hall.
Before then, UCLA must continue conducting remote instruction to comply with state and county guidelines, Beck said.
"Our flexibility is determined by a combination of state and county public health guidance and regulations," said Peter Katona, an adjunct professor of epidemiology and a clinical professor of medicine, at the event.
However, UCLA will provide additional learning, communication and creativity software to improve remote learning, said administrators on the task force.
UCLA will release Adobe Creative Cloud, a set of applications for video editing, photography and graphic design, on a rolling basis to students and faculty. UCLA has adopted a campuswide Slack platform to improve communication between students and staff, Beck said.
The university has also purchased access to LinkedIn Learning, a platform which provides 16,000 video courses on business, software and creative skills, said Lubbe Levin, associate vice chancellor of campus human resources.
Beck added that the university was quick to transition to Zoom during the pandemic. While 4,500 video sessions were held a week on Zoom in February, the university now hosts 75,000 sessions weekly, Beck said.
The task force also discussed new public health measures UCLA implemented to curb the spread of COVID-19.
UCLA set up an Exposure Management Team to follow up on positive COVID-19 cases in its community, Beck said. Contact tracing is the process of identifying and notifying people who may have come in contact with someone who tests positive for COVID-19, according to the Centers for Disease Control and Prevention.
The university wants to expand contact tracing to contain outbreaks more efficiently, Katona said.
In mid-November, UCLA will join California COVID Notify, a contact tracing app that alerts users if they came in contact with someone who tested positive for COVID-19, Beck said. The California Department of Public Health created the app based on technology developed by Apple and Google. The app was piloted at UC San Diego and UC San Francisco, he added.
Beck said the app will be voluntary and will notify users if they come in close contact with somebody who tests positive.
UCLA has also expanded surveillance testing to prevent outbreaks and clusters of cases, Katona said.
Starting this past Monday, UCLA has begun conducting mandatory asymptomatic testing for students, faculty and staff using self-administered nasal swabs. UCLA will also convert a BruinBus into a mobile testing unit to give students living off campus better access to asymptomatic testing, Beck said.
UCLA Athletics is complying with Pac-12 testing protocols and is testing athletes every day, Beck added.
Beck said UCLA is currently capable of high capacity testing and is working to implement new technologies, such as SwabSeq, to support increased capacity for testing on campus and in the surrounding community.
Katona said the availability and efficacy of a potential COVID-19 vaccine is still unknown. He echoed the calls of a panel of UCLA health professionals that vaccine development and access must be equitable.
Chancellor Gene Block said at the event that UCLA must not only focus on short-term goals for keeping the community safe but also focus on the long-term implications of the pandemic.
"We recognize that there's going to be a lasting impact of the pandemic and it's probably going to change the way we do work and the way we study in the future in significant ways," Block said.