'The Walking Dead: World Beyond' seeks to show character growth, draw younger fans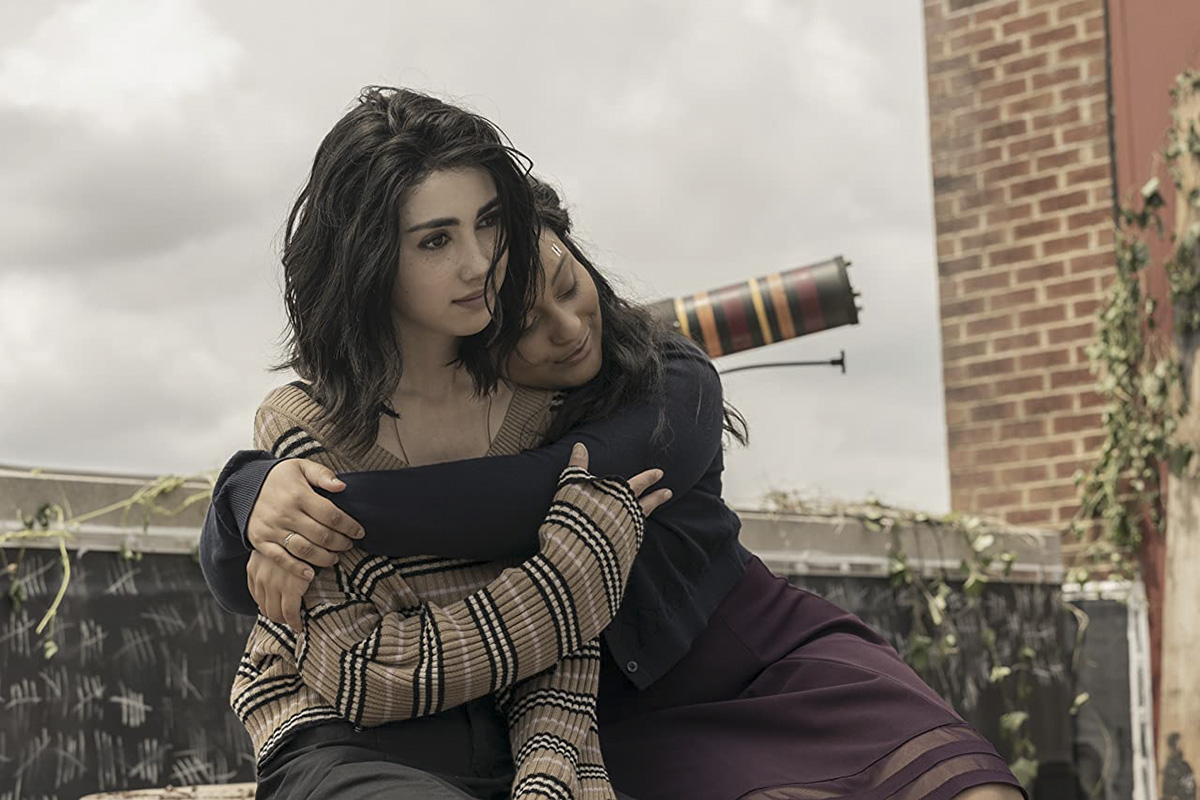 (Courtesy of Sarah Shatz/AMC)
This post was updated Nov. 1 at 6:27 p.m.
The apocalypse is the new normal in "The Walking Dead: World Beyond."
The latest spinoff from "The Walking Dead" franchise on AMC confronts a zombie-overrun reality with a newer and younger cast surrounded by death at every turn. The series, which first premiered Oct. 4 and has been airing episodes every Sunday night, follows four high school-aged teenagers and their journey outside the safe walls of their community. Magnus Martens, director of the pilot, said the apparent normalcy of these teens' lives amid the immense pressure and risk of death shapes into compelling storylines for both new viewers and die-hard "The Walking Dead" fans.
"We had to find that strange balance between (making it) about things that (younger audiences) are concerned about and at the same time, being a ('The Walking Dead') show," Martens said. "That was the really difficult task because I don't think anybody has done that before."
[Related: 'Filthy Rich' aims to modernize soap opera genre, explore family dynamics in South]
The show takes place in a survivors community called the Campus Colony in Omaha, Nebraska, which has borders that keep its inhabitants safe from zombie walkers. Apocalypse aside, those in the Campus Colony appear to live relatively normal lives. But when the mysterious Civic Republic Military arrives, the four main characters – sisters Iris Bennett (Aliyah Royale) and Hope Bennett (Alexa Mansour) and their friends Elton Ortiz (Nicolas Cantu) and Silas Plaskett (Hal Cumpston) – set out to find themselves and the sisters' missing father.
Since "The Walking Dead: World Beyond" caters to a younger audience, Martens said he focused more on character growth and took his own creative direction when shaping relational dynamics. The series spends a significant amount of time delving into the backstories of its protagonists and exploring how their pasts affect their present day actions and relationships, he said.
"In order for the two sisters to work, they had to feel like sisters. … They love each other and hate each other and have that normal dynamic that every sibling has," Martens said. "I always think it is important that not only is there a relevance, but that you can recognize yourself in these different characters, or you can recognize somebody you know."
During the character development process, Royale said she dug deep into her younger and more curious self, while also aiming to portray Iris as a strong-willed and outspoken character. She said she hopes younger viewers can find role models in the cast and bond with them beyond the zombies and war surrounding "The Walking Dead" world.
"I think it's powerful to show that young adults can make decisions for themselves without being told and can take control of their lives in a healthy way without needing help or approval from a guardian or an older person," Royale said.
[Related: Film and TV preview: Fall releases to feature action-packed plotlines, promising characters]
Likewise, Mansour said she sees her character Hope as flawed yet inherently human – just as a lot of youth today may feel, Hope carries a lot of guilt and shame. She said she modeled her character off her younger sister, who she found to be similar in terms of age and personality.
"I feel like we don't speak up enough about mental health, and I think that Hope is a voice for that. In the beginning, she definitely lets her mistakes define her, … but as the season goes by, you realize that she's stronger than she thinks she is," Mansour said.
Beyond character development, a "The Walking Dead" show would not be complete without a gloomy backdrop supported by special effects and stunts. Mansour said she had to adjust to the fluctuating weather while shooting in Virginia, where she had to wear the same clothes in both freezing and sweltering temperatures. And despite the tedious and physically strenuous nature of fighting and stunt training, Royale said she feels stronger now with her character's weapon in hand.
And as for the very premise of zombie infestations in "The Walking Dead" franchise, Martens said he had to find a balance between fully portraying the signature blood and gore of the previous series and catering to something his own daughter might be able to watch.
"We had to try to find a way of doing (the show) where we weren't as hardcore as we were used to earlier," said Martens. "At the same time, it needs to be scary somehow, but it's different types of scary."
At the end of the day, however, Martens said the presence of life-threatening walkers in the series helps add further layers to the character development on the show. Having the protagonists deal with and defeat the walkers allows them to find themselves all while building their endurance, he said. And just as Hope has inspired her to be more thick-skinned and resilient in real life, Mansour said she hopes viewers can follow her character's example and power through their struggles.
"We're not working together right now as a world," Mansour said. "When you watch the show, you see all of these kids get together, and they need each and every one of them to keep going and to make it farther. I think that society as a whole could learn a lot from that."