The Bruin Gastronomer: Cold soba noodles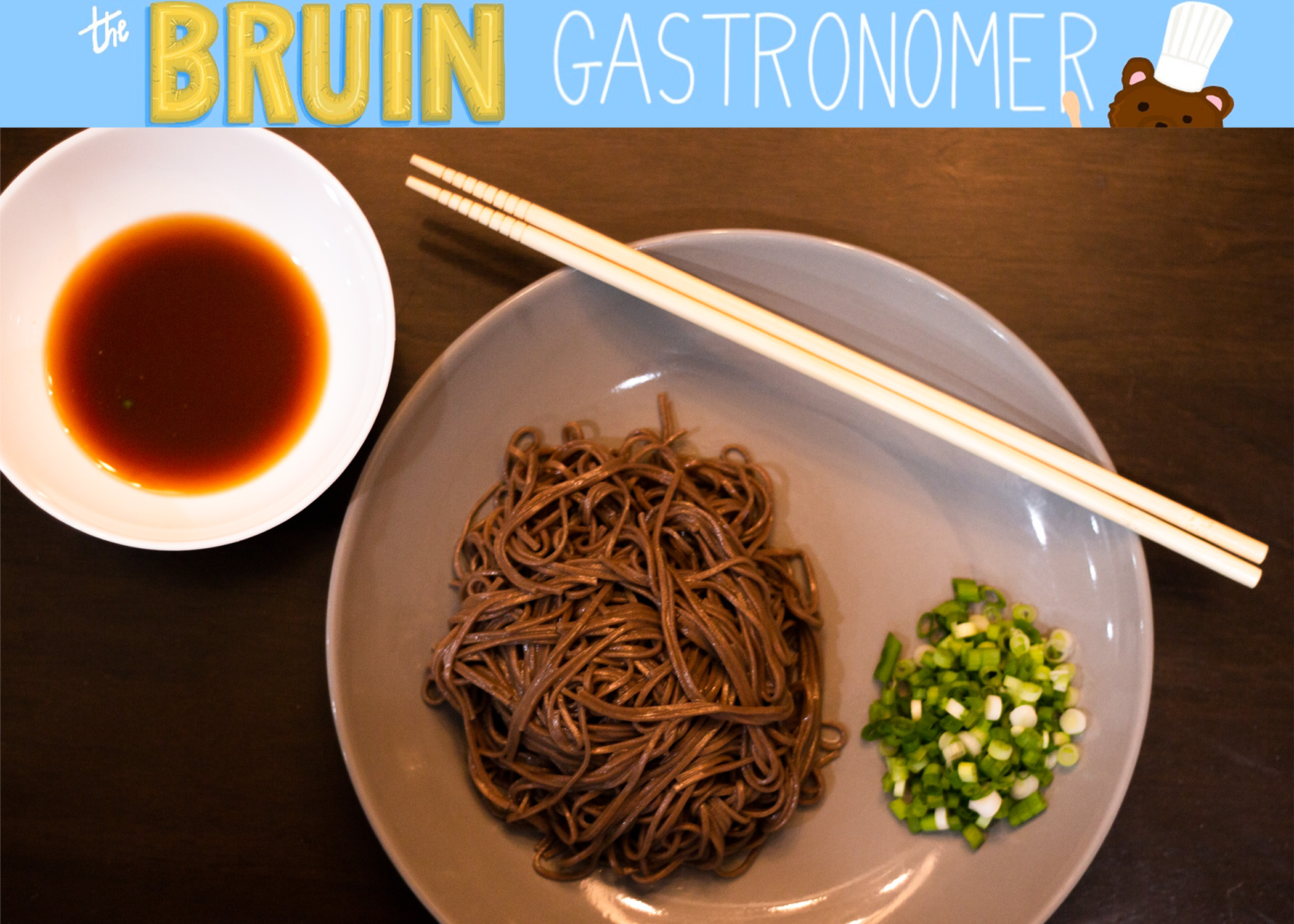 Soba noodles. (Photo by Keaton Larson/Daily Bruin, photo illustration by Emily Dembinski/Illustrations director)
Cooking in college can be daunting. The Bruin Gastronomer aims to give students the knowledge and tools to cook affordable, simple and delicious meals that will fill brains and bellies alike.
Cold Soba Noodles

I feel confident in saying pretty much everyone is a fan of noodles. And college students, believe me when I say: Top Ramen is merely the tip of the iceberg.
Soba noodles, a type of buckwheat noodle popular in Japan, can be served in various hot or cold dishes, either with a dipping sauce (Tsuyu) or as a noodle soup along with scallions, radishes and/or other simple vegetables. Soba noodles are low in fat and packed with protein, fiber, and various vitamins and minerals.
Cold soba noodle dishes are generally considered to be the most flavorful. However, soba noodles in a hot soup can be delicious as well if you want a heartier meal rather than a refreshing one.
To consume the dish as a soup, simply add a half cup more miso broth than suggested in the instructions below and enough noodle water (the water used to cook your noodles) to fill a bowl for soup. Dress with a hard-boiled egg, mushrooms, carrots or anything else that sounds good.
Generally, noodles are best eaten right after they're cooked.
These soba noodles are a quick, light and tasty option that leads the way to a world of different dishes.

Ingredients
3 ounces buckwheat noodles (about the diameter of a quarter when you're holding a clump in your hand)
1 cup miso ginger broth (Trader Joe's brand is recommended)
1/4 cup soy sauce
2 tablespoons mirin
2 green onion sprigs
Toasted sesame oil (optional)
All the ingredients here cost about $13, and you can make five meals – give or take – out of everything you buy.
Tsuyu, the sauce served with the noodles, is traditionally made with dashi – a stock of kelp and bonito flakes. Unfortunately, many authentic Asian ingredients are hard to come by in Westwood; but, the miso ginger broth from Trader Joe's makes a pretty good substitute.
Buckwheat noodles can be found at Ralph's along with mirin, a sugary Japanese rice wine used in cooking. There aren't a lot of noodle brands at Ralph's, but I would lean towards noodles made with more buckwheat flour than white flour, such as the Wei-Chuan brand. If you can't find mirin, simply mix a tablespoon of honey and a tablespoon of water together as a substitute.
Instructions
Fill a large pot with water and bring to a boil. Lightly salt the water – two to three pinches works well. This will enhance the flavor of your noodles.
While the water is boiling, combine the miso ginger broth, soy sauce and mirin in a Tupperware or bowl to make the sauce for the noodles. Stir or shake to mix well. A little sauce goes a long way for this dish, so you should have ample sauce left over for future days if you leave it in the fridge.
Thinly slice your green onions and leave aside for your noodles.
Fill a large bowl with cold water and ice. This will be used to dunk your noodles once they are finished cooking and have been strained.
Once your pot of water is boiling, add the noodles and cook for the amount of time specified on the package, generally about three to four minutes. You want your noodles to be tender and easy to chew, but not gummy or mushy – a consequence of placing the noodles in the pot before it is boiling or leaving the noodles in the pot for too long. When the noodles are finished, strain and throw them in the bowl of cold water for a minute or so to chill.
Toss the noodles back in the strainer after chilling; this helps to get rid of any excess water. Adding a few dashes of toasted sesame oil to the noodles while they are in the strainer also adds a boost of flavor.
Pile your noodles onto a plate and portion a little of your sauce in a bowl. Add some green onions to the sauce and some to the noodles and you're ready to eat. You can either dip your noodles in the sauce or pour it over the top.