Performance review: Geffen Stayhouse invites audiences "Inside the Box" for interactive puzzle show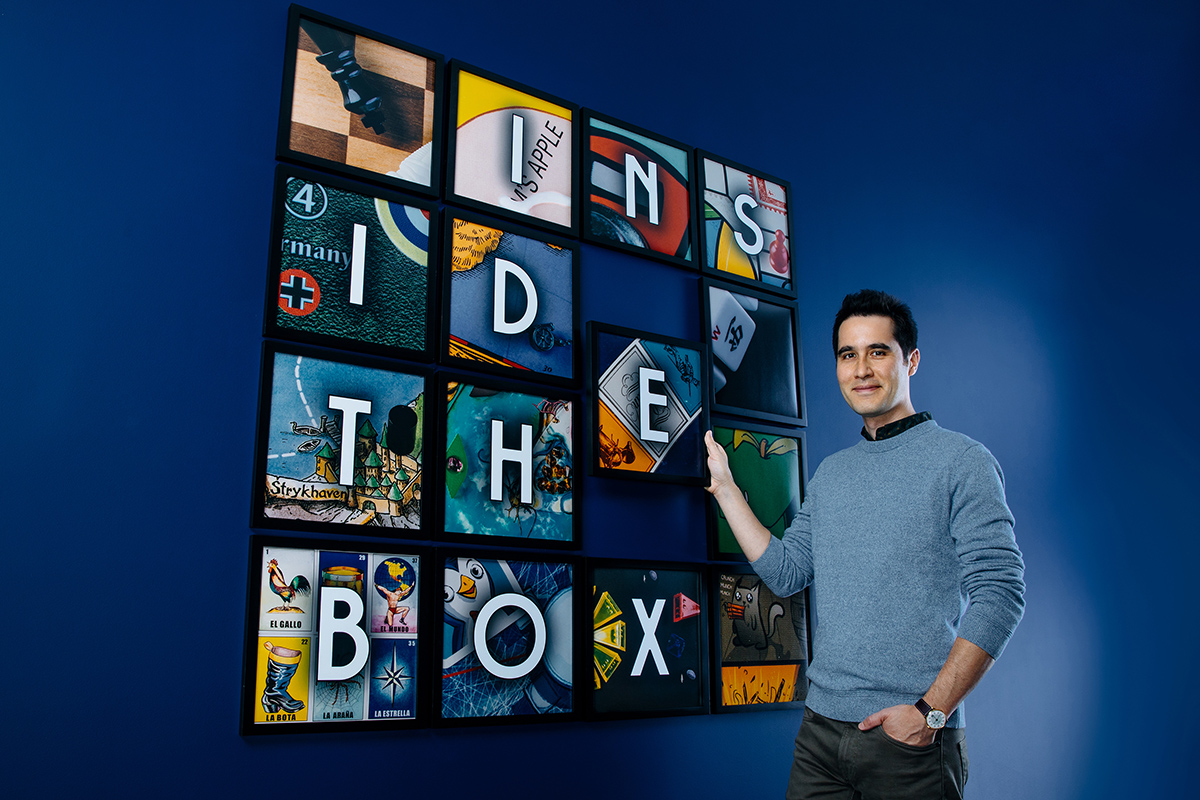 "Inside the Box"
Sep. 29 - Jan. 3
Online
$75
The Zoom grid is the new crossword puzzle.
Geffen Stayhouse's virtual puzzle show "Inside the Box" is running from Oct. 8 to Jan. 3, as it takes 24 participants through different puzzles, wordplay and multi-layered games to solve a hidden message – all mediated through Zoom's software. Aside from the mind-bending riddles, magician and New York Times crossword constructor David Kwong further enhances the immersive experience through informative stories about the most instrumental puzzle-makers in history.
[Related: TFT department proves the show must go on by adapting to virtual learning for fall]
Before the show, participants receive a virtual puzzle packet that seems to resemble a simple grade school or daycare worksheet. It consists of a pre-show crossword relating to the animals that are pictured and the activity sheets to be used during the show. The latter includes a page titled "Voice Boxes," which lists 50 supposedly random words, a 3-by-3 grid with objects in each grid box ranging from lettuce to a foot as well as a final "Keywords" sheet with 7 empty lines.
Adding to the mystery, participants are also required to find a bright red object and a game piece such as a coin to bring to the show. Then, Kwong begins by briefing the audience live from his house about how the show is designed to take advantage of Zoom's 5-by-5 grid. Even the event's name is representative of the show's format – each participant solves puzzles from inside their Zoom box.
While the puzzle is not competition-based, audience members are encouraged to volunteer and share their answer if they wish. This provides a low-stakes, fun environment without the fear of falling behind. The show is ultimately meant to uphold the human experience, as Kwong ends the introductory portion by explaining how people crave making order from chaos and solving things from start to finish.
The first puzzle game is comparably the most intuitive. Two images of random objects are displayed side by side and one has to form the name of a country from the final letters of the word represented by the left image and beginning letters of the right. For example, if a ninja and a panda were placed side by side, the answer would be Japan (ninja + panda). While the audience solved most of these activities with ease, the round got more difficult with increasingly ambiguous images, such as a picture of a fish tank that was meant to represent the word aquarium.
However, the next round – featuring anagrams – required more associative thinking. Presented with four words on screen at a time, audience members must discern which two words combined are a clue and which two words can be rearranged together into the final anagram. To illustrate, if the words "prone," "pizza," "pipe" and "topping" were presented, "pizza" and "topping" would be the combined clue. That left "prone" and "pipe" to be rearranged based on "pizza topping," resulting in the anagram "pepperoni."
So as not to burn out from critical thinking, Kwong adds a more relaxing educational element by interspersing historical tidbits about puzzle-makers in between each activity. Such a pattern made for a balance between casual listening and actively solving clues.
The games had progressive difficulty levels, starting off easy and then requiring more abstract thinking. Some were harder to grasp than others in terms of not having a clear-cut method of solving them. For example, if one is not familiar with spoonerisms, the game based on them could prove confusing, especially since Kwong does not provide a definition. It required participants to purposely swap the initial sounds or letters of two or more words to discover the clue phrase.
[Related: Bruin Bash wraps up 1st virtual, speakers-only event with Q&A and cooking class]
Interestingly, each game does not occur in isolation – Kwong also drops a total of seven keywords related to each activity, ultimately requiring the participants to connect them to the pre-puzzle activity to discern the final one-word message. In this way, each game became a piece within a bigger puzzle.
This intricacy is also reflected in how each puzzle progressively utilizes group participation in order to solve the clues. The phonetics activity took advantage of Zoom's rows of five, where each participant in their respective row said an assigned word from the puzzle packet in succession. Surprisingly, some audience members were rather quick to discern the more cryptic clue phrases such as "The color of the sky" from the words "thick," "holler," "huff," "tusk" and "eye." And this particular example cleverly resulted in the answer "blue."
The audience's red objects finally come into play when Kwong directed participants to hold up their object if the image they landed on fulfilled certain criteria like letter count or object categories. A few participants at a time would hold up their objects after listening to Kwong's criteria to form distinct letters across the Zoom grid.
Overall, the excitement of navigating the games themselves is where surprises lie, rather than discovering the final one-word message at the end. Many participants attend with friends and family members, so it may help to attend the event with a friend on any given day to feel more capable and share the fun.
In the end, the magic of "Inside the Box" lies in literally placing the participants inside their own box, and then gradually working with others to obtain clues. The event is truly innovative because of how it is specifically developed around Zoom's format. Quarantine has inspired a lot of creativity and innovation in the entertainment industry, and Kwong's "Inside the Box" performance not only epitomizes the ingenuity of creatives, but also how people can stay connected and work together despite isolating circumstances.
The pandemic will end, but this remarkably creative puzzle show might just outlive these unprecedented times.