TFT department proves the show must go on by adapting to virtual learning for fall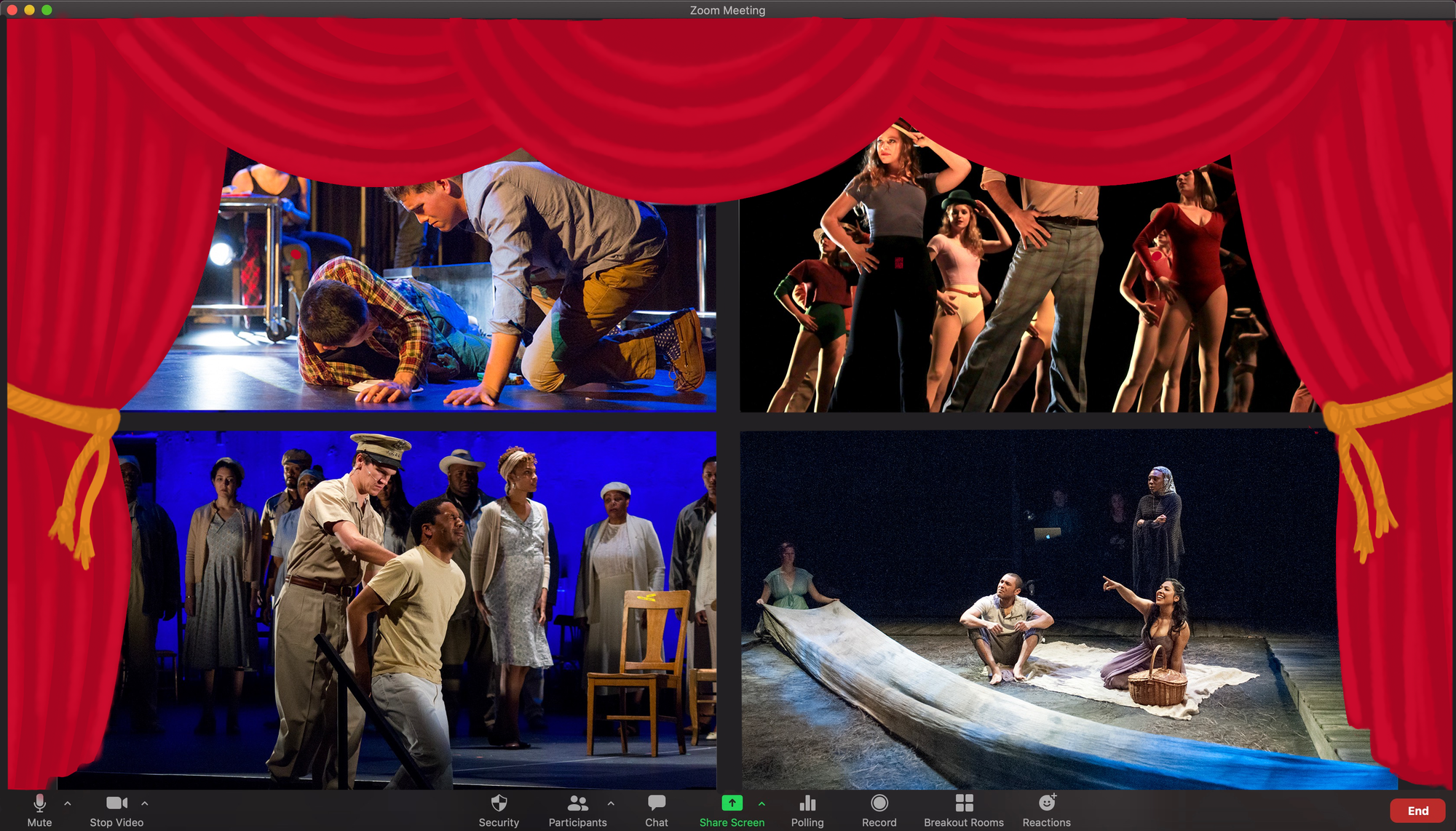 (Daily Bruin file photos. Photo illustration by Kanishka Mehra/Photo editor & Emily Dembinski/Illustrations director)
Sept. 22, 2020 10:33 a.m.
The UCLA School of Theater, Film and Television students never expected to direct, perform or act in a virtual space.
But the department will be creating new opportunities to accommodate its students as the faculty shifts their focus from public showings to developmental work, said acting chair of the department of theater Dominic Taylor. In addition to remote-only instruction for the fall quarter, he said TFT's productions, auditions and rehearsals will all move online.
"At this time, there are a lot of (academic) experts talking about what we're missing, what we're losing out on, what we don't have," Taylor said. "We're trying to find ways for us to take this moment and expand it."
Even without any in-person interaction, he said the department wants to take advantage of the virtual opportunities. The showing of the augmented reality production "The Man in the High Castle" was initially set for this upcoming quarter but will be postponed to fall of 2021. Instead, Taylor said the department will host a virtual showcase of Vice Chair Jeff Burke's research findings for the augmented reality production.
In addition to public event changes, the fall slate will feature the New Play Festival, in which undergraduate actors and MFA playwrights will be given the opportunity to work with theater professionals throughout the country, Taylor said. Students will be exposed to accomplished professionals, including Pulitzer Prize winners and Tony Award-winning designers whose different skill sets can help prepare the students for when they get on a real stage.
"The biggest thing we're working on this next quarter is expanding our classrooms beyond Westwood," Taylor said. "With the New Play Festival, the fact that we're partnering with two theaters in New York and one in D.C. is something we couldn't do in real time."
While many are concerned with lost opportunities during the pandemic, Taylor said he looks at these circumstances as an opportunity rather than as a challenge. He plans to schedule two different online event cycles for TFT students: "Masters Mondays," in which special guests will teach master classes and workshops, and "Faculty Fridays," in which TFT faculty members will open up their off-campus creative spaces to students.
"We have world-class faculty that our students deal with only in terms of the particular course area that they're studying," Taylor said. "(But now), our students can get an understanding of who these scholars and artists are in a real way."
Learning opportunities aside, the only virtual showing from students will be the MFA one-act showcases which include a total of six different one-act scenes from short plays – all developed remotely. Taylor said he has encouraged the directors to shorten rehearsals for these showings after garnering valuable feedback from TFT's recent Precollege Summer Institute program.
Through the program, he said the department learned that students had a limited endurance capacity during rehearsals, and they are aiming to develop more engaging but much shorter productions across the board.
After improvising through much of her spring quarter, fourth-year theater student Talia Gloster said she anticipates a similar experience for the fall. In one of her previous classes, Gloster ended up having to tap dance in her garage on top of wooden planks that were lying around the house.
"It's definitely not the dance studio that I'm used to, but I was still able to learn," Gloster said. "That's how I can sum it up – not ideal, not how I would've pictured things, but everyone made do. … We're not in a creative profession for nothing."
Gloster said she and her classmates struggled to adjust to digital learning at first, especially because live theater seemed impossible without the physical experience. She said it's difficult to replicate on a virtual medium like Zoom the energy that comes from face-to-face communication.
"I'm preparing myself mentally to know that this isn't going to be the senior year I was expecting," Gloster said. "But it will be what it will be, and we all have to make the most of it."
While some TFT students feel that they are better off with in-person interactions, others have experienced a smoother transition to online learning. MFA student Matthew Jennings said it was easier for him as a playwright since his learning does not necessarily require physical communication. Although writing feature plays requires some group work, Zoom meetings with other student playwrights proved to be efficient as they shared their notes and provided feedback to each other, he said.
"I did have a really positive experience for the most part; it wasn't necessarily the software or technical difficulties that gave me a hard time," Jennings said. "The hardest part for me was not being able to fully connect with those people that I'm working with."
Taylor said he believes that the best ways students can prepare for the upcoming quarter are to warm up their bodies before collaborating with other students and to be aware that collaboration is constant in a virtual space. Unlike the real world, online interactions do not make room for people to zone out from time to time, he said. And although many outside circumstances, such as the students' living arrangements, can make it difficult to focus, he said students can continue to grow as artists by being as present as possible.
"Nothing is going to replace the in-person engagement that we hoped to have, but I'm slightly optimistic that UCLA can be a place where we're doing things that people hadn't considered under these circumstances," Taylor said.