The Quad: Armenian Bruins want heightened recognition of the conflict in Nagorno-Karabakh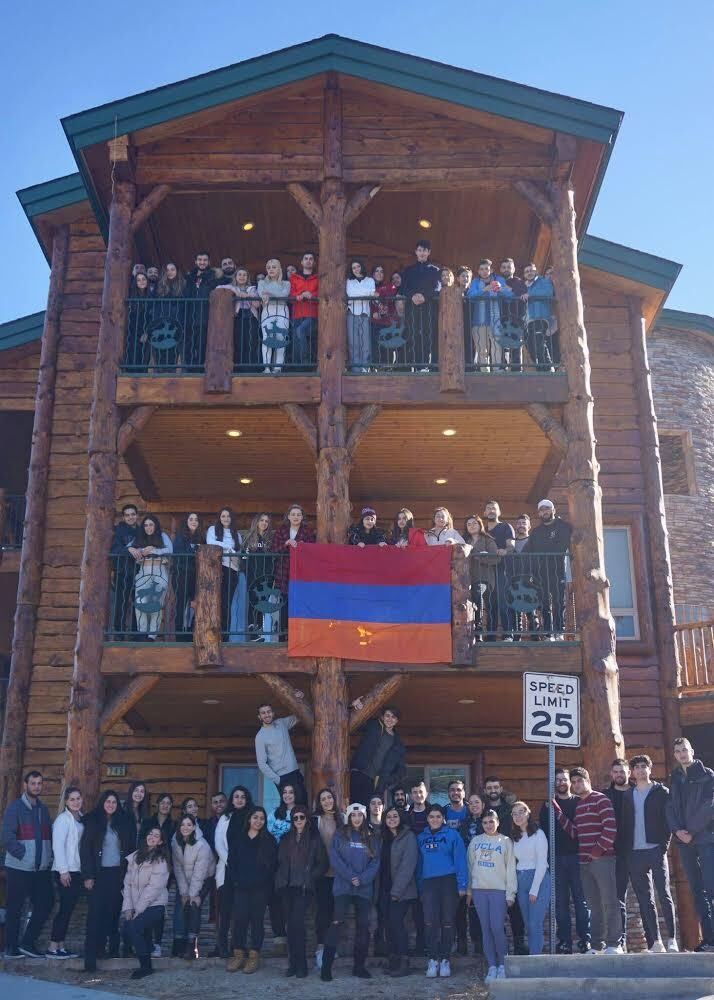 The UCLA Armenian Student Association has been working to raise awareness and funds for the crisis in Nagorno-Karabakh. (Courtesy of Arman Antonyan)
The conflict that broke out Sept. 27 between Armenia and Azerbaijan over the contested region of Nagorno-Karabakh has become a central focus of attention for many of UCLA's Armenian students.
Nagorno-Karabakh, located on the border between Armenia and Azerbaijan, has been a contested area since the 1980s. Though the region is internationally recognized to be part of Azerbaijan, it is home to a majority ethnic-Armenian population and has strong political, economic and military ties to Armenia.
In 1988, mass demonstrations demanding Nagorno-Karabakh's independence from Azerbaijan took place in the Armenian capital of Yerevan. In the same year, Nagorno-Karabakh's regional government voted to become part of Armenia.
However, Azerbaijan has continued to claim Nagorno-Karabakh as part of its territory.
The period between 1988 and 1991, after Nagorno-Karabakh officially declared independence from Azerbaijan, was characterized by violence between Armenians and Azerbaijanis. Following Armenia and Azerbaijan's gaining of independence from the Soviet Union in 1991, this violence exploded into a full-scale war when the Soviet Union collapsed and Moscow was no longer able to serve as a controlling authority in Nagorno-Karabakh.
The two countries reached a ceasefire in 1994, but occasional fighting has continued on and off since then. The last major escalation, occurring in 2016, resulted in more than 350 deaths.
[Related: UCLA students and Armenian community protest attacks against Artsakh]
The current situation has been characterized as the worst outbreak of violence in Nagorno-Karabakh since the 1990s, with the total number of casualties from both sides now in the hundreds.
United Nations High Commissioner for Human Rights Michelle Bachelet said in a statement from the United Nations Human Rights Office of the High Commissioner that a significant number of civilian facilities, the majority of which were located in Nagorno-Karabakh, have been destroyed.
Arman Antonyan, a fourth-year history student and president of the UCLA Armenian Student Association, said the conflict has been like a powder keg – constantly waiting to explode.
"There were signs that there was going to be a war this year, but a lot of people were in denial, including myself," he said.
This past July, cross-border attacks between Armenia and Azerbaijan broke out, killing at least 16 people. Following the initial attacks, thousands of protesters gathered in Azerbaijan's capital of Baku demanding a full mobilization of the army to take back Nagorno-Karabakh.
[Related: UCLA community responds to ongoing conflict between Armenia, Azerbaijan]
Southern California is home to one of the largest Armenian diasporas in the world and has been a hotspot for protests led by Armenian-Americans seeking to raise awareness about the situation.
Many Armenian Americans are particularly concerned about this situation because of Turkey's strong backing of Azerbaijan. Turkey's support may recall the Armenian genocide of 1915, in which about 1.5 million Armenians died at the hands of Ottoman Turks.
Sonya Ashikyan, a third-year cognitive science student who recently joined ASA, said many Armenian students, including herself, have attended protests lasting several hours on a near-daily basis since late September, making it difficult to keep up with coursework.
These long days of protest are followed by sleepless nights awaiting updates on the latest news about the conflict.
"It's difficult to do my 19 units and at the same time go to protests and write essays about what's going on," she said.
ASA echoed these sentiments in an emailed statement to Chancellor Gene Block and other UCLA administration members and officials. The email demanded recognition of the situation and support for UCLA's Armenian community.
"We are on the streets demanding a ceasefire, we are checking up on relatives in the region, we are glued to our phones awaiting for the lists of names of those who have died in the fighting," the statement said.
While Armenian Bruins grapple with this situation, some feel the awareness and discussion within the UCLA community have been inadequate.
Ashikyan said that ASA's current strategy of reaching out to UCLA's various departments to help raise awareness about the conflict and concerns of Armenian students has so far not been very impactful.
"If we reach out to 14, maybe five will respond, and maybe three will actually share it, so at this point it doesn't seem very effective," she said.
Directly messaging the chancellor and other administrators has also been unsatisfactory, Ashikyan said. Although she thought they responded with sympathy, their support was limited to directing Armenian students to various resources rather than taking direct action to share information with the UCLA community regarding the conflict.
While many UCLA students, faculty and administrators may be unaware of the situation, The Promise Armenian Institute at UCLA has been active in spreading information regarding the conflict and recently released a statement condemning the attacks of Azerbaijan on Nagorno-Karabakh.
In addition, although ASA has had some success in its attempts to spread awareness about the situation in Nagorno-Karabakh – one of its social media posts was shared by Khloe Kardashian – Antonyan and Ashikyan said they believe many UCLA students are unaware or uninterested in what is happening. Ashikyan said that after posting an informational message about the conflict in her classroom group chats, only one of her peers liked the message.
Being far from the people who are directly impacted by the conflict has also taken an emotional toll on some Armenian students. Masha Melkonyan, a fourth-year economics and math student and ASA member, moved to the U.S. from Armenia three years ago. She said some of her friends have relatives who have gone missing on the front lines.
"I don't even know how to communicate with my friends," she said. "What do I even say? I can't even begin to imagine what their families are feeling right now."
However, she is taking action from afar by making donations and spreading information about the situation.
Other ASA members are also taking this approach. Antonyan said that ASA started a campaign through the Armenia Fund, a humanitarian organization that has thus far raised more than $80 million to assist people in Armenia and Nagorno-Karabakh.
While heartened by this support, Antonyan also expressed doubt as to whether the situation in Nagorno-Karabakh will be resolved soon.
"History shows that peace talks between Armenia and Azerbaijan have not been very productive, but neither is anything else," he said. "The problem is that there is no trust on either side."