West Wing Reflections: Themes of racial discrimination echo from Bartlet's administration to today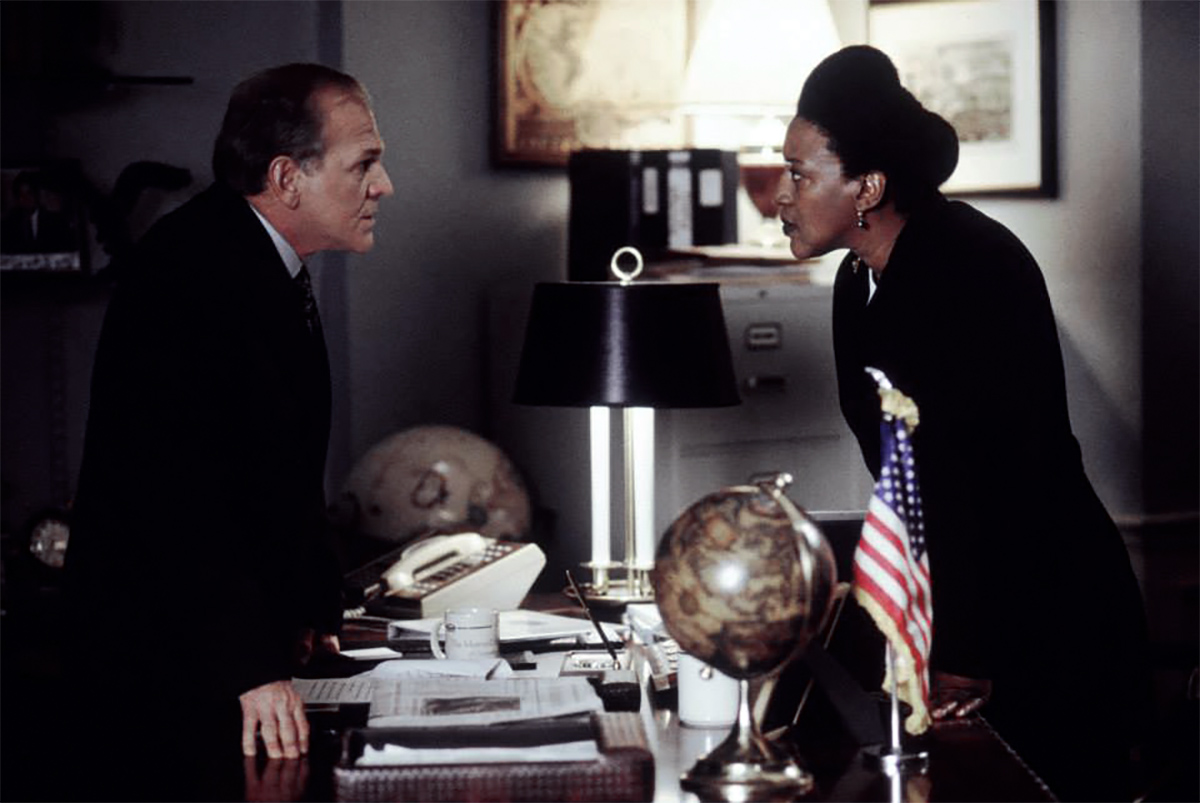 (Courtesy of Warner Bros. Television)
Garnering 95 Emmy nominations and 26 wins in its seven seasons, "The West Wing" is an NBC television drama that depicts an era in which the president of the United States is a Catholic Democrat and Twitter does not yet exist. Though it premiered back in 1999 and ran until 2006, columnist Alex Driscoll dives into various episodes of the series, putting a twist on a typical review with analysis on how the show reflects today's political climate.
While lacking diversity within its cast, "The West Wing" does not shy away from targeting issues of racial inequality in America.
The first season's 15th episode, "Celestial Navigation," features President Bartlet's (Martin Sheen) staff struggling with a potential press fiasco. Featuring the wrongful arrest of Bartlet's latest Supreme Court nominee, the episode gives a televised example of the injustices people of color face in the legal system, regardless of their job descriptions.
Through a retelling of the week's events, Deputy Chief of Staff Joshua Lyman (Bradley Whitford) sits down for a college seminar on what it's like to work in the West Wing. During the seminar, Joshua takes several phone calls from Deputy Communications Director Sam Seaborn (Rob Lowe) regarding President Bartlet's pick for the next Supreme Court Justice – Judge Roberto Mendoza (Edward James Olmos). Bartlet wants to secure Mendoza as the first Latino Supreme Court justice with as few complications in his confirmation as possible, but the events that unravel on Mendoza's family road trip create a political roadblock. Creator Aaron Sorkin'sdialogue in this scene satisfies a juxtaposition between the past and the present, and the interwoven plot lines that fill the episode's 43 minutes are well worth the watch.
[Related: West Wing Reflections: Aaron Sorkin's sharp dialogue conveys relationship between partisan division, media]
During the trip, Mendoza refuses a breathalyzer test after being pulled over for a suspected DUI charge. In an outrage over the lack of probable cause or warrant for his arrest, the judge refuses to leave his jail cell until Sam and Joshua arrive. Despite having a liver condition that prevents him from consuming alcohol, Mendoza explains that police had handcuffed him in front of his family simply because his skin color made him appear "suspicious."
However, the end of this story is a simple one, and Mendoza is released without the press finding out. Yet, reality is not always so relieving. Aaron Sorkin's screenplay makes an excellent point of dissecting how race often holds more weight during police encounters than whether or not a real crime was committed.
In a study conducted by the Stanford Open Policing Project, data pulled from traffic stops across the country showed that police searched Black and Latino drivers' cars more often than white drivers after being pulled over. In an effort to analyze the racial discrimination within the data, researchers also found that police officers needed less cause for suspicion to search Black and Latino drivers than white drivers within the same county.
[Related: For 'Insecure' writers, security in own identities influences show's storytelling]
This double standard of racial profiling has existed long before "The West Wing," and its relevance to the current political climate needs no dramatic interpretation. In conjunction with longstanding systemic racism and the ongoing protests happening today, the United States has found itself at a cataclysmic point in history.
UCLA alumnus and former chief justice of the Undergraduate Students Association Judicial Board, Jamail Gibbs, said people need to recognize how deeply biased the American legal system is when it comes to racial issues. As a Black man pursuing a career in law, Gibbs said the ways people of color have historically been mistreated within America's criminal legal system strikes a chord with him on a personal level.
"At the age of 18, my dad was falsely convicted of a crime," Gibbs said. "And this conviction has had long-standing economic and political ramifications for not only himself but also the rest of my family."
As more stories like that of Gibbs' family come to light across the U.S., the avenues for change continue to spread through various categories of activism such as economic reform, police reform and housing reform.
In "Celestial Navigation," Mendoza initiates his own subdued form of protest by refusing a breathalyzer test, and the same strain of resistance has found itself in the roar of protests occurring across the nation today. The script is a testament to the outright discrimination that marginalized people of color face on a daily basis, whether or not they have White House staffers willing to bail them out late at night.
At the conclusion of the episode, Communications Director Toby Ziegler (Richard Schiff) reminds Mendoza of his potential to fortify change at the federal court level, motivating Mendoza to exit the cell without retaliating against the police. It is this same kind of motivation in Mendoza that has inspired Gibbs as well, demonstrating how the show's implications also exist far beyond the walls of the White House today.
"This is a multi-pronged issue, and it needs to be attacked in various ways if we are ever to reach the purity of this country's foundational ideals," Gibbs said. "I think my place in that lies with work involving criminal legal reform."